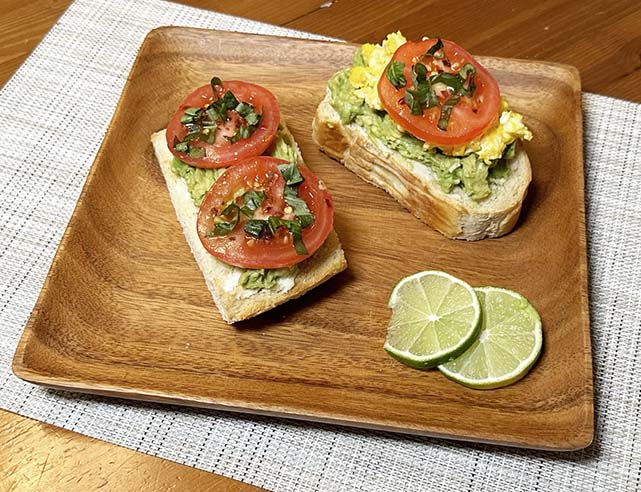 California's avocado season has just begun and is one of the most anticipated times for any foodie. As a California native, I look forward to the Spring and Summer months because of our beautiful weather and most importantly because of the delicious avocados. From Spring to Summer, avocados are the perfect transition into the warmer months. The Golden State is full of lush ripe avocado trees, each bursting with delicious green, creamy fruit.
California produces most avocados consumed in the United States and is one of the largest avocado producers in the world. Avocado season is critical for farmers since it is where the bulk of their income comes from for the year. Avocado trees need the warm temperature, and low humidity California offers to grow successfully. The California avocado industry has been growing exponentially in recent years because the consumption of avocados has grown to about 3 billion pounds a year.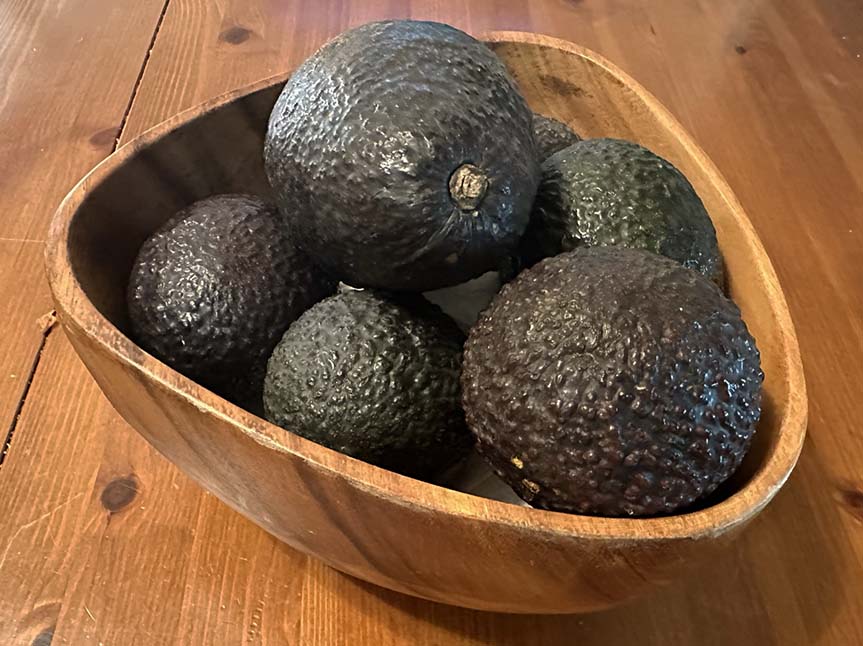 There are many reasons why avocados are so popular. They are delicious and have great nutritional value. Avocados are known to assist in decreasing the risk of chronic diseases. This has led to an increase in demand for this green fruit. You can see the trend for avocados in daily social media posts and even in the mall. Avocado hats, stuffed animals, shirts, and pants are so common nowadays that there is no escaping it. Not that I would want to because I love them all!
Avocados and Acacia Kitchenware
One popular food trend in the food industry that has emerged in the past couple of years is the use of acacia kitchenware to serve avocado dishes. Because acacia wooden bowls are known for their durability and natural beauty, they are ideal for serving all types of dishes. Who wouldn't want restaurant-grade quality dishes from the comfort of your own home?
Avocados are nature's butter and something so organic deserves to be paired with an equally organic product. At Pacific Merchants we offer a multitude of acacia wood fruit bowls, serving trays, plates, and salad bowls. They come in all shapes and sizes to accommodate your specific needs. The sets match perfectly with any dish and it's more bang for your buck.
Also, avocados are incredibly versatile in the kitchen. From smoothies, sauces, spreads, or even just an ingredient in a delicious salad, they are a staple to the household. Versatility is also used to describe the many bowls, trays, and utensils made of acacia wood. Much like the avocado, acacia wood bowls are sustainable and are the perfect pairing for any summer dish. The vintage wood bowl look is not only beautiful to look at, but they are eco-friendly since they come from fast-growing trees that are easy to harvest. Acacia trees even benefit the soil they are planted in since they offer many nutrients to the surrounding environment making them an agricultural staple for many.
Our acacia wood salad bowls come in various sizes and their warm natural wood tones beautifully complement the vibrant green of the avocado. Acaciaware is durable and long lasting, making it the perfect investment in the kitchen.
One popular dish that is served in acacia bowls is avocado toast. Avocado toast is a staple in many cafes and restaurants worldwide. The creamy texture of avocados complements the crunchy texture of the toast making it completely satisfying. An avocado toast recipe of your dreams to pair with an acacia dish is a simple avocado test that will be a staple breakfast.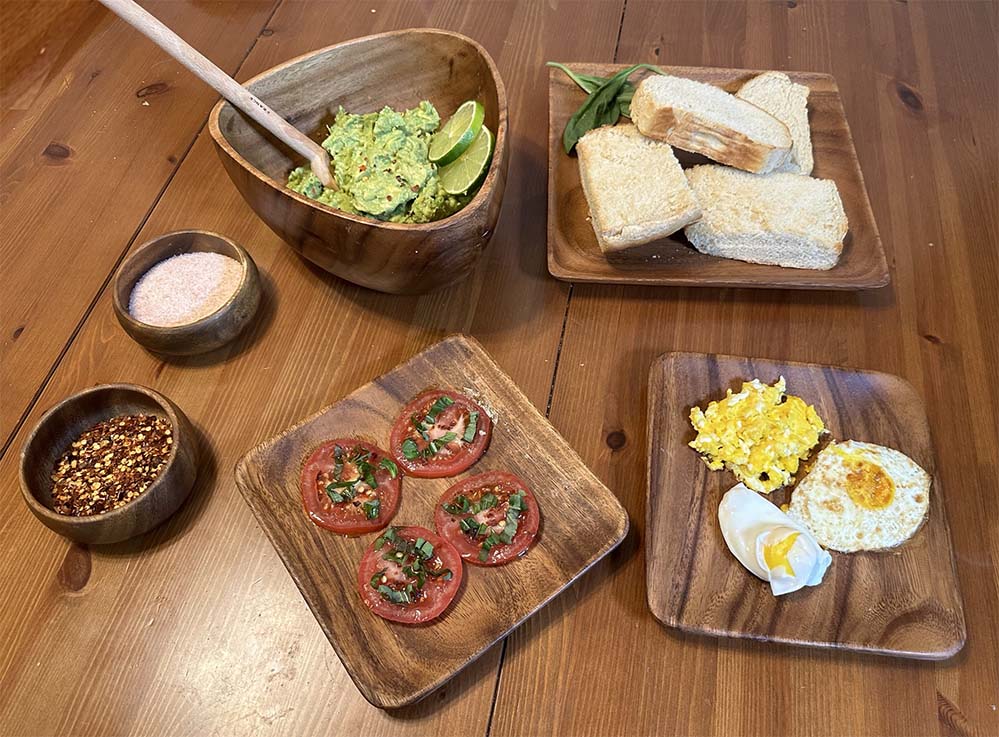 The recipe is:
Step 1: Slice thick whole-grain bread. Place it in a toaster oven to let it get crispy.
Step 2: Remove the pit and for one slice of toast we will only use ½ of a ripe avocado. Use our big Italian wood spoon to remove the flesh easily. Place this in a bowl.
Step 3: Add a dash of avocado oil, a dash of lemon juice, and salt and pepper to taste. Mash these ingredients all together until smooth or the consistency you prefer.
Step 4: Spread the avocado mixture on the toast.
Step 5: Slice some tomato, and drizzle it with a little balsamic glaze. Add some fresh basil leaves. Then carefully place this on top of the avocado toast.
Step 6: For extra zest, add a generous amount of red pepper flakes.
*OPTIONAL* Step 7: If you are a fan of eggs, make one egg the way you prefer. Poached, fried, or sunny side up. Add this before adding the tomato mixture and you will have the tastiest breakfast ever! Step 8: Place toast on any acacia serving tray for an extra oomph in the morning. Acacia bowls are the needed and ideal way to serve avocado toast because of their smooth surface which makes it look aesthetically pleasing.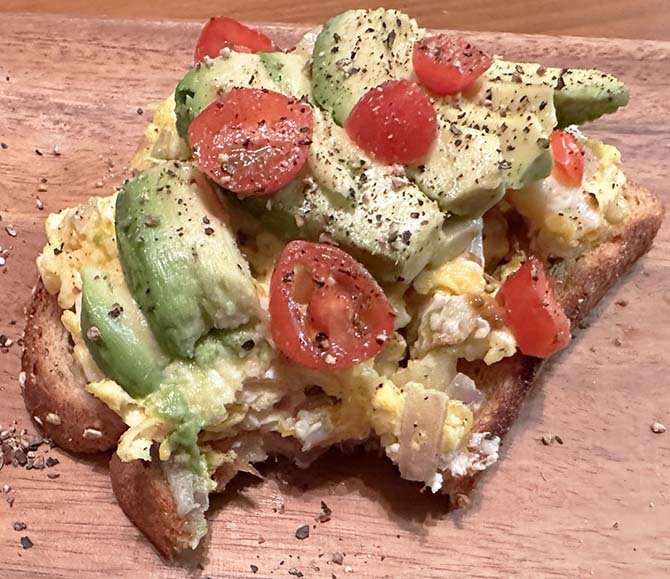 Another popular dish is to serve guacamole. The sturdy nature of the acacia bowls ensures that the guacamole is secure and will not tip over or spill. A fantastic guacamole recipe is:
3 avocados
½ small yellow onion, finely chopped
2 Roma tomatoes, finely chopped
3 tablespoons finely chopped fresh cilantro
1 jalapeno, remove pepper seeds and finely diced
2 garlic cloves, minced
1 lime, juice it into a cup
½ tsp of sea salt (can add more according to your preference)
Step 1: Slice the avocados, remove the pit, and scoop it into one of our large calabash round bowls.
Step 2: Mash the avocado with our Beachwood spoon to make it as chunky or smooth as you would prefer.
Step 3: Add all the ingredients together and give it a nice stir. If preferred you can add more lime juice, jalapeno for a greater kick, or salt if needed.
Step 4: Now you are all done and there is no need to change the mixture into a fancy bowl because acacia wood bowls are known to look modern and organic. They add a perfect amount of beauty to any dish, especially one that complements the organic material. From wood décor bowls to large wood bowls, Pacific Merchants has a multitude of options for you to choose from to present your dish to your friends and family. A summer favorite that is always such a fun addition to any party is the acacia wood mini pineapple serving bowl.
Whether you make a simple avocado toast or host fancy dinner parties with all the new avocados, using our acacia wood kitchenware will add a touch of elegance and sustainability to any event or a regular day. With the avocado season approaching, consider adding some of our beautiful acacia wood kitchenware to your summer. You will not be disappointed!