Wood Plates
Acacia Wood Plates
Introducing our beautifully hand-crafted Wood Plates, made from high-quality acacia wood. These versatile plates add a touch of elegance to any table setting and are perfect for a variety of uses.
Each plate is carefully handcrafted from sustainably sourced acacia wood, with its rich, natural tones and unique grain patterns making every piece truly one-of-a-kind. Not only are these plates visually stunning, but they are also durable and long-lasting.
Wooden Plates Are Versatile and Practical
One of the many ways to use our wood plates is as charcuterie boards. Serve up your favorite meats, cheeses, and fruits on these beautiful plates for an impressive and sophisticated display. The natural variations in the wood also make them great conversation starters at your next dinner party.
Looking for a stylish way to serve appetizers or desserts? Our wooden plates also double as ottoman trays. Place them on your coffee table or ottoman, and they will instantly elevate the look of your living space. But that's not all – these plates are also practical and functional for everyday use as wooden plates. From breakfast to dinner, these plates are perfect for serving up any dish, hot or cold. Their smooth surface and shallow rim make them easy to clean and maintain.
Wooden Plates Are Sustainable
In addition to their versatility, our Wooden Plates are also environmentally friendly and add a rustic, natural touch to any home décor. They are the perfect gift for any foodie, home cook, or hostess. So whether you're looking to add a touch of elegance to your table, serve up a delicious spread, or jazz up your living space, our Wood Plates are a must-have in your home. Order yours today and experience the beauty and functionality of acacia wood in every meal.
Acacia Wood is Durable
Acacia wood is naturally harder than most other woods found on the market. This means it can be sanded to a smoother finish, which makes it great for creating smooth surfaces like dining tables, cutting boards or beautiful acacia wood salad bowls and serving trays.
While some people might choose oak where a hard wood is needed (like floors), acacia wood is even harder. In fact, acacia wood is even more durable than oak, mahogany, and maple.
The hardness of a wood is rated on an industry wide standard known as the Janka test. The Janka test measures the force required to embed a .444 inch steel ball into the wood by half its diameter. This test is one of the best measures of the ability of a wood specie to withstand denting and wear. It is also a good indicator of how hard a specie is to saw, mill and nail. The Janka hardness measurement of acacia wood is 1700, as opposed to walnut's 1100.
Acacia wood is resistant to decay because the tree deposits in the heartwood have many waste substances that are preservatives, which render the wood unpalatable to insects. This makes the wood dense and thus resistant to penetration by water and other agents of decay.
Acaciaware™ and Sustainability
Acaciaware™ is responsibly forested with care. 'Responsibly forested' means that our wood is harvested in an environmentally friendly and sustainable manner.
Sustainability means:
Harvesting rates and clearing sizes that do not exceed a forest's natural capacity to regenerate.
Maintaining natural forest conditions needed for wildlife and healthy ecosystems to function.
Protecting and maintaining rare, threatened and endangered species and forest types.
Not clearing forests or replacing them with barren tree plantations.
Minimizing or eliminating chemical use.
Protecting streams and rivers from soil erosion that degrades water quality and fish habitats.
Helping workers, communities and indigenous people benefit from the forestry operations and protecting their rights and interests.
The Acacia Tree's Sustainability And Rate Of Growth
The acacia tree grows rapidly, with a reported growth rate of between twenty four and thirty six inches per year. They are able to achieve this growth due to their deep taproots which help them access moisture and nutrients deep in the soil. Additionally, their leaves are adapted to store water, allowing the trees to survive in arid conditions. Acacia trees provide food and shelter for many animals. The rapid growth rate of the acacia tree makes it an ideal choice for sustainable forestry. When managed properly, acacia plantations can provide a renewable source of wood with minimal impact on the environment. Additionally, the use of acacia wood helps to reduce pressure on other threatened forest.
Tree Replanting
As part of our dedication to social responsibility, Pacific Merchants Trading has committed to planting trees in pursuit of sustainable development, conservation and the protection of our environment. Our goal is to make a positive impact on future generations and encourage others to follow our lead.
Care Instructions For Acaciaware Acacia Wood Serveware
Simply wash the item with warm soapy water and air dry. If your acacia wood charcuterie tray, appetizer serving tray ever appears dry, treat it with mineral oil and the grain will be restored to its original beautiful condition. Acaciaware can handle moderate heat but cannot withstand hot pans or baking dishes taken directly from the oven. None of our serveware should be used as a trivet for hot pans or casseroles out from the oven. Acacia wood is not dishwasher or microwave safe.
We minimize our carbon footprint by using clean recycled packing material!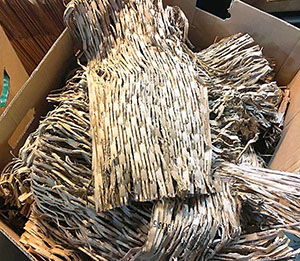 Pacific Merchants' Acaciaware™
Pacific Merchants' Acaciaware™ acacia wood salad bowls, serving trays and acacia wood plates are handcrafted from one solid piece of acacia hardwood. Each piece has a unique shape and wood grain.
Acacia wood is durable and long-lasting. Our large acacia wood salad bowls and wooden fruit bowls are completely food-safe, will not stain and will not pick up odors.
Pacific Merchants acacia wood is easy care. Just hand-wash with warm soapy water and air-dry. Acacia wood bowls are not microwave safe.
Pacific Merchants practices sustainability. Sustainable foresting means harvesting rates do not exceed a forest's natural capacity to regenerate.
Natural forest conditions need to be maintained for wildlife and healthy ecosystems. We do not clear forests or replace them with barren tree plantations.
Pacific Merchants is socially conscious and help local communities benefit from the forestry. We support employment, school lunch programs and college scholarships.