Acacia Wood Salad Bowl Sets
Wooden Acaciaware Salad Bowls and Salad Serving Sets
Pacific Merchants acacia wooden salad bowl sets are sustainable, and each piece is hand made from one solid piece of acacia wood. That means the bowl will not crack or warp, like other salad bowls which are made from little pieces of wood glued together. Acacia large wood salad bowls can be used for many purposes such as an acacia wood salad serving bowl, wood bowl for chips, a popcorn bowl or pasta serving bowl. Acaciaware acacia wooden bowls are also available as an acacia wood salad bowl set.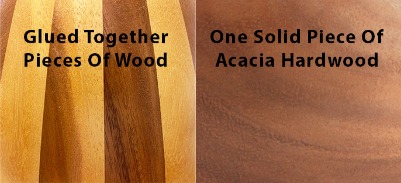 The Perfect Gift
Acacia wood salad bowl sets are an appreciated wedding gift, on bride's registry, a house warming gift or as a beautiful wooden fruit bowl for the kitchen counter. Each Acaciaware serving bowl has a warm feeling, with interesting grain colors and patterns. Hand crafted from one piece of wood no serving bowl or charcuterie tray look the same. It is always a surprise what each piece will look like. Each piece of Acaciaware has it's own unique look, almost like it is a piece of art.
Acaciaware is made from acacia wood which is a hard wood with a tight grain. This superior material makes our wooden serving bowls resistant to water penetration, stain resistant and they will not pick up odors. Our acacia wood serving bowls, Acaciaware fruit bowls and acacia wood salad bowl sets will not crack or chip because the wood is so hard.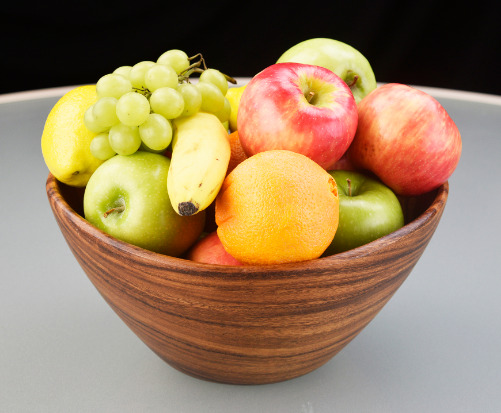 There are many sturdy and durable wood salad bowls on the market, but acacia wooden salad bowls are a great option. Acacia wood salad bowls come in many shapes and sizes and are perfect for wooden serving bowls for any occasion. Large wooden salad bowls are perfect as salad serving bowls, wooden fruit bowls, big salad bowls for pasta, and other foods. Acacia wood salad bowls are great for serving and are a perfect addition to any kitchen. Acaciaware makes nice acacia wooden salad bowl set for food. Big wooden bowls are perfect as a Cesare salad bowl, popcorn bowl, pasta serving bowl and other salad serving bowls. Wooden salad bowl sets are an appreciated wedding gift, for brides registry, house warming gifts as well as a wooden fruit bowl for the kitchen counter.
Acaciaware® by Pacific Merchants Trading Company is the original eco-friendly acacia hardwood, harvested from privately owned lands. What is acacia? Acacia wood is naturally resinous hard wood that resists penetration by liquids. It will not stain or pick up odors. All of Pacific Merchants Acaciaware® acacia wood bowls are hand turned from one solid piece of acacia hardwood and our other acacia wood items like our acacia wood plates. These Acacia hardwood serving sets are the perfect tableware for serving salads, pasta, and your favorite entrees. Our salad sets with both salad servers and oversized wooden bowls are great for tableside salad tossing as well as serving.

Acaciaware® by Pacific Merchants Trading Company serving sets are good for way more than saladware. Our complete line of platters, plates and dishes are the perfect solid wood dishes for any occasion
Pacific Merchants best-selling acacia wood include Acacia wood salad bowls, Acaciaware® acacia hardwood wooden plates, acacia wooden plates and bowls, and chip & dip serveware. For Pacific Merchant wholesale prices on Acaciaware®, acacia wooden serving trays, wooden salad bowl sets, acacia wood square plates, or acacia wood salad bowls, contact us at our email address to open a re-sale account: [email protected]. We would be happy to open an account so you receive acacia wood wholesale pricing.
Care Instructions: Acaciaware® is easy care! Simply wash and air dry. Because acacia is a naturally resinous wood, there is no need to oil, wax or treat your acacia salad bowls or serving trays. With the proper care, your acacia hardwood purchase will last for years to come, and may even become a family heirloom!