"You can buy good pasta but when you cook it yourself it has another feeling."
Life is a combination of magic and pasta! To all the pasta lovers out there, we know your life revolves around a warm and hearty bowl of delicious goodness. If we're being honest, so does ours.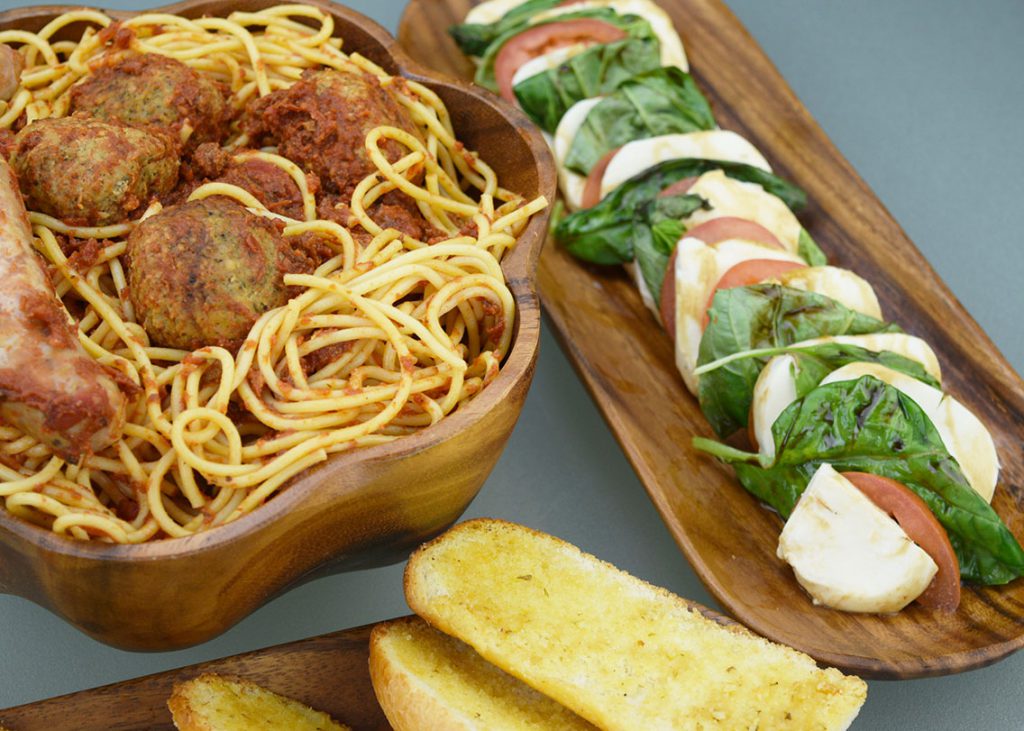 No matter how you enjoy your pasta, one thing this spectacular dish never fails to do is provide comfort. So, here are some delicious recipes you won't want to miss.
What are they? These are super-quick pasta dishes that will be ready to eat within 20 to 30 minutes to fulfill your sudden pasta cravings. Imagine a no clean up dinner (or afternoon snack, we don't judge) – all cooked in one pot.
3 One-Pot Pasta Recipes to Save Your Day
These recipes will save you from all the trouble of cleaning several dishes, cooking ingredients separately, and all the hassle that comes with it.
1. One-pot Lemon Shrimp Pasta
Take 12ounces of Linguine, 1 bunch of kale leaves (remember to tear them apart), 1 can of cannellini beans (rinse and drain them), a quarter teaspoon of lemon zest, 2tablespoons olive oil, 2 teaspoons kosher salt, ½ teaspoon ground black pepper, and 4 ½ cups of water. Add all these ingredients to a straight-sided skillet and let it boil over high heat. Use tongs to turn the pasta every now and then for the first 5 minutes, so they do not become sticky. Next, add 1 pound raw and peeled shrimp and cook until almost all the liquid has evaporated off, and the shrimp turn opaque. Now, pour the pasta into a serving bowl and add lemon juice or spices as you like.
2. One-pot Spicy Sausage and Tomato Pasta
Another finger-licking pasta recipe for you guys. Take 12 ounces linguine, 1 can of diced tomatoes (must be fire-roasted), a cup of basil leaves, 12 ounces smoked Andouille sausage (preferably cut into 1/2 inch pieces, 2teaspoon kosher salt, 2tablespoons olive oil, and 1/2teaspoon ground black pepper. Combine the ingredients in a straight-sided skillet and boil the mixture until the pasta is well-cooked. Remember to turn the pasta every other minute with a pasta tong for the initial 5 minutes. It will prevent sticking. In 8 to 10 minutes, when the water has almost evaporated, pour it in your pasta bowl and enjoy with your favorite seasonings.
3. The Original One-pot Pasta
This is where it all started. To make this game-changer pasta recipe, you would have to unite 12 ounces linguine pasta, 12 ounces grape or cherry tomatoes (halved), 1 onion cut into thin slices, 4 thinly sliced cloves of garlic, ¼ teaspoon red pepper flakes, 2 sprigs of basil, 2 teaspoons of salt, and 2 tablespoons of extra-virgin olive oil, along with 4 ½ cups of water. Take all of this in a straight-sided skillet and boil the ingredients until the pasta is cooked and all the water has almost evaporated from the pot, around 9 minutes. Note to use pasta tongs frequently for 5 minutes to prevent your pasta from sticking on each other. Serve it in a pasta bowl, hot and smoky. Grate some Parmesan cheese on the cheeseboard and top your delicious pasta with some cheese and basil, and a dash of olive oil.
Which one will you choose first? No matter the day or type of pasta, we have the perfect bowls for you! Check out our Acaciawood Bowls and French Wood Serveware for your next pasta-filled evening. Yum!