Labor Day doesn't mean "back to school" now that most schools seem to start in August, but it's a really good time to throw a great, end of summer barbecue and enjoy spending time outside before the weather turns cold.  Of course, now that it's the end of the summer, you might be a little sick of a traditional BBQ with burgers, hot dogs, and even ribs, so we've got some great tips to add some color (and some spice) to your Labor Day Barbecue!
First up, Set a colorful table! There's something about bright, lively colors that make even the most casual get-together feel like a party.  Use flowers, colorful foods, and vibrant placemats.  For a recent party, we used 24 of our Laguna placemats as a tablecloth, and it looked great! As a labor day gift for you, we're offering 25% off of our ENTIRE Laguna line to our retail customers from now until Tuesday, Sep 3. Just enter LABORDAY at checkout! Laguna mats look great indoors and out, so they're perfect for entertaining as the seasons change.
Second, make (or buy) snacks that you can set up ahead of time, like our chips, salsa and guacamole in the picture above.  They're easy to set out an hour ahead of time, and they'll help keep your guests snacking and mingling if you need a little extra setup time. We love making and serving guacamole in our Mason Cash Mortar and Pestles.  They're perfect for crushing garlic, cilantro and spices and mashing avocado. Plus, they're made of heavy stoneware that looks great on the table.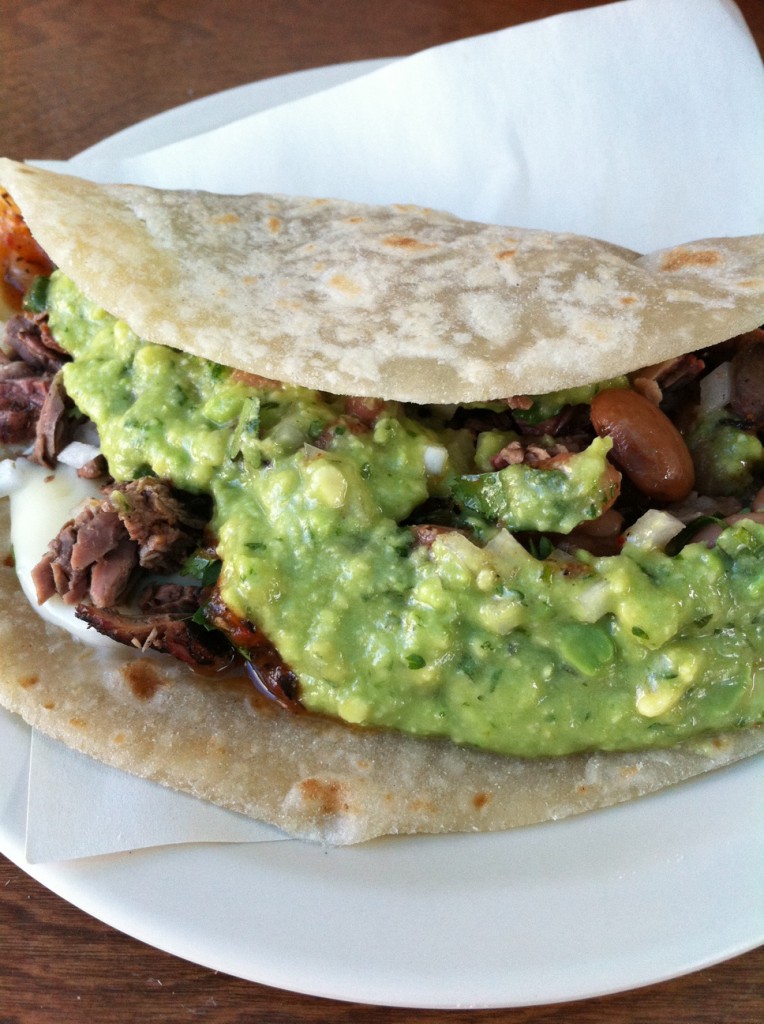 Here's our signature guacamole recipe. It's simple to make, and whether you're grilling hot dogs and burgers or carne asada for tacos, it works.  If you like more heat, add a chopped up jalapeno.  If you like more tang, add more lime.  This serves 4-6 people and is the perfect amount for the large Mason Cash Mortar and Pestle.
3 avocados
¼ cup chopped cilantro
½ tsp whole cumin
1 clove garlic
¼ cup chopped red onion
1 small tomato, chopped
Juice of 1 lime
Salt and pepper to taste
In the bottom of your mortar and pestle, crush together the garlic, cilantro and cumin until they form a paste
Add the lime juice and half the avocado
With the pestle, grind until very smooth. Add the other half of the avocado, the onion, and the tomato
Combine with pestle (you may also need to use a fork) until thoroughly combined
Taste and season with salt and pepper.
Serve right in the mortar and pestle!
If you want to make a bigger batch, the recipe doubles or even triples really nicely.  Just grind up the cumin, mince the garlic and cilantro, and make the whole thing in an Acaciaware bowl. Just like when you serve in the mortar and pestle, there's one less dish to clean, since your serving dish is also your prep bowl.
Since you're already making guacamole, I suggest you grill up some simple carne asada to go along with it.  This flavorful dish is easy to prepare and uses a cheaper cut of steak, so even if you're cooking for a crowd, you won't break the bank.  Do most of the prep the night before to save time!
2 lbs flank or skirt steak
4 garlic cloves,
1 jalapeno,
1 large handful fresh cilantro leaves,
Kosher salt and freshly ground black peppe
½ tsp ground cumin
2 limes, juiced
1 orange, juiced
Zest of one orange
Zest of one lime
2 tablespoons white vinegar
1/2 cup olive oil
 In a blender or food processor, combine all the ingredients except the flank steak. Blend until smooth.
Put flank steak in a gallon-sized sip top bag.
Pour marinade in on top of steak and seal bag, pressing as much of the air out as possible.
Allow steak to marinate for at least 1 hour, or as long as 12 hours.
Heat your grill to medium high. If using a gas grill, allow at least 10 minutes for the whole grill to heat.
Brush grate with vegetable oil carefully to avoid flare ups.
Grill the steak for 7-10 minutes on each side, turning once for a medium-rare steak.
Remove from heat and let rest for 5 minutes
Slice across the grain, on the diagonal, into thin slices.
Arrange on an Acaciaware plate.
We suggest serving the carne asada with fresh tortillas, grilled corn, our amazing guacamole, and some cheese and salsa.  If you want, you can put together a whole condiment bar using small acacia bowls and  condiment serving sets.   Consider filling bowls with pico de gallo, shredded cheese, pickled jalapenos, grilled peppers, grilled onions, and sour cream.
From all of us here at Pacific Merchants, have a really happy Labor Day. We hope you enjoy these last few weeks of summer and get to have a fun, relaxing 3-day weekend. And remember to enter LABORDAY at checkout to get 25% those colorful Laguna mats from now until September 3! You deserve a treat.