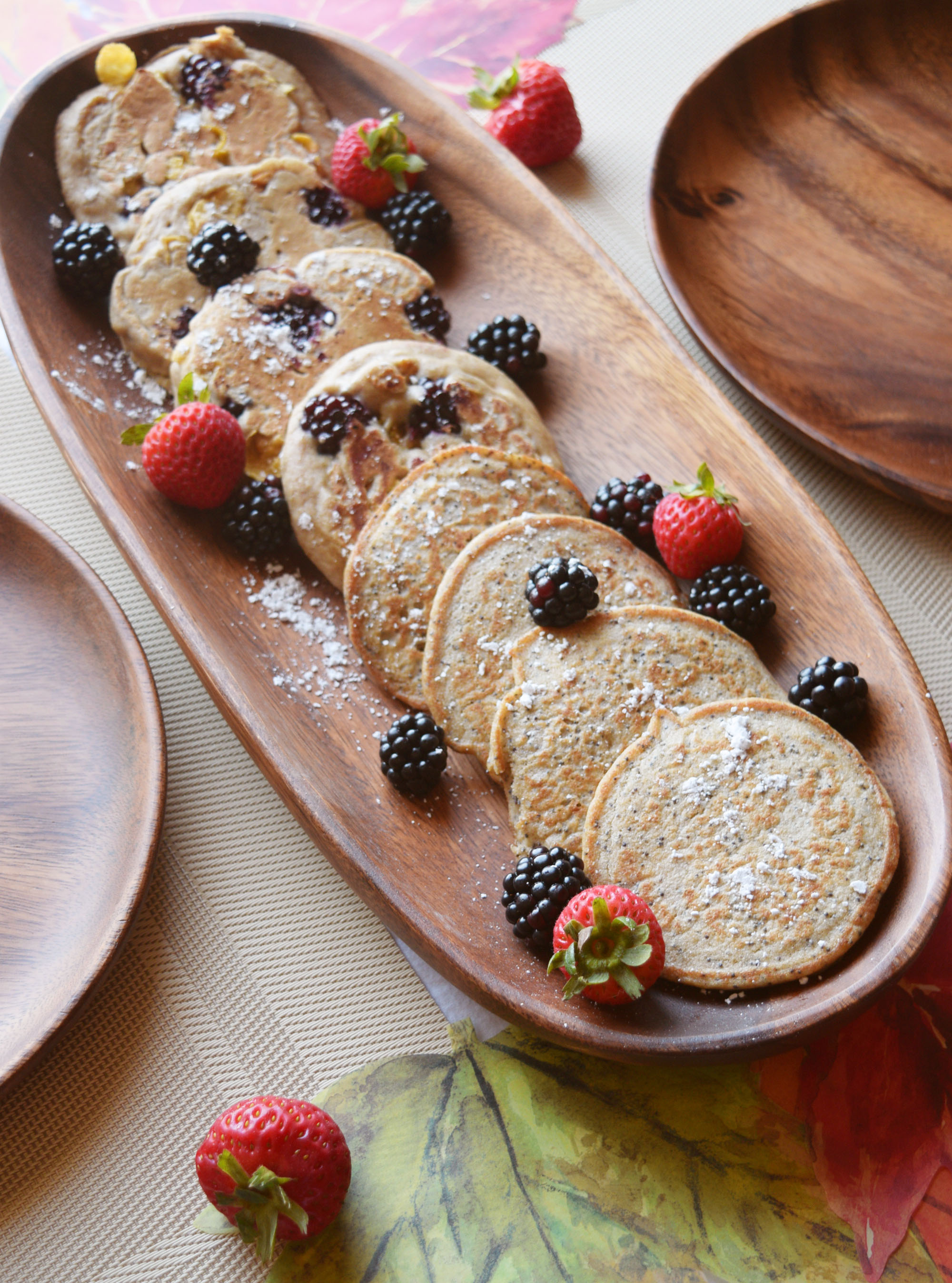 One thing I look forward to every weekend is the ability to actually cook a real meal for breakfast instead of my usual instant oatmeal or cereal during the week. Due to the monotonous nature of my workweek eating habits, when Saturday morning rolls around I try my best to test out new exciting recipes (often to my husband's dismay). One morning in particular we were trying to decide what kind of pancakes we wanted, and after a very rousing 15 minutes of 'No you choose!' I had a brilliant idea. Why not just make a healthy base and then we could divide it and add all the fun ingredients after? That way each person could have exactly what they want, or at the very least we would have a multitude of pancake options (what a sweet predicament to be in!) Not only was this a great option for us (no more WHAT DO YOU WANT TO EAT pep talks before coffee-hah!), but I thought about how great this would be for families with picky eaters (or with multiple kids who all want different things). What's also great is that both variations I'm sharing are gluten-free and low calorie, AND you can refrigerate the batter and use it to make a quick healthy breakfast during the week!
Presentation is also big for me on weekends, since during the week my breakfasts are generally of the 'to-go' variety. I like each meal to feel as though we just stepped into the fanciest boutique brunch restaurant (minus the hefty price tag!) These acacia plates from Pacific Merchants are always a great touch, and since there is sticky syrup involved I love using our poly vinyl placemats (super great for not only protecting your table, but also are incredibly easy to clean). It seems like a little overkill, but after 15 years together with my husband, I love every opportunity I can find to create a special date experience for both of us. Plus when you're on a budget, eating out every weekend is just not an option. And thanks to Pacific Merchant's products, I'm able to really give my spouse the 'fine dining' experience at home (which is not only cute, but practical). Check out the gear I used for this post:
The Acacia Serving tray
The Acacia Round Plates
Our Laguna Linen Placemat
The Into the Woods Deco Parchment Leaves
…and try hosting your own fancy brunch-date at home with the people you love!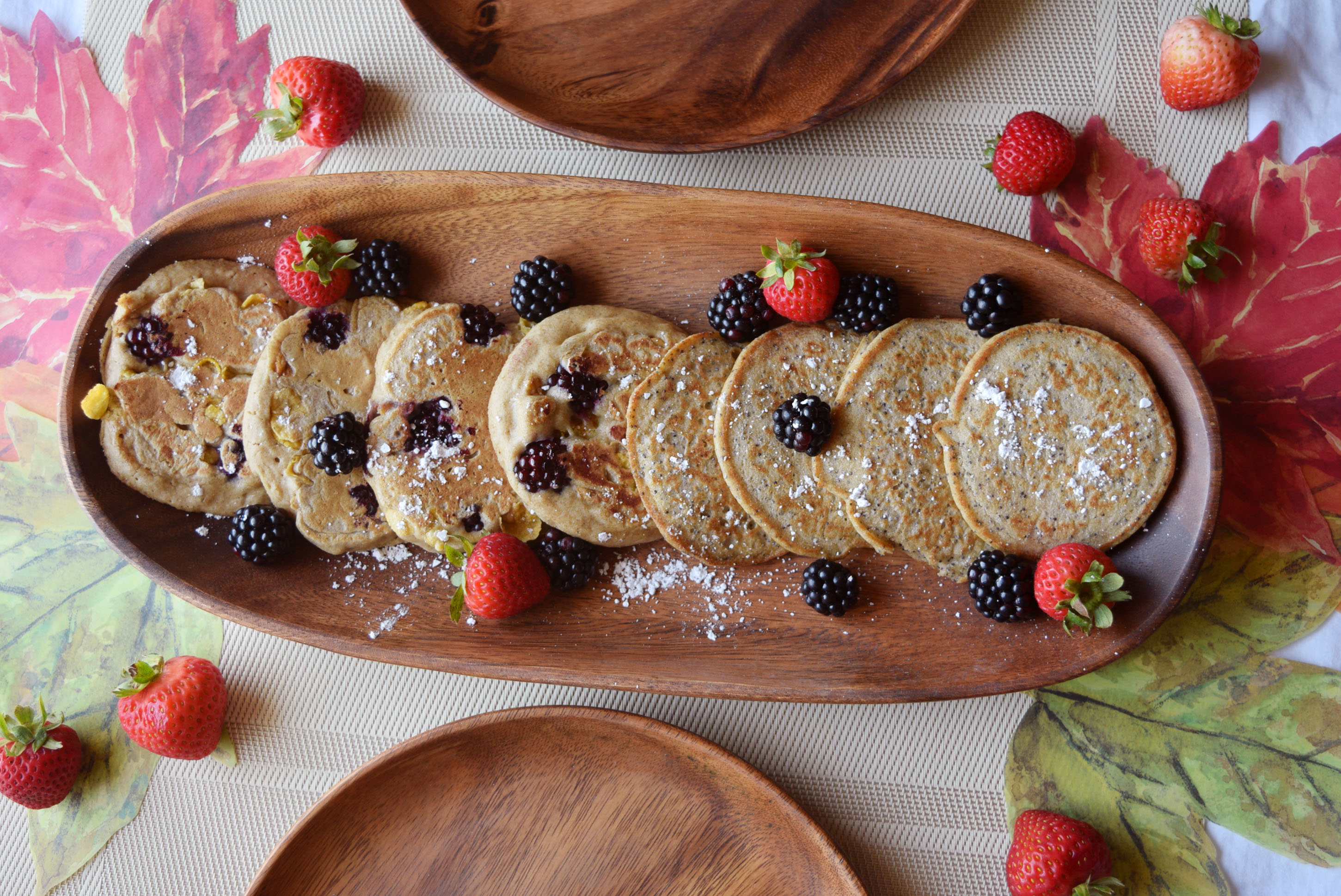 ——————————————————————————————–
Healthy Pancake Batter
2 cups Oat flour (or you can ground your own oats!)
2 tsp Baking Powder
½ cup organic unsweetened applesauce
1 cup unsweetened Almond Milk
1 egg
Coconut oil for pan
Method
1. Combine all dry ingredients in one bowl, and wet ingredients in another. Slowly add the combined wet ingredients to the dry mixing as you go.
2. Decide how you want to customize them! Today I'm making Lemon Poppy Seed for myself, and mixed berry cereal pancakes for the husband!
Lemon Poppy Seed Variation
1 tbsp Organic Poppy seeds
3 tsp Lemon Juice (Fresh or pre-bottled)
1. Half the batter you just made and set one half aside.
2. Add the organic poppy seeds and the lemon juice, and stir into batter until combined.
3. Add a spoonful of coconut oil to pan (do so before pouring each pancake)
4. Ladle a small amount of batter onto the pan and let cook for roughly 2-3 minutes each side (or until brown). Repeat until you finish batter.
5. Add some organic maple syrup and these bad boys are ready to eat!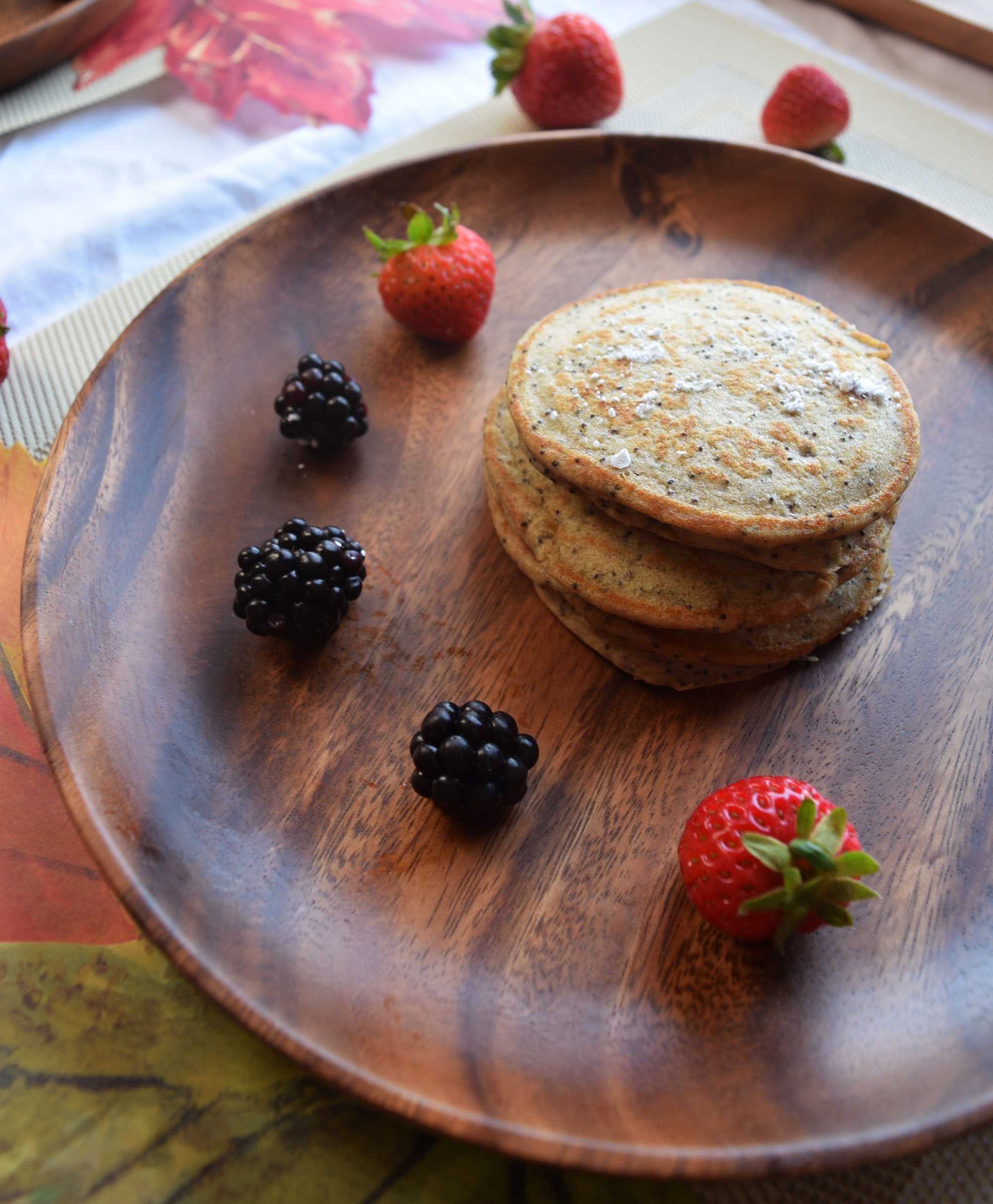 The Arnold's Mixed Berry and Cereal Variation
½ cup organic blackberries
1 cup of any cereal (today we are using Honey Bunches of Oats)
1. Add a spoonful of coconut oil to skillet (do so before pouring each pancake)
2. Take the other half of the untouched batter and ladle it onto your pan.
3. Sprinkle a couple berries and a pinch of cereal on top of the pancake. Ladle more batter on top (lightly- you still want to see bits of berry and cereal poking through)
4. Once the pancake begins to bubble, flip it over. (Each side should take roughly 2-3 minutes to cook through). Repeat until you finish batter.
5. Add some organic maple syrup and voila!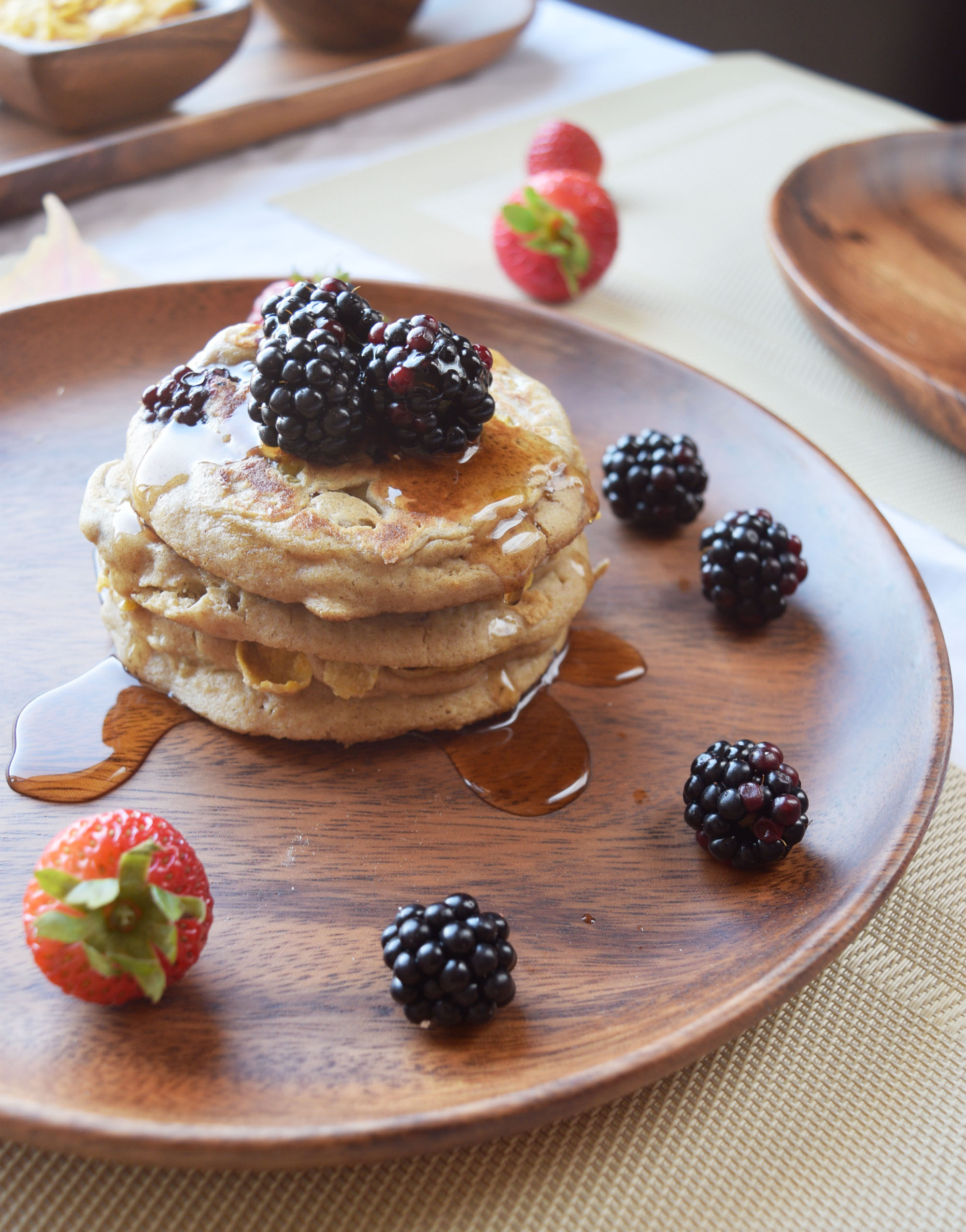 Side notes if you've never made pancakes before!
*keep pancakes relatively thin and small when you pour them onto the skillet. It allows them to cook more evenly, and you don't have to worry about an uncooked middle section.
* If you feel like your pancake batter is too thick you can always add more almond milk. BUT if you do add some to it, add it in small increments or the batter will become too runny. You do want the batter to be relatively thick, and if it becomes too runny you'll have something more akin to crepes!
* The best way to tell if your pancake is ready to flip is to watch the top of the pancake for bubbles. These usually come after 2-3 min on medium heat.
* Don't crank your burner up to full blast! It's always better to cook at a lower heat as it will save you from burning your pancakes.
* Fun fact- if you just add the berries and cereal to the batter, the ingredients will come out soggy! Be sure to follow the steps for some delicious crunchy pancakes!