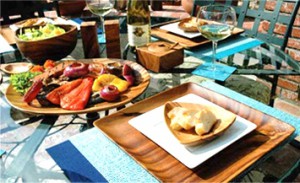 The weather is heating up and the kids are out of school. You know what that means. Outdoor entertaining is number one on the to-do list. But just because you're dining al fresco doesn't mean you have to sacrifice style.
No Rules!
There's no rulebook that mandates that pretty plates, serving dishes and centerpieces must be replaced with boring white paper plates and plastic cups. In fact, dining outside can actually be even more inviting and enchanting than eating indoors. Who doesn't love the sound of crickets chirping and a gentle breeze on a warm summer's eve. Outdoors is the place to be in the summertime.
Need a little inspiration to set your summer table? Check out even more of our tips to create an inviting outdoor table for your next summer gathering.
Select an Eye-catching Tablecloth or Placemats
Dress up your table with an attractive tablecloth or placemats that compliment your tableware. Summer colors tend to be bright and fun, but if you are hosting a more elegant affair you may want to opt for whites or more subdued colors to create an ambiance of elegance.
If you're in the market for new table linens, browse our large selection of placemats and coasters available in an extensive variety of sizes and colors from ruby red, orange and cobalt blue to ecru, olive and platinum.
Set the Mood with Lighting
The beauty of dining outdoors is being able to enjoy the view and picturesque beauty of the sun, moon and stars, depending on whether you're lunching or enjoying dinner. In addition to the natural light, candles are the perfect accompaniment to brighten up your dining table.
Tea lights are a simple and inexpensive way to add candlelight to your outdoor table. Don't skimp on the "light." When it comes to candles, less isn't necessarily more. Tiki torches and white twinkle lights are also a nice accompaniment to outdoor table settings.
Forget the Paper Plates and Plastic Forks and Bring Out the "Good" Dishes and Serving Ware
Dining outdoors doesn't mean you sacrifice beauty and style for disposable tableware. Why not bring out the good dishes or even the China to create an unforgettable, outdoor table setting that is certain to impress your guests.
If you're dining with children or still prefer to use tableware that you don't have to worry about getting broken, our wooden plates, and serving dishes and bowls made from Acacia are the perfect choices. Durable, yet still exquisitely beautiful, tableware made from renewable Acacia is the perfect choice when setting an outdoor table for a Summertime gathering.
Craft a Summertime Centerpiece
No table is complete without a beautiful centerpiece. Fragrant fresh flowers or baskets filled with summertime fruits like lemons, limes and berries will dress up any table. Get creative though. If you're hosting a themed event, tailor your centerpiece accordingly. Scatter rose petals across the table for a more elegant or romantic table. For a beach-themed table, make use of seashells, starfish and even sand. The possibilities are endless.
Outdoor dining is a hallmark of the summer season. Whether it's the Fourth of July or a Sunday family dinner, setting a beautiful and inviting dining table is sure to enhance your mealtime. And with these simple guidelines to creating the perfect outdoor table setting, you are well on your way to having your own memorable, outdoor dining experience.
Share our blog with your friends:  http://www.pacificmerchants.com/blog/?p=495