Here at Pacific Merchants we're big believers in getting organized, simplifying, and enjoying the simple pleasures of life. One of the ways we're doing that is throwing an epic Spring Cleaning sale. That's right, some of our best-selling items are up to 50% off.  Make sure to check out our sale page to see how we do spring cleaning, and how awesome it'll be for you!  Everything from Acacia to Placemats to Teapots are on sale, so make sure to check them out!
If you're here to get some cleaning tips, we're happy to help you out! We're going to give you our top tips on how to organize a pantry, how to spring clean, and how to clean your house fast. We'll even give you a truly helpful checklist to help you get organized at home?  Ready? Bookmark that sale page (it's running through March 19 and we're gonna put new stuff up all the time) and let's clean!
1 – Create a landing strip. No, your home isn't an airport, but it's amazing to have somewhere to throw all your odds and ends when you walk through the door. I was particularly inspired by this little nook I saw on Apartment Therapy. Check out that big wood bowl for mail. I immediately went home and did something similar with our oval bowl –  it's the perfect size and shape to hold my mail, but just small enough that I actually go through the mail regularly.  If you've got a large space, consider dedicating an small room or closet , but if you're in a smaller apartment, something as simple as a small cabinet, a shoe rack, and a couple of hooks will suffice.   I suggest 2 hooks per per person (coat, bag/purse) and enough room for a couple of pairs of shoes each, plus a catch-all for odds and ends, whether it's a big bowl, a sectioned tray or even a Kilner jar. Trust me, it may seem a little dumb, but having a place to dump your stuff when you walk in the door helps if you're trying to keep your home clean.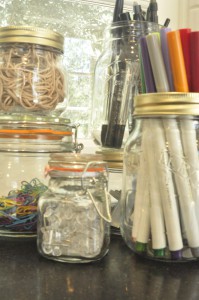 2- Pull things off the shelves. You know those cabinets/closets/pantry shelves that are just full to the brim of disorganized odds and ends? Pull EVERYTHING out of those cluttered cabinets. Clean them (trust me, start with a clean slate) and put things back in a neat, orderly fashion. Stack dishes  by size and put them back.  Organize odds and ends in that junk drawer – I use small Kilner jars and label the lids. They're short enough to sit in a drawer and the labels mean I can easily find those spare keys, rubber bands, loose change, or push pins.
3. Consolidate. This is another great time to break out the Kilner jars. Whenever I go through my pantry and cabinets, I find 3 half-used bags of sugar, the occasional extra bag of flour, and 5 or 6 half-used bags of chocolate chips I forgot I had.  I've recently begun combining all these half-used bags in large clip top jars rather than trying to put them back. The stuff I use frequently – cereal, coffee, sugar, pretzels – goes on the counter for easy access since Kilner jars are just so pretty. The stuff that I don't use as much still gets combined, but goes in the pantry or in my cabinets.  And once you've consolidated, you'll find yourself with more space for sure!
4. Throw stuff out. While you're organizing your closets, pantries and cabinets, you'll come across things you forgot you had, like that  sweater that just doesn't fit or that bundt pan you've never used. Time to get critical: If you've had it longer than 6 months and haven't used it, consider donating it – with the exception of seasonal things you actually DO break out every year.  If it's broken, time to either repair or discard. If that pan hasn't had a handle for months, it's just been taking up space.  This is another great way to free up some storage space.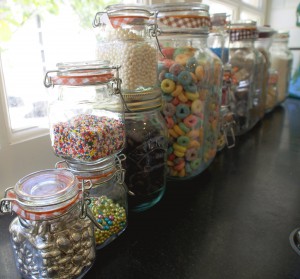 5. Put everything away. Use this strategy: If you use it all the time, make it the easiest to reach. If it's one of those things you break out once a year, that highly inconvenient cabinet above the refrigerator is perfect.   If it's something you use semi-regularly but not daily or even weekly – stand mixer, food processor, spare sheets, consider a less convenient shelf.  Once everything is put away, you'll be happily surprised by all the newfound space you've got!
6. Put away anything that didn't have a home.  You've got room now!
7. Dust and wash surfaces. This won't be as hard as it sometimes is, since you cleaned those shelves and cabinets when you were organizing. Right??  Right.  Go over everything with a dustcloth first – make sure to pick things up and get under them. Once everything is dusted, give them a wipe down with a damp cloth or some windex and paper towels (where appropriate) until all your surfaces are sparkling!
8. Once you've got clean surfaces, move on to the floors. Vacuum where needed. Mop where needed. Make sure to run over your baseboards with a damp cloth.
9. Do your laundry. I always put this off until last since I make laundry the whole way through – All the rags, microfiber cloths and mop heads I own go in the laundry. Wash, fold and put away.
10. Holy crap! Your home is clean!  Kick back, enjoy, and check out that spring sale you bookmarked. Chances are, you've cleared off a perfect home for that teapot you've been coveting, and magic – it's 50% off!
Tags: cleaning, cleaning tips, how clean is your house, how to clean, how to clean like a pro, how to clean your house, how to get organized, how to organize a pantry, how to organize your room