It gets hot here in LA, and on a 105 degree day, the last thing I want to do is fire up all my burners, crank my oven, and make my apartment even toastier.  So what do I do? I make a ton of salads. Sure, some of these require a little bit of burner usage, but turning on one burner to boil water for pasta or cook a piece of chicken is nothing compared to throwing together an involved meal. .  Ready to get your summer salads on? Break out your salad bowls and dressing bottles. We're gonna do this thing!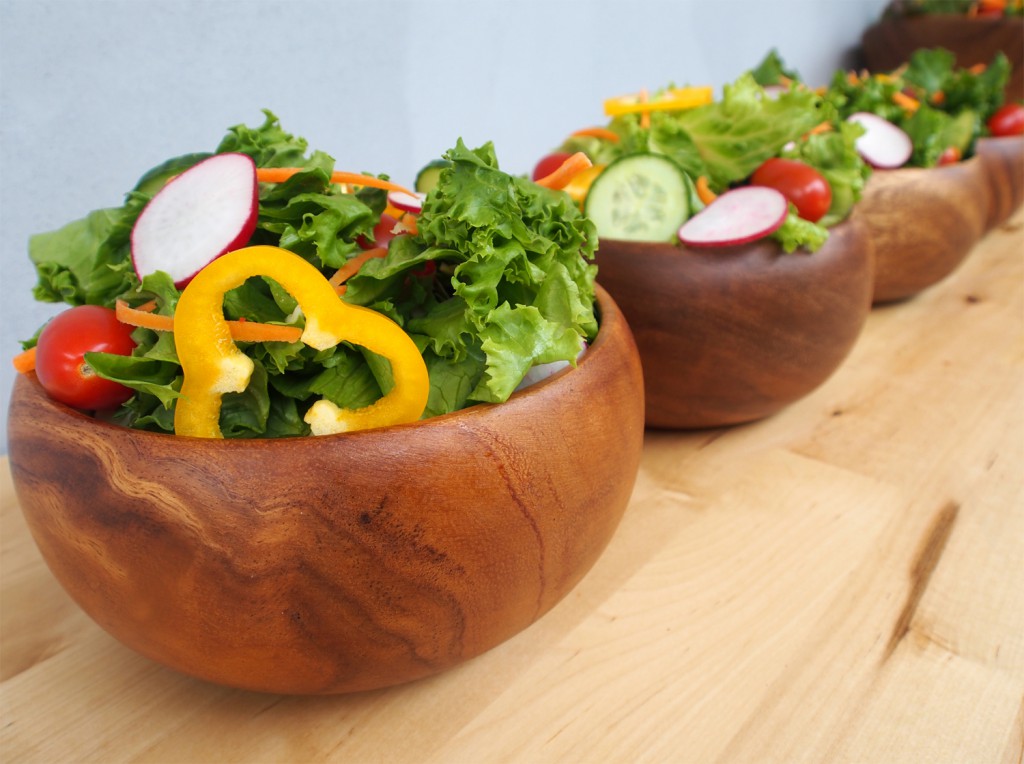 First up, let's talk about the green salad.  Sure, it's a great way to eat your veggies, but the humble green salad gets a little boring.? Here are my top 10 tips for spicing up a green salad.
Right before serving, salt your salad. It tempers the bitterness, wakes up the taste buds, and adds texture.
Unless it's a kale salad, dress at the last minute to avoid wilted, sad greens.  Always use a large bowl to dress salad so the salad is fluffy and crisp, not matted and soggy.
Hand tear your lettuce/greens into managable pieces. Tearing avoids blackened, wilted edges and breaking your greens up means you'll get a little something extra in every bite.
Got extra fresh herbs wilting in your fridge? Add them to your salad for unexpectedly flavorful greens.
Add something crunchy. A variety of textures makes a salad feel more satisfying. Consider adding croutons, nuts, carrots, crushed tortilla chips or wonton strips. Let your imagination run wild. I like pretzels instead of croutons.
Add some protein (but cut it small.)  Add cooked chicken, shrimp, tofu, steak, fish, or egg.  But don't put a whole chicken breast or salmon filet on that salad. Breaking it up means you get a little more with every bite.
Add a hint of sweetness. Most salads benefit from a sweet kick, whether it comes from the dressing or added fruit. I often add a bit of honey to my dressing, but during the summer I just add fresh fruit to the salads. Peaches and arugula are pretty much perfect together, as are blueberries and kale, strawberries and spinach, etc.
Add extras, but not too many. A simple green salad is a great thing, but adding a couple of veggies can really punch it up.  Cut them small so they don't weigh down the salad and don't go crazy- 3-5 is more than enough to enhance your salad while still making it feel focused.
Make it a full meal salad by adding whole grain. Barley, quinoa, wheatberries, wild rice and more turn a simple salad into a filling main course. Plus, they all work so well with dressing.
Add brightness – A squeeze of citrus, whether it's lemon, lime, grapefruit, or orange, really makes the flavors in a simple salad pop. Whisk citrus juice into dressing or just sprinkle it over your dressed salad.
Inspired?  Good. Now whip out that salad bowl, harness the power of summer produce, and make something delicious happen.
Want an even heartier salad? Consider a pasta salad. Growing up, I always considered pasta salads weird, overly-mayoed side dishes for potlucks and barbecues. I avoided them at all costs. But you know what? They don't need to be mayo heavy or even pasta heavy to be an excellent summer side dish.  Here's my absolute favorite of all the pasta salad recipes I've got: A simple caprese pasta salad. With all the ripe tomatoes gracing farmers markets and supermarkets this time of year, it's the perfect time to make this salad.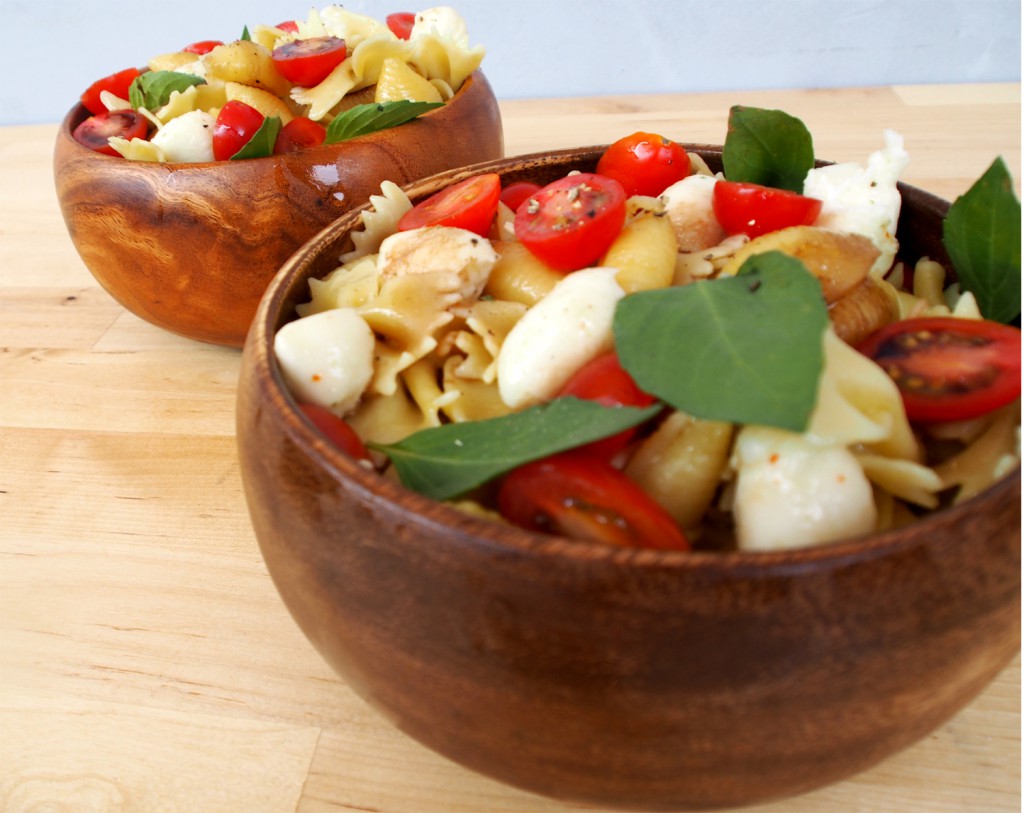 Equipment
Knife
Pot for cooking pasta
Cutting Board
Ingredients
1 lb pasta, cooked (I like shells best. Whole wheat is fine.)
1 pint container boccocini (small mozzarella balls) or 1 large ball mozzarella cut into bite sized pieces
1 lb fresh, ripe tomatoes, cut into bite sized pieces, or cherry tomatoes sliced in half.
1 large bunch basil, leaves sliced.
1/3 c Olive oil
2/3 c Balsamic vinegar
2 cloves garlic, finely minced
1 tsp Dijon mustard
Salt
Fresh Cracked Black pepper
Instructions
In the bottom of your large salad bowl, add the tomatoes and a healthy pinch of salt. Let sit while you make the dressing.
In a jar or bottle, combine olive oil, vinegar, mustard and garlic.  Shake well to combine, then add half of the dressing to the tomatoes.
Add the mozzarella to the mix and toss to combine.  At this point, you can go ahead with the salad or let this mixture marinate for up to 1 day.
When ready to serve, toss pasta and sliced basil with the  tomatoes and mozzarella.  Add salt, pepper, and extra dressing as needed.
Magic – you've got a fresh, light summer pasta salad that's picnic perfect.  Sometimes I add steamed peas, roasted peppers, olives or capers to this salad. Sometimes I don't.
If you've got extra dressing, try it on a green salad. this is a killer basic balsamic vinaigrette. You'll love it, I promise.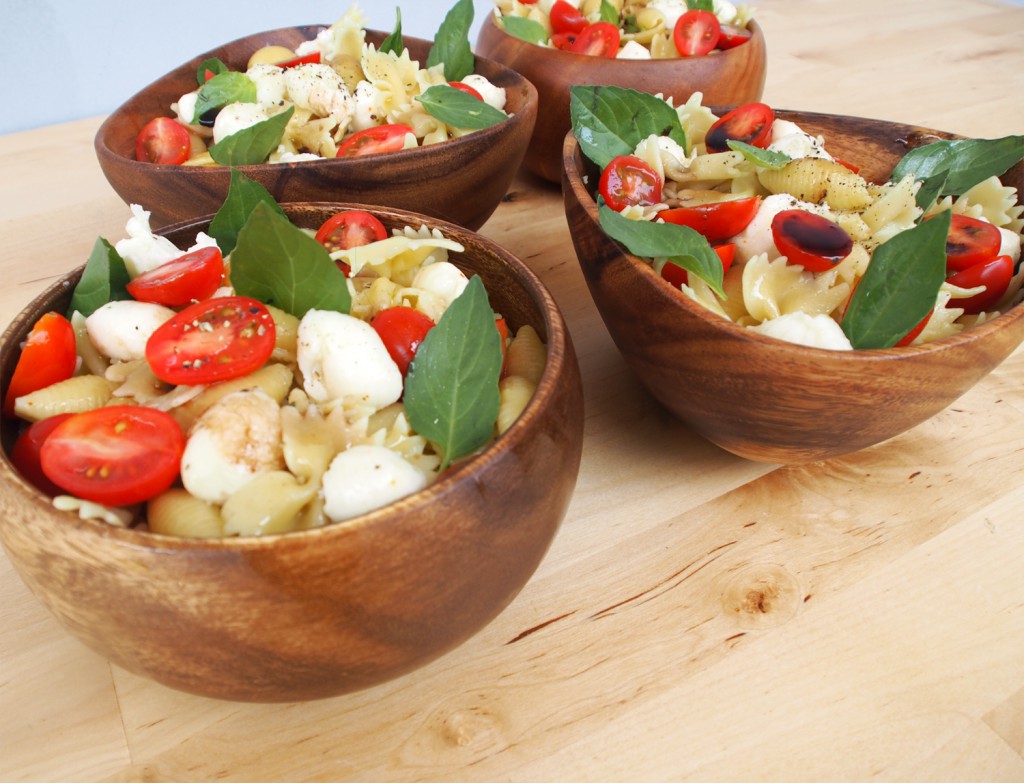 There you have it, folks – a couple of picture perfect summertime salads that'll remind you why vegetables are so delicious, just in time for those 4th of July barbecues and cookouts. Check back next week for a fruit salad that'll become your go-to weeknight dessert. Seriously, fresh fruit tossed with mint and raspberry sauce. Could it get any more summery?  Let me know in the comments -what's your favorite salad? We may re-post the recipe!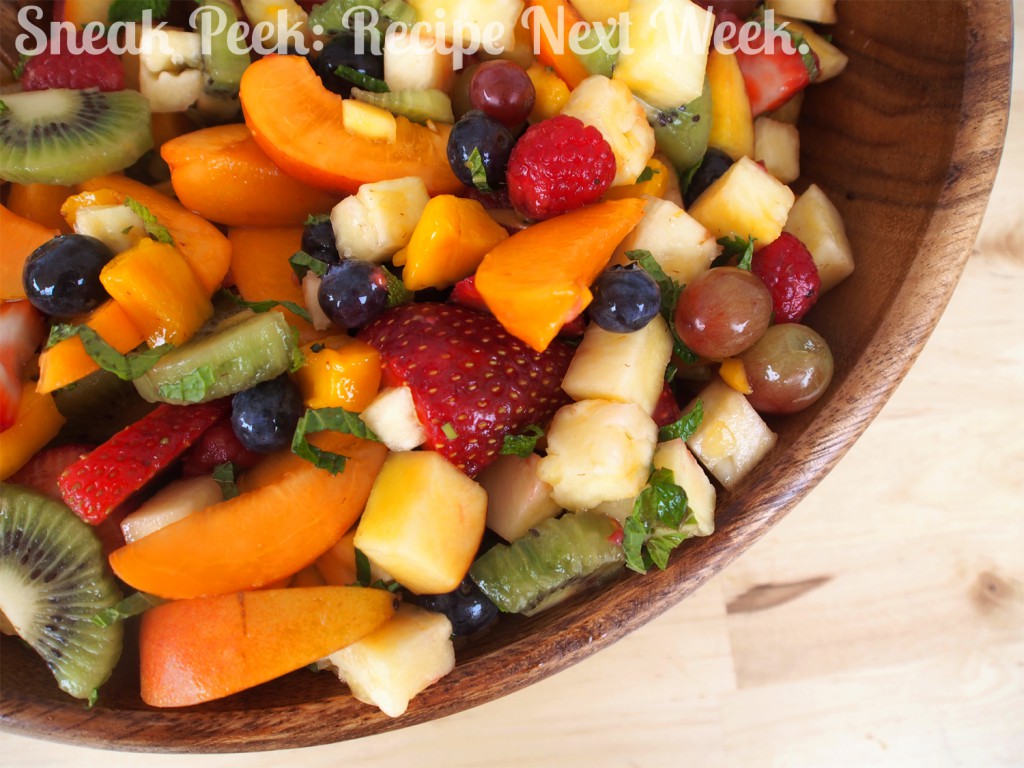 Tags: green salad recipes, healthy salad recipes, pasta salad recipes, quinoa salad recipes, salad dressing recipes, salad recipes, salad tips, summer salad, summer salad recipes