Summer is finally coming to a close this weekend, which is no surprise for anyone- what with grocery stores and coffee shops already pushing pumpkin – flavored everything in our faces. But before we jump onto the 'I heart fall' bandwagon, let's pump the breaks and get you ready for your Labor Day BBQ.
Labor Day is actually one of the best holidays in the US if for nothing else than the country takes a single day to honor all of its hard workers. The idea being that we are supposed to take the holiday and treat ourselves to some relaxation and fun, whether it is extra family time or a cookout (or heck a mid-day nap!). Now if there's anything we love at Pacific Merchants it's a good BBQ, and if there is anything we love more than that it would likely be guilt free snacking. BBQ fare is notorious for junk-food items and over-indulgence, but it doesn't have to be! You can still over-indulge (now sans guilt) with this Vegan Gluten-Free Spinach Artichoke dip. Not only is it creamy and delicious, but a normal order of spinach artichoke dip comes in at a whopping 1,600 calories per order – whereas its vegan counterpart clocks in at roughly 83 calories per cup (WHICH IS A LOT OF DANG DIP FOR UNDER 100 calories). Plus (and this is from experience here) if you don't tell anyone it's vegan…NO ONE WILL KNOW- Which is especially helpful if you come from a family like mine, who thinks the word vegan is a synonym for bland.
Now aside from the fact that this recipe is incredibly healthy, it's also super easy to make! And if you've been vegan for long you know how rare it is for those two things to go together. So here we go.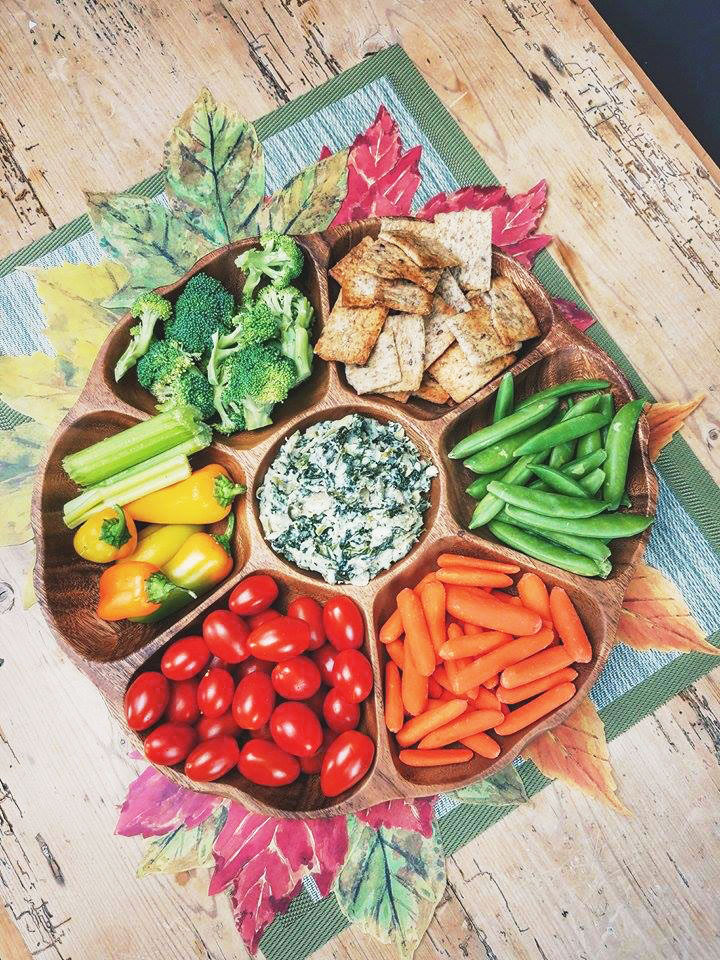 ———————————————————————————————————————

Vegan Spinach Artichoke Dip
Ingredients:
1 Jar marinated artichoke hearts
3 cups of frozen chopped spinach (you're welcome to use fresh)
1 cup frozen chopped onions
1 brick of Jalapeño Havarti Almond Cheese
1 brick of Soy Mozzarella
1 cup Almond milk
2 tsp of Olive Oil (or coconut)
1 tsp of garlic powder
Salt & pepper to taste
Assorted Veggies & multigrain whole wheat pita chips (for dipping)
Method
– Preheat the oven to 400 degrees Fahrenheit
– Prep a medium sized casserole dish (I spray mine with coconut oil for easy cleanup)
– Cube the 2 bricks of cheese and set in a large bowl
– Dice the artichoke hearts and set in the same bowl as the cheese
– Pour in the spinach and onions
– Add spices and oil to the bowl (I also toss in about 2 tsp of whatever the artichoke hearts were marinating in)
– Toss all ingredients together to mix everything up
– Pour bowl continents into your casserole dish
– Pour the cup of almond milk over the spread evenly (can add more later if you feel like your dip is too thick)
– Set casserole dish in the oven, cook for ten minutes, stir dip, and then cook for another ten minutes (so 20 min total). This is also the point to add more milk to the mixture if you want a runnier consistency.
– Once fully cooked, you can brown the top of the dip by switching the oven to broil for 2-3 minutes. Be sure to check on it frequently so it doesn't burn (it browns up super quick!)
-Let cool for 5 minutes, and then plate the dip in your beautiful acacia 7 part flower tray from Pacific Merchants! I chose to use an assortment of veggies and whole grain pita for dipping (to keep this dish as healthy as possible). However, I will occasionally serve this with a nice bread (whole wheat challah or sourdough is my favorite).
Get your own Pacific Merchants Acaciaware serving tray here.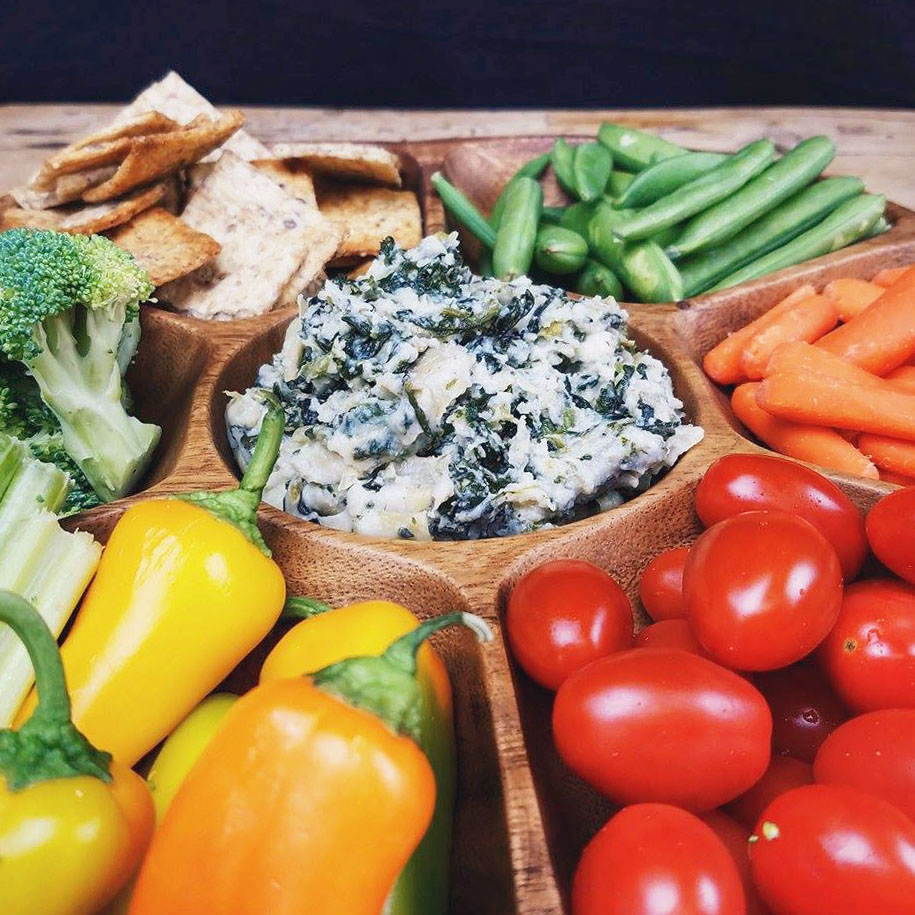 Tags: acacia ware, acacia wood, Acaciaware, baking, Baking Recipe, barbecue recipe, bbq, BBQ dips, bridal gift, chip and dip recipe, dip recipe, fall, fall recipe, holiday, Pacific Merchants, Pacific Merchants Blog, Pacific Merchants Recipes, Pacific Merchants Trading Company Blog, Recipe, Recipes, september, spinach artichoke, vegan, vegan recipe, vegetarian recipe