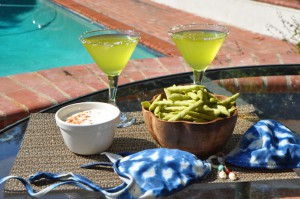 The sun's shining, temperatures are heating up, and friends and families are regularly gathering outdoors around the grill to enjoy some summertime R&R and a savory meal.
Besides maybe swimming, nothing is more synonymous with summer than barbequing. And although barbeque season is already in full swing, it's never too late to up your game and learn a few new tricks of the trade. After all, the Labor Day holiday is just around the corner and is the perfect time for aspiring BBQ chefs everywhere to show off their skills.
Charcoal versus Gas
A debate worthy to rival plastic or paper, choosing the right barbeque is simply a matter of preference. Both types churn out delicious eats, and have their strong suits and not-so-strong suits.
Charcoal grills are known for adding that signature, smoky flavor to food, lend themselves to adding wood chips for an added layer of flavor and often retail at lower prices than their counterpart. Gas grills produce a lot less smoke, eliminate the fuss of dealing with briquettes and lighter fluid, and cut down on cooking times.
Whichever type of grill you prefer, practice makes perfect. So fire up the grill and give these sizzling grilling tips a whirl, and before long you'll be the Bobby Flay of your neighborhood.
Start with a Clean Grill
Put some muscle into it and scrub that grill 'till it sparkles. You don't want yesterday's lunch of hamburgers and hotdogs to taint the taste of dinner's succulent salmon. A clean grill improves the taste and quality of your food. Charcoal users will also want to get rid of old ashes to promote better air circulation.
Be Prepared
To keep your grilling endeavors running smoothly, keep supplies like utensils, paper towels, antibacterial wipes and serving dishes within arm's reach. It's important to continually wash your hands after handling raw meat, and use separate plates and utensils for cooked and raw meat to eliminate any bacterial cross-contamination. You don't want to be running inside for supplies while your meat starts to overcook on the grill.
Make things even more convenient, and bring your Cutting Edge Flex Mat from Pacific Merchants outside by the barbeque so that you can chop and prep vegetables and more while you grill.
Preheat the Grill
It's important that your barbeque reach the optimum cooking temperature before placing food on the grill to avoid burning or drying it out. Preheat the grill 15 to 30 minutes before you begin cooking. If you're cooking on a charcoal grill, eyeball your briquettes. Once they take on a grayish hue, it's time to put the food on.
To increase the heat, you can push the coals together or lower the cooking grate. To decrease the temperature, sprinkle the coals with a little water or raise the cooking grate. Opening and closing the barbeque lid is another tool to help you control the temperature. Open the lid for thinly cut foods that cook quickly or require supervision. Close the lid for thicker cuts of meat and controlling flare ups.
Cooking Tips
To keep food from sticking to the grill and ease cleanup, always coat the cooking grate with cooking spray or brush with cooking oil. There is one exception to this rule, however. If your marinade or sauce contains oil, don't grease the grill to avoid flare-ups.
Undercooking and overcooking is probably the biggest occupational hazard for a bbq chef. Take the guesswork out of grilling by using a meat thermometer to ensure that all meats are cooked through.
Tongs beat spatula when it comes to barbequing. Invest in a good pair of tongs to flip meat and vegetables with ease. Tongs offer a better grip than a spatula and you don't run as much risk of dropping your food or accidently pushing it through the gaps in your cooking grate.
Don't puncture or press on the meat with a spatula to "flatten." This technique squeezes out the natural, tantalizing juices and dries meat out.
Give meat a chance to cook. Constantly turning meat or opening up the grill takes away from the cooking process. Meat only needs to be flipped about once per side.
When grilling vegetables, season and then loosely wrap them in a foil "packet" before placing on the grill.
Marinate, Marinate, Marinate
A good marinade is the hallmark of sensational, flavorful BBQ. As a rule of thumb, the longer you marinate the better with one exception. Tomato-based or sugary glazes and BBQ sauces should be applied close to the end of cooking time to prevent burning.
Do You Have Your Own Mouth-Watering Marinade or BBQ Sauce?
Enter our Pacific Merchants BBQ Sauce Recipe Contest 2011 today by going to the Pacific Merchants facebook fan page. Contest ends August 27, 2011. Winners will be announced on September 2, 2011, just in time for Labor Day weekend!
Share your recipes with us for a chance to win the Grand Prize of a beautiful Eco-Friendly Acacia Wood Salad Bowl and Salad Serving Set. Second Prize is an Acacia Wood Serving Platter from Pacific Merchants. Acacia Wood Serving Trays and Bowls are both durable and beautiful, making them the perfect serving ware for your next backyard barbeque.
Tags: acacia wood, barbeque, bbq, bbq sauce, charcoal, Contest, place mat, placemat, propane, Recipe, Summer