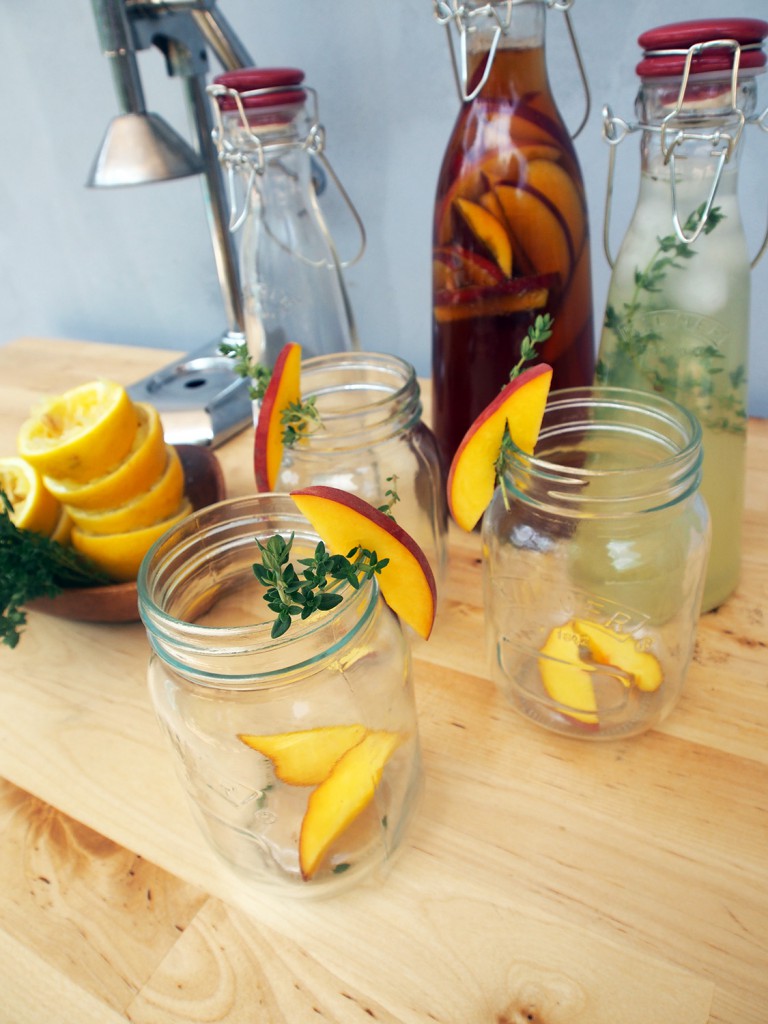 Featured: Kilner Vintage Clip Top Bottles, Kilner .5L Preserve Jar, 4″ Acacia Wood Bermuda Bowl
Thirsty? Good. Follow your thirst, and quench it with our Thyme Lemonade and Peach Iced Tea Arnold Palmer; the perfect summer drink. Our homemade lemonade recipe is simple and easy to make, and provides you with a twist (no pun intended) on the classic lemonade recipe. Follow these super easy steps for a lemonade experience you'll never forget.
Here's what you'll need:
-6-10 Large Lemons
-Small bundle Thyme
-Two medium peaches
-1/4 cup granulated sugar
-1/4 cup water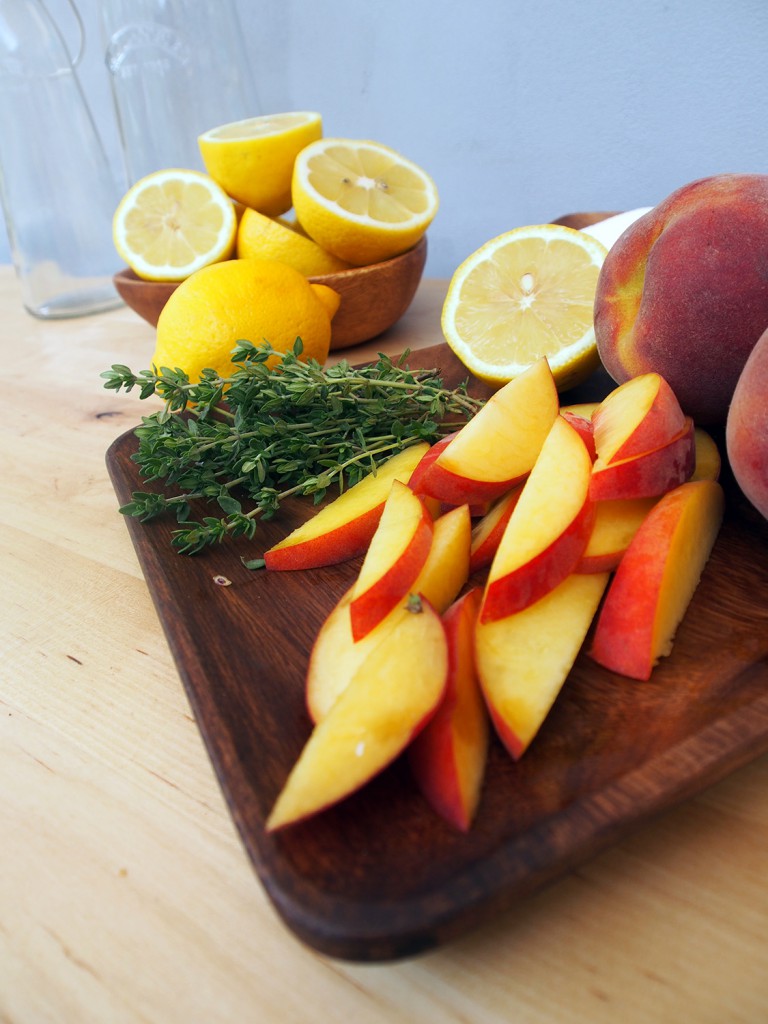 1. It's thyme…to make our thyme simple syrup (Pun intended. I had to.)! This part is easier than you may think. Combine 1 part sugar, 1 part water. Bring to a boil, and then turn off the heat. That's it. It's SIMPLE syrup; don't make it more complicated than it needs to be! Pour your syrup into a Kilner Clip Top Jar, add thyme, and let it infuse as the syrup cools. You can strain this syrup and store it in a jar in your fridge for up to 2 weeks. It's great in cocktails, as well as to sweeten lemonade.  Let it cool completely before using it in the lemonade – to speed up that process, you can put the entire pan in a bowl of ice water.
2. Once that syrup is done, it's time to move on to the lemons. Start squeezing all the lemon juice we possibly can out of our lemons. I find the best tool to do this with is a manual citrus juicer. SUCH a great kitchen investment. I use it to make fresh squeezed grapefruit juice for brunch, cocktails, and the like. Pour collected lemon juice into one of our Kilner Vintage Clip Top Bottles, and set in fridge for later. We'll get back to our lemon juice.
3. Start boiling water for the iced tea. Yes, we'll have to boil water, steep it, and then let it cool down. An alternative is to use sun tea, which will steep in room temperature water.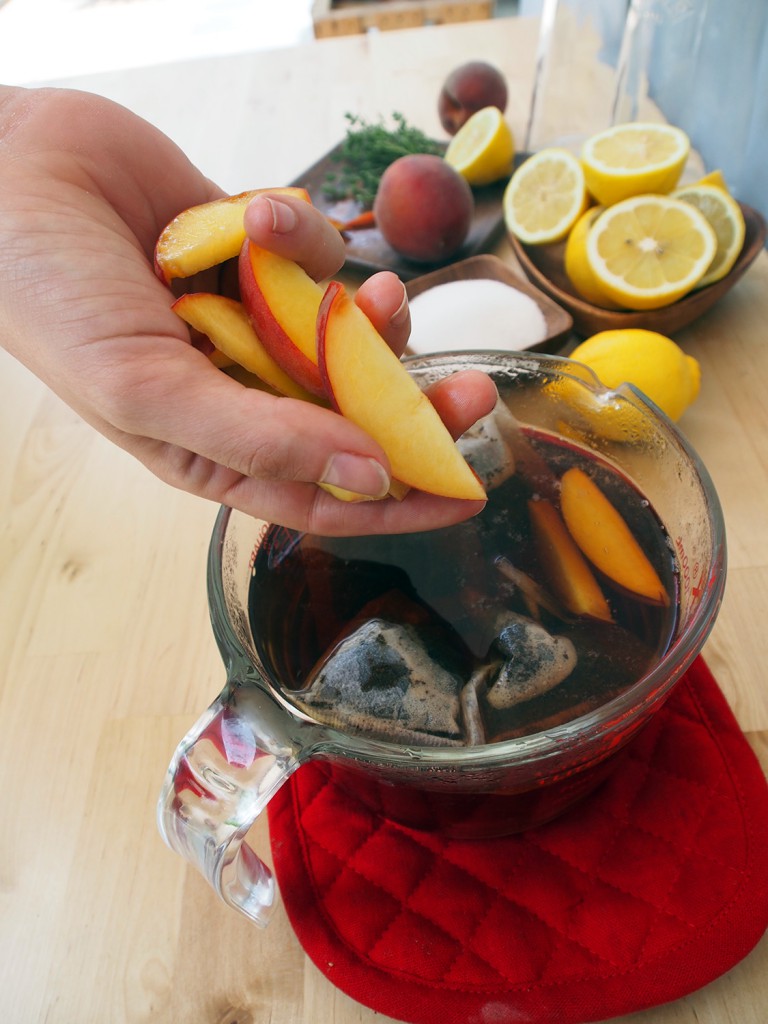 4. Once your tea water is boiling, pour into a large heat safe container. We used a Pyrex glass measuring cup. Add your sliced peaches and tea bags. Let steep for around 8-10 minutes, but keep the peaches in there even after the tea bags are pulled out. We want to extract as much flavor/juices from those peaches as possible without touching them.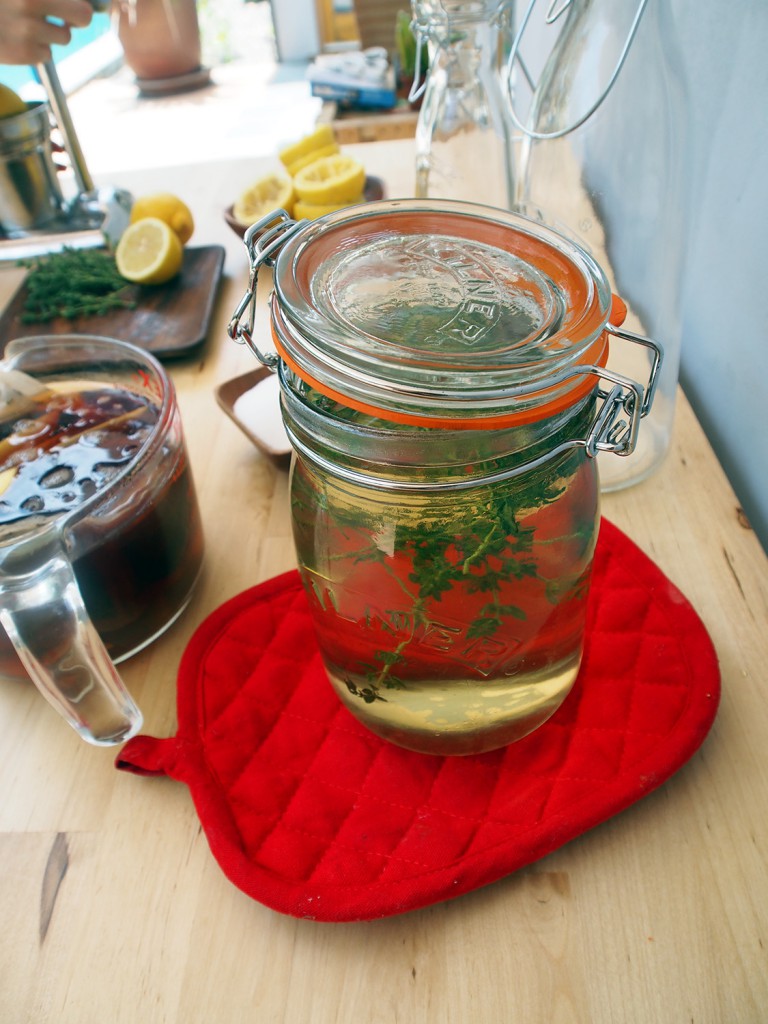 5. Now, it's time to make that lemonade!  Remember the lemon juice you put in the fridge? Combine 3 parts water, 1 part lemon juice, and add that thyme simple syrup to taste. If it's too strong, add more water. If too sour, add more syrup. If too sweet, juice another lemon.  Once you've made that lemonade, stick it in the fridge.  If you're short on fridge room and want cold lemonade, you can mix 2 parts water, 1 part lemon juice, and 1 part ice (by weight) and then add the simple syrup. Leave on the counter. As the ice melts, you'll have perfect, cold lemonade.
6. Time to check on your tea. It should be significantly cooler, but if it's not cool enough then add ice and stick in the fridge.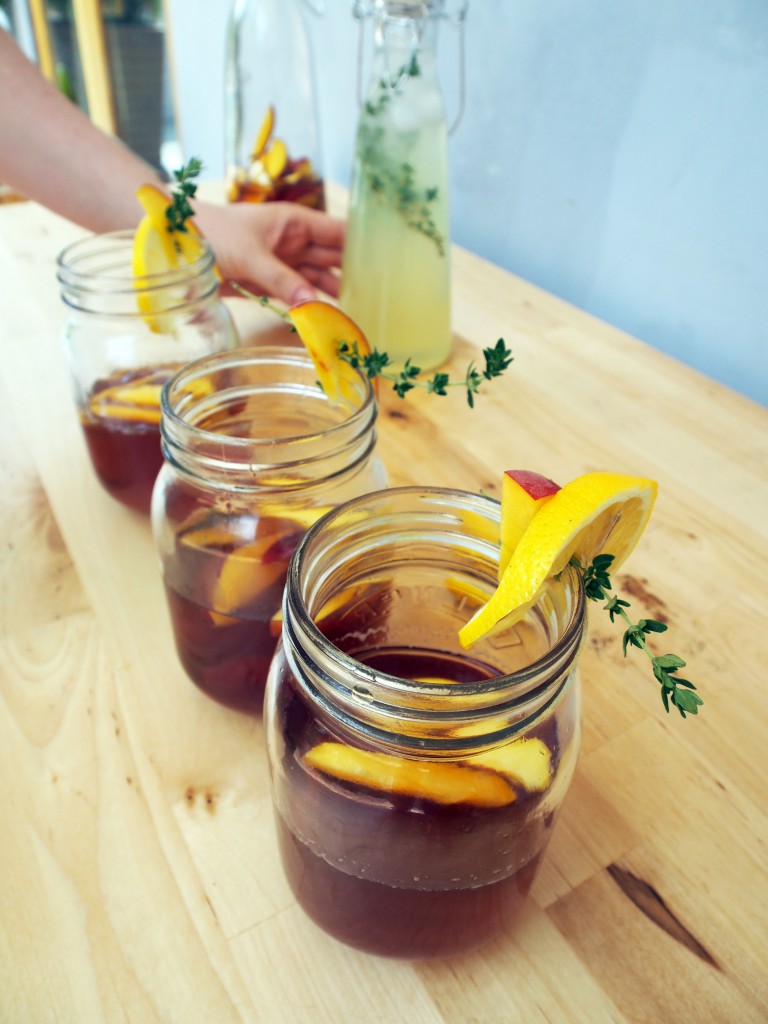 7. Garnish some glasses, and get pouring! You're almost done. Pour either your iced tea or lemonade first–they'll be mixed in the end, so it doesn't much matter!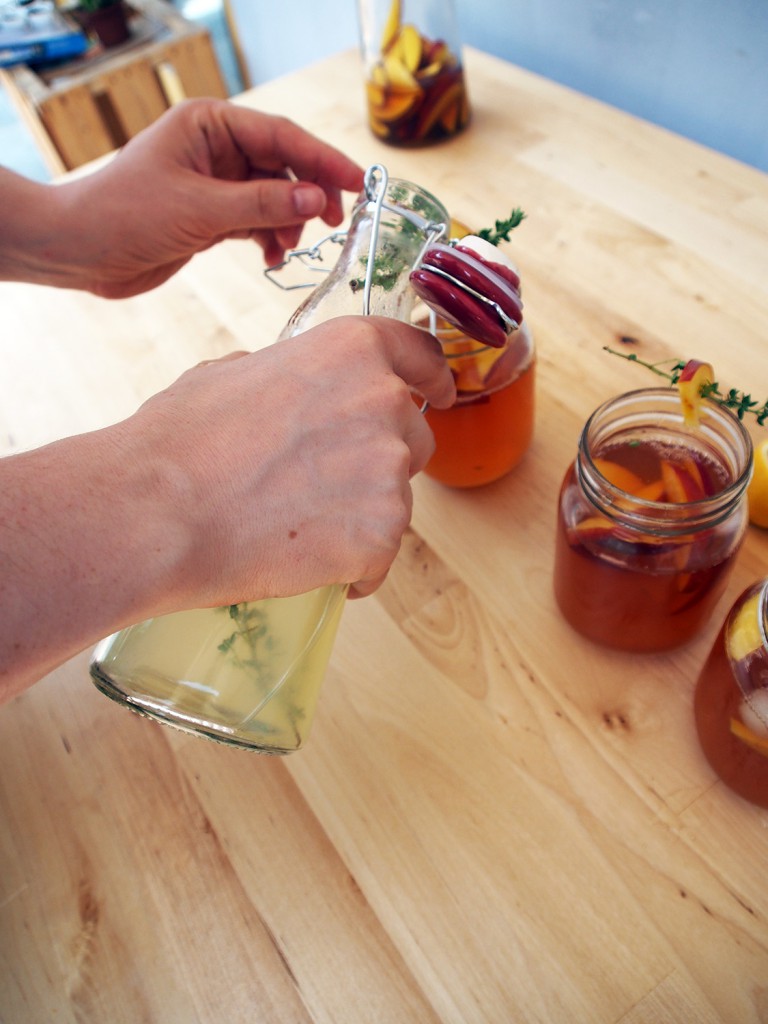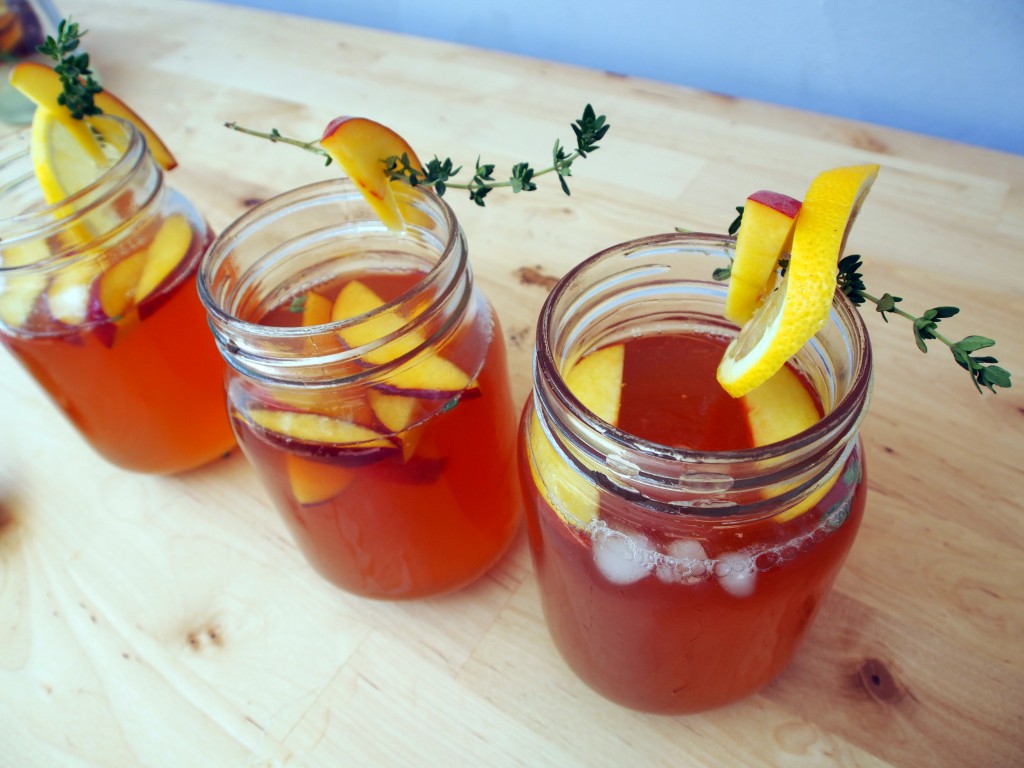 8. Sit back, relax, and sip the fruits (and herbs) of your labor! A great drink for guests or just to keep stocked in your fridge. Enjoy the best lemonade and peach iced tea ever, together or separately!
Let us know how your drinks turn out. Tag your photos on Instagram and Facebook with #pacificmerchants and we'll repost our faves! Talk to us in the comments.
Love,
Pacific Merchants