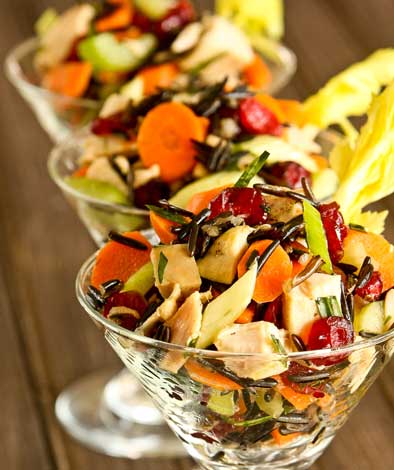 Thanksgiving is the Super bowl of holidays for cooks everywhere. There is so much planning, shopping, recipe testing, and decorating all for that one meal. Before we even begin to cook the "big meal" we have the pre game show – appetizers and cocktails to keep everyone happy while you cook a giant bird that ends up tasting well… like turkey. Don't let my football talk fool you into to thinking I know anything about the game. I'm just barely aware that football is on television during Thanksgiving and that it has something to do with the teams that play at the Rose Bowl on New Year's Day, right?                                                                                                                                                                                  It's too early in the month to start talking about my lack of enthusiasm for cooking turkeys on Thanksgiving, so for now let's just talk cranberries. Thanksgiving can be a bit overwhelming even for seasoned chefs, maybe that's why Americans have resorted to opening a can when it comes to the cranberries. It's almost become a tradition to have a bowl of jiggly wiggly cranberry sauce on the table with the ring indentation still intact. I have to admit, I love the stuff. Give me a roll with a slab of butter and a nice glob of cranberries and I'll call it Thanksgiving.
This is a great fall salad that is made with cranberries and tossed in cranberry vinaigrette. It sounds odd with the rice and raw vegetables, believe me I know, but it's incredibly flavorful and full of texture with a unique sweet and savory flavor balance. Because it's made without lettuce and served cold or at room temperature, it is a perfect "do-ahead" salad for your holiday table. Try serving salad in a Mason Cash pudding basin or a beautiful acacia wood salad bowl – remember presentation is everything, your guests will be so impressed – it will be a sure touchdown.
Serve this with a butternut squash soup for a complete lunch or dinner.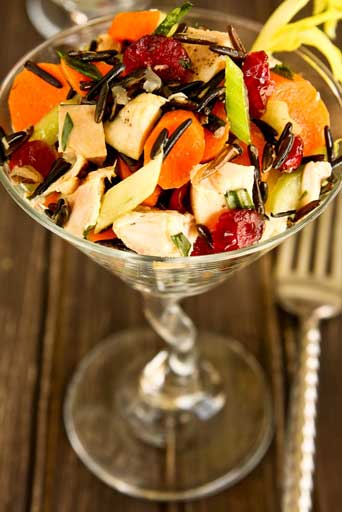 How will you serve your cranberries this Thanksgiving season?
Wild Rice and Cranberry Salad with Candied Walnuts
Serves 8-10
1 ½ cups uncooked wild rice
6 -7 cups water
1 Tablespoon salt
6 cups cooked chicken breast or turkey- cut into medium dice
3 cups carrots – thinly sliced on the bias
2 cups celery – thinly sliced on the bias
¾ cup green onions – sliced thinly on the bias
¼ cup chopped fresh tarragon
1 cup dried soft cranberries
1 cup candied walnuts
• In a large sauce pot bring the rice to a rolling boil with the salt- cook for about 45 minutes or until rice splits.
• Remove from the heat and pour into a strainer- allow to cool.
• In a large Mason Cash mixing bowl, combine cooled rice, chicken, carrots, celery, onions, tarragon, and cranberries.
•
Toss with cranberry vinaigrette a little at a time to coat evenly – to taste.
• Top with candied walnuts
Cranberry Vinaigrette
½ cup canned cranberry
1 Tablespoon shallot- chopped
1 small clove of garlic – minced
1/2 cup white balsamic vinegar or tarragon vinegar
2 teaspoons of Dijon mustard
½ cup vegetable oil
¼ cup walnut oil
2 ½ teaspoons kosher salt
1 teaspoon pepper
• Combine all ingredients into a jar with a lid and shake well – chill