With summer coming, it's time to figure out the best way to preserve all the great seasonal fruits and vegetables long after school starts back up and the days get shorter. Our suggestion? Canning. It's a great way to preserve food, it saves money in the long run, and it's actually fun to do. There are tons of awesome books on canning out there, but here's a list of necessities to get you started. Plus, we've thrown in an awesome recipe that's awesome as part of breakfast, lunch, dinner, and even dessert. And with an awesome line of beautiful, high end canning goods coming our way, we can't wait to get started canning with Kilner!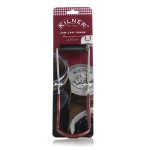 The most important thing in canning (aside from the f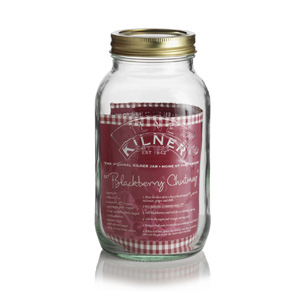 ood) is the container. I highly suggest these half-liter Kilner by Pacific Merchant jars with screw tops. They're sturdy, pretty, and really easy to use. I go through about a dozen half liter jars every summer canning my jam and tomato sauce for the rest of the year, so plan accordingly. You're probably better off having a few too many jars than too few. You're going to need to sanitize your jars and lids thoroughly before using them. There are a couple of methods. You can do it in the dishwasher (just time a REALLY hot cycle to finish exactly when you're ready for the jars) or you can do it in boiling water. I suggest the water method since you can just keep the jars in there on the back burner until you're ready for them. Just make sure to have a set of jam tongs handy to pull the jars out of the boiling water.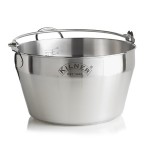 When you're canning food you'll find that a lot of canning recipes are pretty high acid, whether the acid comes from brine or the fruits and vegetables themselves. Because of this, it's important to have a non-reactive pot to cook your food in. You don't want to ruin the pot or create weird flavors in your food.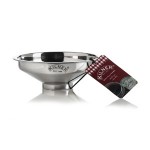 Other canning essentials include a funnel to fill the jars (I'd suggest a wide mouthed funnel. It makes life SO much easier,) a good non-reactive long necked spoon, a ladle, labels so you don't go end up spreading tomato sauce on your peanut butter and jelly instead of strawberry jam, and a thermometer.
As you get into preserving and get more creative, you'll want things like infusing bags, a strainer, funnel adapters for different sized jars, fancy jar covers, and way more seals (the jars are re-usable, the seals are not).
Now that you know what you'll need to preserve all the great flavors of spring and summer, we'll leave you with this awesome strawberry jam recipe. It's simple, easy, and absolutely delicious. Keep checking back for more great canning recipes all summer long.
2 cups sugar
1 large lemon juiced
Zest of one large orange
24 oz fresh strawberries, hulled and quartered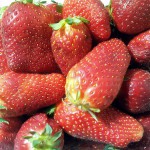 Put a freezer safe plate in the freezer
Combine the sugar, lemon juice orange zest in a non-reactive pot and cook over very low heat for 8-10 minutes minutes, until the sugar is dissolved.
Add the strawberries and continue to cook over very low heat for 25 minutes, until the strawberry juice mixes with the sugar and the mixture boils slowly.
Cook until a small amount of the juice gels on the frozen plate.
Pour car
efully into 2 canning jars and either seal according to instructions below or keep refrigerated.
To sterilize jars, wash jars and lids with hot, soapy water. Boil the jars and lids in a large saucepan, covered with water, for 15 minutes.
Use tongs when handling the hot sterilized jars, to move them from either boiling water. Before using tongs, sterilize them by dipping their ends in boiling water.
Put the jam into the jars after it has cooled for 5 minutes but while it is still hot, leaving about a centimeter between the lid and the top of the jam. Seal immediately.