Remember when you were 5 years old and summer break was a thing?  Whole months in the summer to play, relax and enjoy every moment of every day?  In an effort to reclaim that relaxed spirit of summer in adulthood, we sat down on one unseasonably hot afternoon and created this craft cocktail.  The plan:  with just one sip, the day melts away, you can relax and feel like a kid on summer break all over again.  We're pretty proud of the way it turned out.   This drink is sweet with fresh squeezed strawberry juice, tangy from grapefruits and just the right amount of bitter.  The bourbon adds a rich note, bringing the whole thing together beautifully.  Ready?  Break out your bottles, or your summer cocktail set, if that's more your style, and get ready to drink in summer. Literally.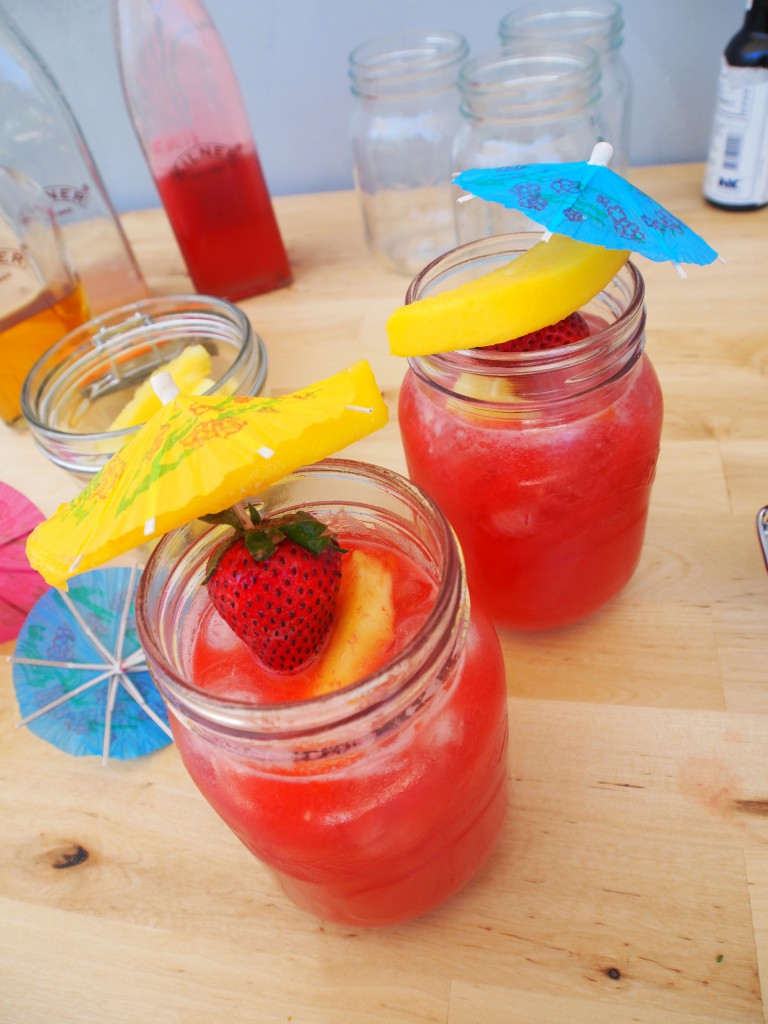 This recipe makes 4 bourbon cocktails. – a perfect summer cocktail recipe for sharing with friends or neighbors by the pool.  When we throw parties, we love putting our fresh squeezed juices, garnishes and bourbon out on the table in Kilner bottles so guests can mix their drinks to their own liking, kids can drink just juice, and everyone can pick the perfect umbrella to go with their outfit.  Because what's an electric-pink drink without a cocktail umbrella anyway?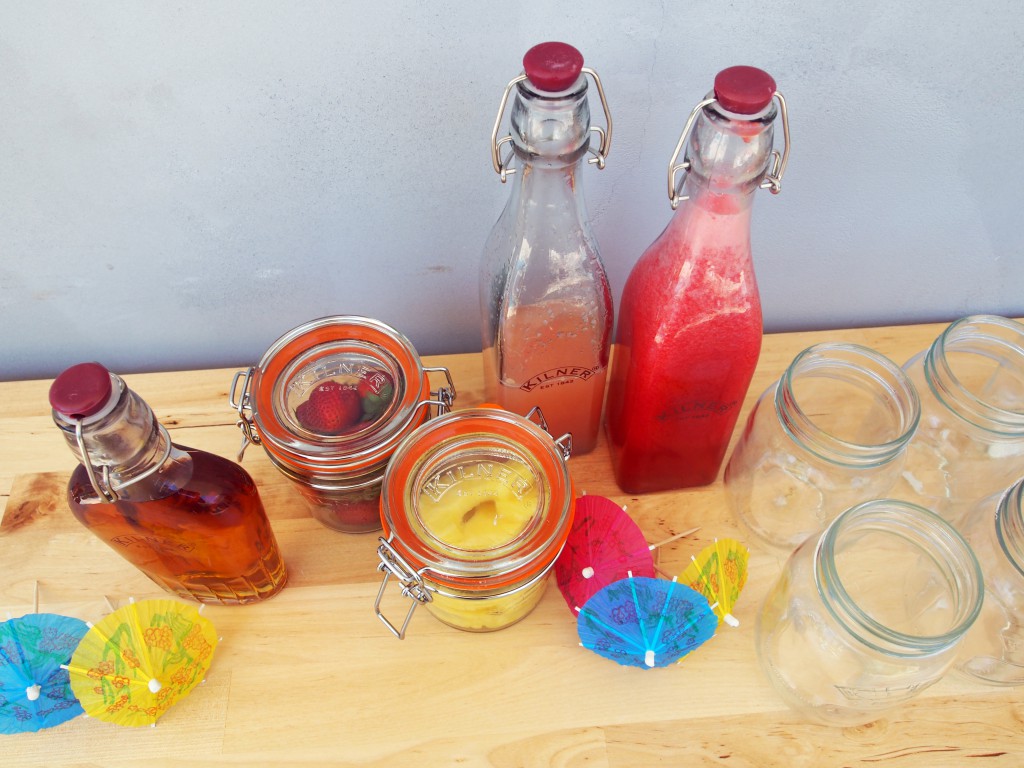 Ingredients
12 oz high-quality Kentucky Bourbon.  Maker's Mark works beautifully.
8 oz grapefruit juice
12 oz strawberry juice.
Angostura Bitters (1 healthy dash per drink)
1 liter club soda, tonic(if you want a sweeter drink) or champagne (if you want a stronger drink)
Ice
Fruit for Garnish – I like small strawberries and chunks of pineapple.
Festive umbrellas.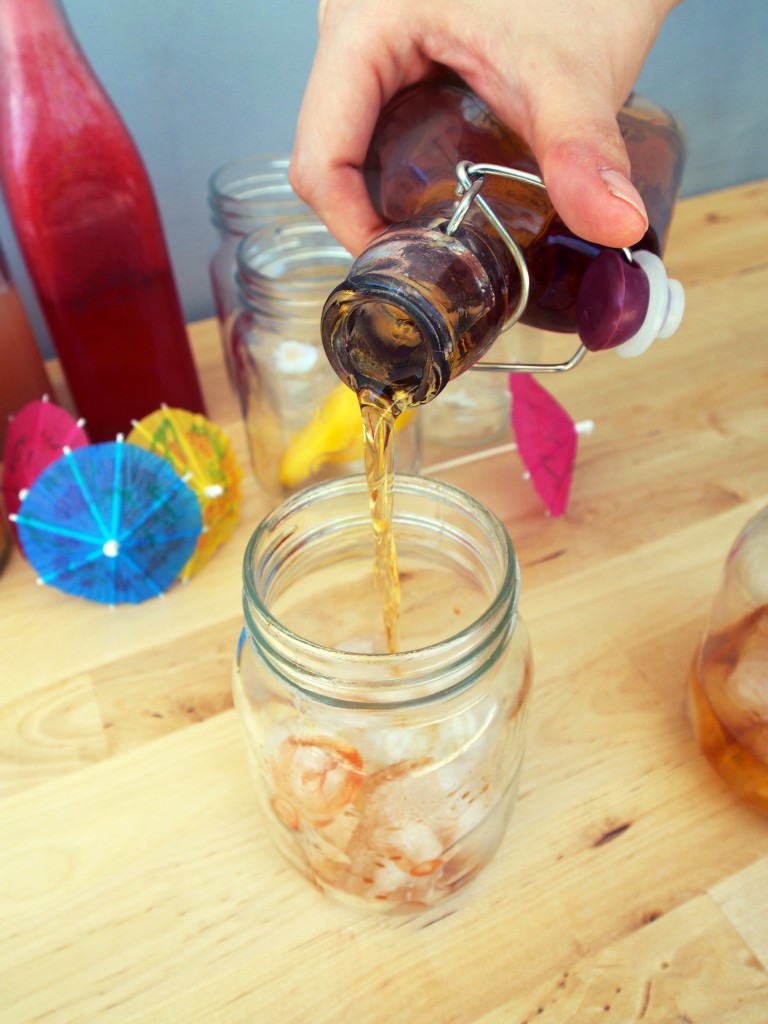 Instructions
Like so many craft bartenders, we make our own juices for this drink.  If you'd like to take a shortcut, buy good-quality, fresh squeezed juices at your local grocery store. If you're making juices, feel free to do them ahead of time, transfer the juice into bottles, and take time to chill it. It's summer – you want that drink to be as refreshing as a dip in the pool.
Add Ice to 4 glasses (I love the rustic look of Kilner mason jars for bourbon cocktails).
Quickly add 3 oz of bourbon to each glass. Yes, they're strong drinks. Please remember that before getting in the car.
Add 2 oz of grapefruit juice and 3 oz of strawberry juice to each glass.  Throw in a healthy dash of bitters and give each drink a stir with a cocktail spoon.
Top off with an assortment of fresh fruit (ideally speared on a vividly colored cocktail umbrella.)
Kick off your shoes, relax, and enjoy your summer break. Remember, it's a state of mind.
Shameless self-promotion time: All the glassware pictured above is included in our summer cocktail set.  It includes the 3 bottles, 9 jars (6 for drinking, 2 for garnish) and even a funnel to fill those bottles easily.  Basically, if you're looking to stock a bar cart (for summer cocktails or for making and garnishing the perfect martini recipe.) The umbrellas are not included, but believe me, they're pretty easy to find and TOTALLY worth having.
Tags: bourbon cocktail, cocktail recipe, craft cocktail, fresh juice cocktail, kentucky cocktail, mixology, strawberry cocktail, summer cocktail recipe