It's hard to believe that it's the last week of August and summer is drawing to a close.  We thought that the perfect way to celebrate the end of summer would be to celebrate with some gooey, melty s'mores. Fair warning – we haven't mastered the art of taking perfect pictures of massively messy concoctions, so brace yourselves – this gets gooey. But MAN, if you're throwing a Labor Day Barbecue or a beach bonfire, consider setting out the fixings for s'mores. They're a great picnic food idea – with the right mix of ingredients and options, everyone can customize their own.  If you're only here to find out about our Labor Day Sale, scroll down to the bottom of the entry.
As you can see, we have a bit more than the traditional fixings on the table. But I always do start with traditional s'mores ingredients – milk chocolate, marshmallows and graham crackers. No matter how many delicious fixings you have, someone in your crowd will be a purist. And that's totally fine.
For those of you who don't know, here's how to make smores (and also, how to make s'mores in the oven, in case you don't have access to a bonfire.)
Toast your marshmallow. Either toast on a stick over a fire, or lay on half a graham cracker and broil in the oven.
Layer your s'more.  You're making a sandwich here, with the graham crackers as bread. 1 cracker, then the chocolate, then a hot marshmallow (for maximum meltiness) then the second graham cracker.
Enjoy. It's really that simple, and it works for pretty much everyone.
So, you've got the basics down and want to know how to make a s'more that's a little more gourmet? The only thing that really needs to stay constant is a marshmallow.  Beyond that, listed below are some flavorful twists we've created to switch it up. Also, for fun, some ideas from other bloggers we love!
Add something salty. We did a layer of potato chips between the chocolate and the marshmallow for that super-trendy sweet and salty thing. I've also used pretzels or even a sprinkle of salt.
Change up the chocolate. As you can see above, we love our peanut butter cups in s'mores. I've also swapped the milk chocolate for dark, used favorite candy bars (make sure they'll melt all the way through – Heath bars don't work.)
Use fancy marshmallows. I recently came across some DELICIOUS coffee flavored marshmallows at a gourmet store. SO good in s'mores. Check gourmet websites and stores for interesting flavors.
Change out the cookies. Graham crackers are traditional, but as long as your cookies are big enough to contain the deliciousness of a s'more, you're good.  Chocolate chip cookies work, gingersnaps are delicious. Also, ritz crackers and mini marshmallows are insanely good for s'mores. YUM!
Add sliced fruit. Thin sliced strawberries, crushed raspberries or slices of orange work so well with chocolate, marshmallows and the smokiness from a fire. It'll add something addictive and unexpected!
Get saucy – add nutella, peanut butter or even caramel sauce for a little something unexpected!
And from some of our favorite bloggers, even more fantastic s'mores ideas.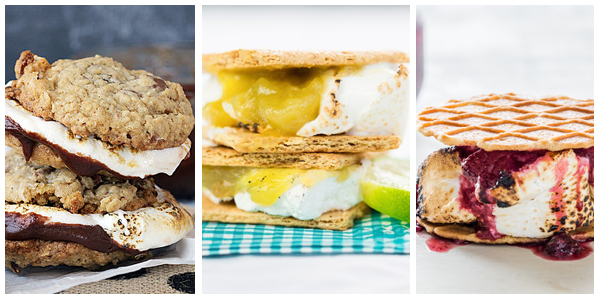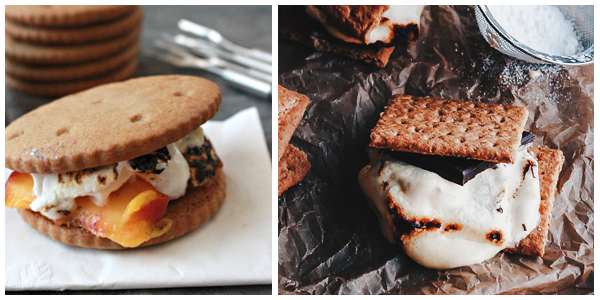 From Left to Right: (Top) Bourbon Bacon S'mores from Beyond Frosting, Key Lime S'mores from The Kitchn, Roasted Berry S'Mores from Jelly Toast Blog. (Bottom) Peach and White Chocolate S'Mores from  Peanut Butter and Julie, Dark Chocolate Passionfruit S'mores from Blogging Over Thyme. See how many amazing options there are?  Also, if anyone wants to give us some tips on photographing s'mores, we'd be interested. Clearly, it is possible.
Annnnd, Last but certainly not least, let's talk about the sale.  We're doing a labor day weekend Placemat and Wood extravaganza! Our placemat line and our Acaciaware wood line are beautiful transitional pieces – they work both outdoors and indoors, so whether you're out on your patio enjoying the end of summer or dining indoors, they'll look lovely.  Enter "LaborDay" at checkout for 25% off all retail orders of our placemats and our wood products.  Good stuff, right?
Happy Labor Day, friends! Enjoy your holiday. You've earned it.
Tags: easy smores recipe, how to make smores, labor day sale, labor day sale info, make delicious smores, smore recipe, smores