Now I know what you're thinking: Cheese Plates are easy. Put some cheese on a plate and BOOM! But really, a beautiful cheese plate makes an easy party appetizer or even a simple dinner. I love arranging cheese platters for dinner parties or large gatherings because with a little planning and a teeny bit of work, you've got a crowd pleasing appetizer folks can nosh on while you're still frantically cooking dinner, mopping up spills, and trying to frost a cake…or maybe that's just my dinner parties.  I always try to over-achieve.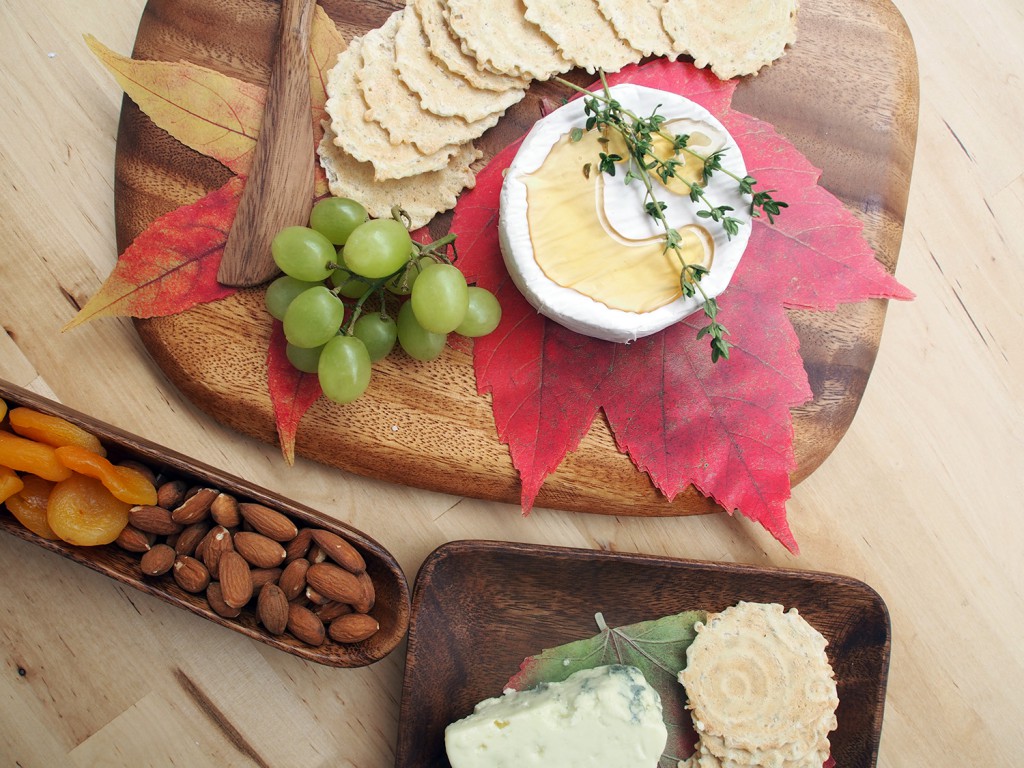 Here's how to assemble the perfect cheese plate in 8 easy steps. Believe me, it's insanely easy.
Figure out how much you need.  Anticipate needing about 3-5 ounces per person, unless your friends go crazy for chevre, bonkers for brie, or psycho for Parmesan. Ultimately, if you like your selection, it's not the end of the world if you have leftovers. Cheese lasts a bit, and it's good on everything from sandwiches to eggs to salad. . . but then, I don't need to tell you that!
Pick your cheeses. Try to include a variety of textures and flavors.  I normally do 3-5 cheeses on a plate. Most cheese belongs to one of four basic categories:  soft, firm, semi-firm, or blue.  Try to pick at least one that fits into each category. I also make an effort to pick some cows milk cheeses, some goats milk cheese, and occasionally some sheep's milk cheese.  If you're not sure what you're getting into, talk to someone at a local cheese shop (list here) or your grocery store cheese counter.  Remember that particularly pungent cheeses will overpower a cheese plate, no matter how delicious they are. Here are some ideas, but by no means the only cheeses out there.- Soft: Brie, Chevre, Camembert, Brillat-Savarin, Humboldt Fog, Manouri
– Firm: Manchego, Parmagiano, Pecorino Romano, Asiago,
– Semi-Firm: Cheddar, Comte, Edam, Emmental, Fontina, Gruyere,
– Blue: Cabrales, Gorganzola, Fourme d'Ambert, Maytag Bleu, Roquefort, Stilton
Pick some accompaniments. A great cheese plate is more than just cheese – you're going to need a cheese delivery system (think bread or crackers) and some delicious accompaniments.  Consider textures and flavors, and make sure you get something crunchy, something salty, something sweet.  I normally serve at least one kind of cracker, some sliced baguette, fruit (dried or fresh,) nuts, and either jam or honey (often both) with my cheese plate.  Below are some of my favorites- Crackers: Raisin Rosemary, Black Pepper, Gluten Free rice crackers
– Jam: Fig Jam, Spiced Blueberry Jam, Peach Jam, plum compote, quince paste
– Bread: Sliced seeded baguette, toasted brioche, raisin challah
– Fruit: Grapes, Sliced strawberries, dried apricots, fresh plums, raisins
– Honey: Thyme-infused honey, orange blossom honey, truffle honey
– Nuts: Candied pecans, salted roasted almonds, chile lime cashews
– Etc: Olives, Cured meat, breadsticks, artichoke hearts, pickles
Pick your cheese board or cheese plate.  As you see in these pictures, I often use a few smaller plates rather than one big plate.  Why? Less mess, and it allows people who aren't as comfortable with funky blue cheeses to steer clear entirely. Plus, placing a few different boards at different heights adds visual interest to a table. Occasionally I'll use a huge platter or a large plank for my cheese board, but I still find myself using tiny bowls for accompaniments, a separate plate for  my soft, spreadable cheeses, and jars for honeys and jams.  Check out my top five cheese dishes here, here, here, here and here and my favorite little bowls here.
Line your plates or boards. If you're using acacia wood dishes or another super-resinous wood, or if you're using a non-porous material, this step isn't absolutely necessary, but it's still nice. You can use parchment paper, but I love the look of cheese leaves. They add a bit of visual interest to the plate, they're food safe, and they help minimze the mess from gooey cheeses and drippy honey. If your dishes are porous (many wood types, slate) lining your plate with cheese leaves will keep the flavor and scent of your cheese from seeping into the dishes. As good as that cheese is, I'm sure you don't want to be tasting it next week with your chocolate cake.
If you bought cheese ahead of time and stored it in your refrigerator, remove it 2 hours ahead of time.  You want to serve cheese at room temperature to really show off the full flavor and texture of the cheese. After all, if your brie is so cold that it's hard, it's not going to give you the creamy, rich experience you're hoping for.
Arrange your cheese plate(s).  I do this about half an hour before the party is supposed to start. When serving wheels of brie or other creamy cheeses, I leave them whole but supply spreaders. With harder cheeses, I cut some slices and put out cheese slicers or knives for my guests to cut the rest. People are more likely to eat the cheese if they're not the first one to slice from a wedge, so I make it easy by cutting some slices.  I also put out smaller wedges rather than massive, daunting ones. I hold the rest in the kitchen so that I can replenish the plate as needed. By keeping my cheese plate(s) a little sparse-er, it gives people room to maneuver. When considering how to arrange my cheese plate, I also consider my accompaniments and utensils. Fruit can be grabbed with fingers or tongs, but jam needs spoons, spreaders or knives.  If your guests are prone to food allergies, it may be smart to put nuts and any gluten free bread items on separate plates. If you're serving on multiple plates, do what we have here and divide some accompaniments among the plates or even top off some of your cheeses, such as our thyme-honey topped goat Brie above.

Last, but not least, enjoy, and enjoy the extra time your cheese plate just bought you.  You may be in the kitchen doing the last few dishes, topping off those cupcakes or plating the chicken, but you can rest assured knowing that your guests are enjoying, and you will too!
Tags: amazing cheese tray, cheese leaves, cheese plate, cheese platter, deco leaves, how to make a cheese tray, how to make cheese plate, parchment cheese leaves