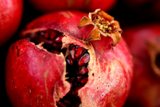 Great entertaining begins with a healthy dose of fun and a burst of color. That's what you and your guests get when using pomegranates for all sorts of exciting recipes from main dishes, to salads, to cocktails. Serving your dishes on beautiful Pacific Merchant Acacia Wood bowls, trays, and plates adds a wonderful and fun elegance to your table. Also, check out our associated video.
Meanwhile, here are some tried and true Pomegranate Tips that can help bring your next meal to life.
To remove tendrils – cut the pomegranate into fourths and soak in cold water for just a few minutes.
Tap the skin with a wooden spoon – the seeds should fall out easily into a bowl.
You can also gently submerge the pomegranate and gently loosen the tendrils with your fingers.
Pomegranate molasses is available at Middle Eastern Markets or is available online.
Molasses may be substituted with pomegranate juice that has been reduced down over low heat into syrup.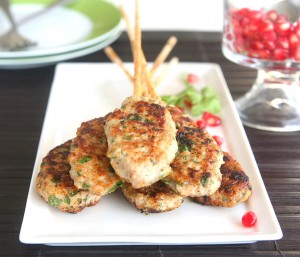 Coriander Chicken Kebabs
makes 16 kebabs
1 pound ground chicken (leg and thigh meat)
1 small shallot –finely chopped
5 mint leaves-finely chopped
½ bunch of cilantro- trimmed from stems and finely chopped
16 skewers
• In a medium bowl combine all the ingredients and mix well.
• Separate the meat into 16- 1 ounce portions.
• With the palm of your hand carefully press the meat onto the end of the skewers to form kebabs, lay flat onto a lined baking sheet.
• Refrigerate the kebabs for 15-20 minutes to allow them to set.
• Preheat the oven to 350 degrees.
• Heat a nonstick griddle and lightly oil.
• Cook kebabs for approximately 3-4 minutes on each side until golden.
• Transfer to a baking sheet and bake for 10 minutes or until done.
• Serve Warm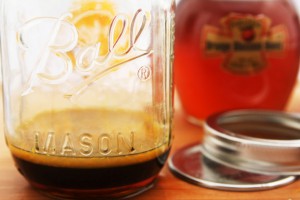 Pomegranate Vinaigrette
makes 1/2 cup
¼ cup Pomegranate molasses
1 Tablespoon orange vinegar or balsamic
Zest of 1 Orange
1 Tablespoon Honey
1 Small Shallot- finely chopped
1 Teaspoon Dijon Mustard
1 Garlic Clove – minced
½- ¾ Cup of Extra Virgin Olive Oil
1 teaspoon salt
¼ teaspoon black pepper
• In a small jar with a lid combine all the ingredients and shake well.
•Serve at room temperature (the molasses will thicken and separate if refrigerated).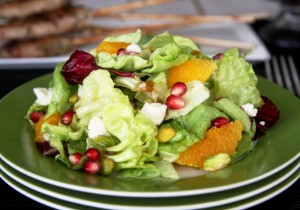 Pomegranate Pistachio Salad with Feta and Oranges
Serves 4
7 ounce bag of mixed baby greens
1/8 cup pomegranate tendrils
1/4 cup roasted salted shelled pistachios
1/4 cup crumbled dry feta cheese
2 oranges peeled and cut into supremes
Toss ingredients in a medium bowl and chill, serve with Pomegranate Vinaigrette
To Share this blog with your friends, here's the Permalink: https://www.pacificmerchants.com/blog/pomtips/
Tags: Acaciaware, Mason Cash, Pacific Merchants, pomegranate, salad bowl, Summer