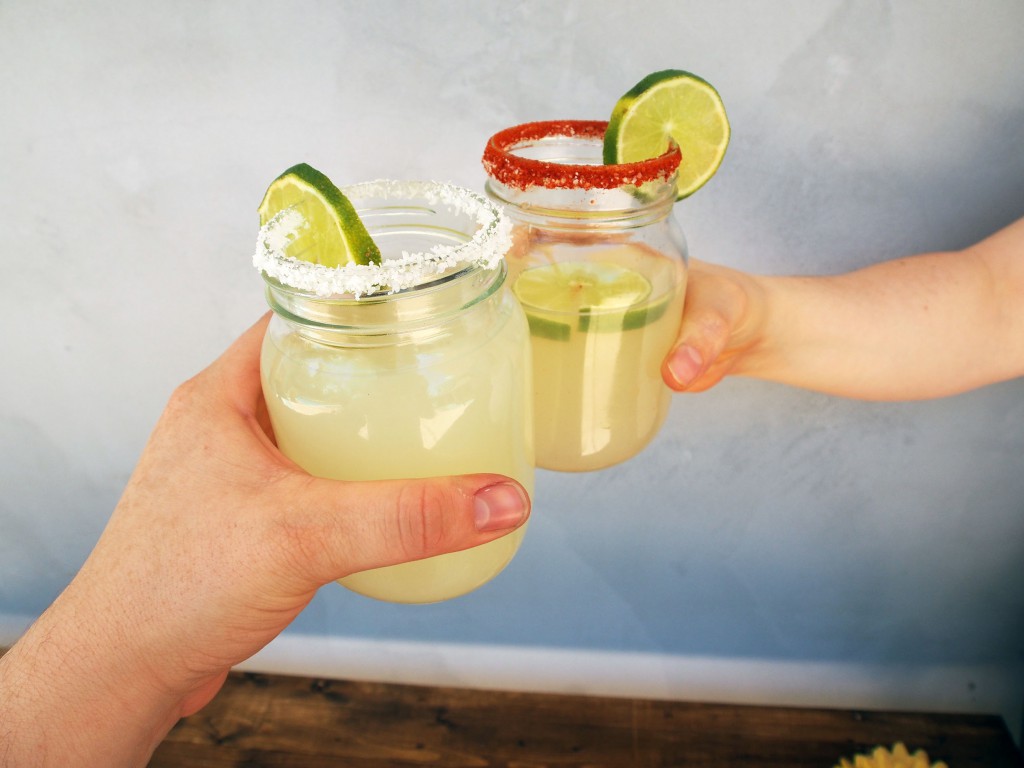 As we were photographing our brand new, spring gift sets for our blog, we realized that our Cinco de Mayo gift set was the perfect excuse to whip up some margaritas no matter what the date.  And as we sipped our margaritas in the afternoon sun (we were shooting outside) we realized – we just HAD to share our recipe for you! It's the perfect drink for a warm spring evening.
Now, I have serious love for a classic, all lime margarita, but if you've been to the store lately (or if you listen to NPR) you know that limes recently got EXPENSIVE!  So, to help make my dollar go further, I came up with a truly sensational lemon-lime margarita recipe. It still tastes like spring and sunshine in a glass, but if you're throwing a cocktail party, you won't spend your whole budget on limes.  Plus, this recipe has 2 easy variations, a classic margarita recipe, and a spicy margarita variation.  With just a couple of simple ingredients, you're getting cocktail recipes for the work of 1!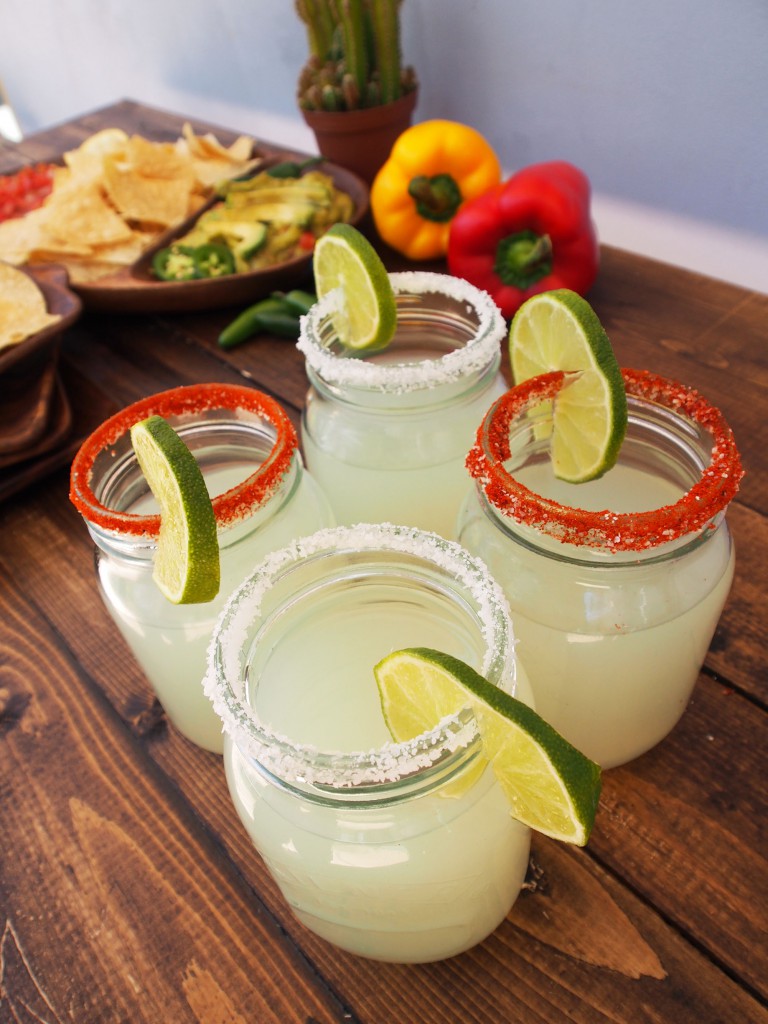 Here's what you'll need to make 4 cocktails:
4 half Liter Kilner preserve jars.  I love that the threaded rims hold onto the salt on the edges really well.
A large pitcher
2 small shallow bowls (I like to use these Acaciaware® bowls)
2 oz lime juice (fresh squeezed is best)
4 oz lemon juice (fresh squeezed)
6 oz tequila
3 oz  Triple Sec
Agave Nectar
Ice
Kosher salt
1 fresh Jalapeno (optional)
Cayenne pepper (optional)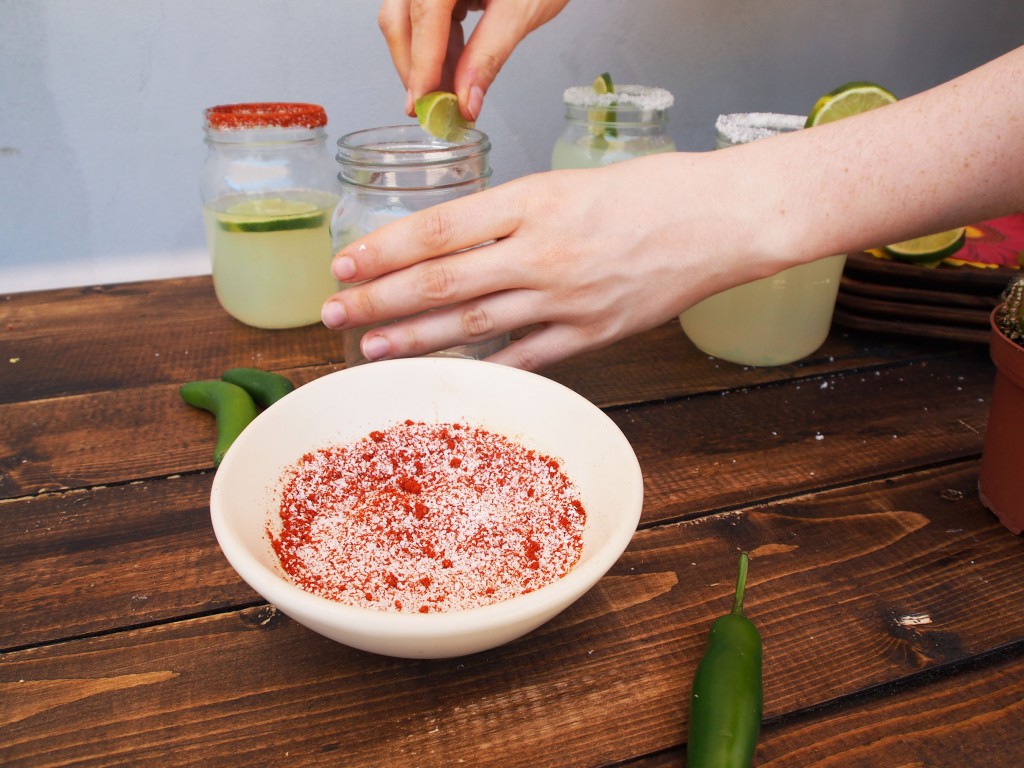 Instructions
Figure out how many of your guests want spicy margaritas and how many want mild.
Pour salt into your shallow bowl.
Using a slice of lemon or lime, moisten the edge of your Kilner jar drinking glasses.
Dip the moistened rims of the  glasses for the non-spicy margaritas in salt. Tap once and flip over.
Now, add cayenne pepper to your salt. I do about a 50/50 mix.
Moisten the edges of the glasses for your spicy margarita drinkers.
Dip glasses in the cayenne/salt mixture. Tap once and flip right side up.
Add a healthy pinch of salt/cayenne mixture and a slice of fresh jalapeno to the spicy glasses.
In a pitcher, combine the tequila, lemon juice, lime juice and triple sec.
Taste and add agave nectar to sweeten to your taste. (You can also use sugar, but agave tastes better and is better for you!)
Put some ice cubes in each glass and pour your Margarita mix in carefully, so you don't mess up those pretty salted rims.
Drink and enjoy!!  Add some chips and guacamole  and some great music and you've got yourself a party!!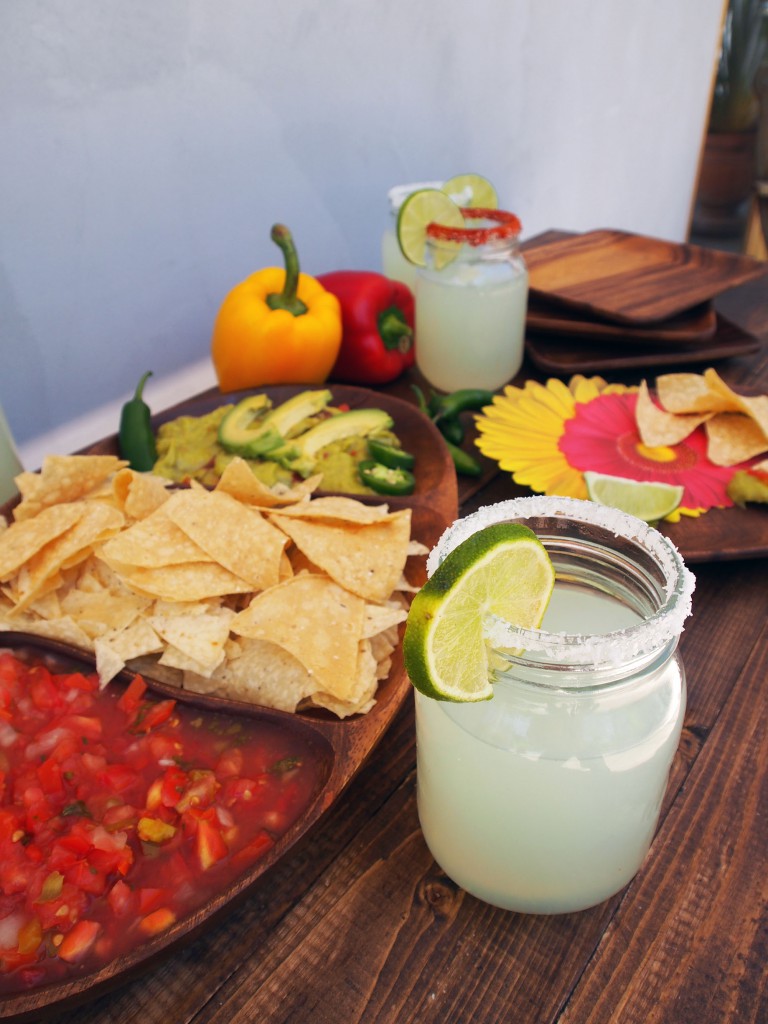 If you want to turn your perfect springtime margarita into a full-blown fiesta, we suggest some brightly colored decorations, a stunning chip and dip tray for those chips and guacamole, and some lively placemats, just to brighten things up.  If you want all the guesswork taken out, consider our Cinco De Mayo Cocktail party set and a coordinating set of 4  Laguna Placemats.  The Cinco De Mayo set includes a 3-sectioned tray that's perfect for chips and dip, 4 plates, a set of brightly colored Deco Leaves© (just for fun!) and 4 Kilner drinking glasses – perfect for that margarita cocktail recipe! The placemats (check out that awesome GIF below!) come separately.  We've got SO many colors available!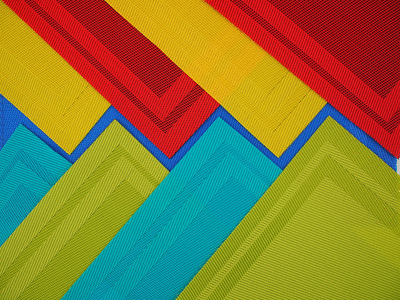 Let us know what your favorite cocktails are in the comments, or share pictures with our page on Facebook or Instagram with the hashtag #PacificMerchants. We'd love to see what's inspiring you this spring (especially now that a seemingly endless winter is over)!
Tags: cinco de mayo, classic margarita, cocktail recipe, drink recipe, easy margarita, fiesta, how to make margarita, lemon margarita, margarita recipe, spicy margarita