A Trip To The Past: Pacific Merchants visits 150 year old olive wood factory in France.  Hand made and artisan techniques handed down generation to generation.
Bonjour mes amis! — That's French for "Hey there, my friends!" Why are we speaking French, you might ask?  Well, Pacific Merchants just got back from one heck of a factory visit in the South of France! We went right to the source and saw for ourselves where our beautiful olivewood and beechwood utensils are handcrafted: to experience this craftsmanship of our products firsthand was quite an experience!
We landed in Paris in the morning, and decided to grab a late breakfast at the famous Champs Elysses. From our first croissant and double espresso, we were hooked, and immerse ourselves fully in the French cuisine and culture
We had just begun to adjust to the time change, when we were whisked away by our friend and business associate, Alain. Together, we set off on a six-hour journey to the South of France near the Switzerland border where we would visit the factory and really get to know our products and the people who create them.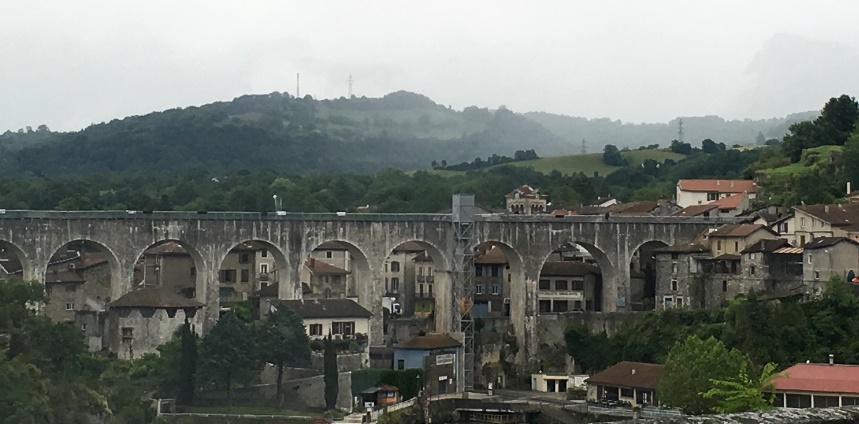 En route to the factory, we made a pit stop for lunch in Saint-Nazaire-En-Royan at the Hotel Restaurant Rome where we enjoyed a local delicacy, "ravioles aux champignons," a French verison of small, delicate raviolis with gorgeous morel mushrooms. The portions were much larger than the delicate servings we had just began to get accustomed to in Paris. When we mentioned this to Alain, he merely chuckled.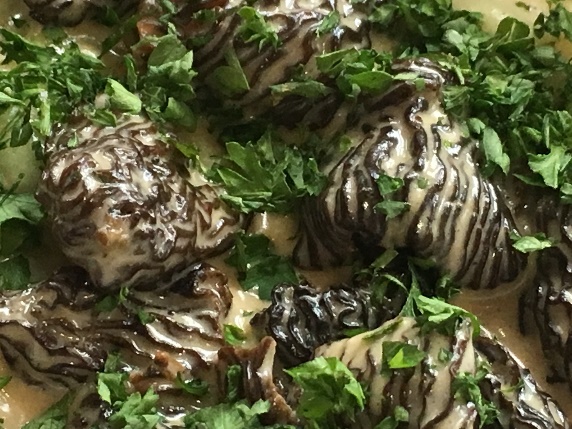 Nestled in the lush greenery and rolling hills of the beautiful French countryside was our destination.  The factory's owner Henri was there to greet us with a smile, and he graciously took us on a tour of the factory that's been in his family for several generations. Henri informed us that while there was once a time where 50-60 cottage wood industries existed in France, today Henri's factory is among a handful left that produces olivewood and beechwood utensils in France. We feel truly honored to be the factory's exclusive importer to the United States—especially knowing these were the same tools used by legendary chefs such as Julia Child!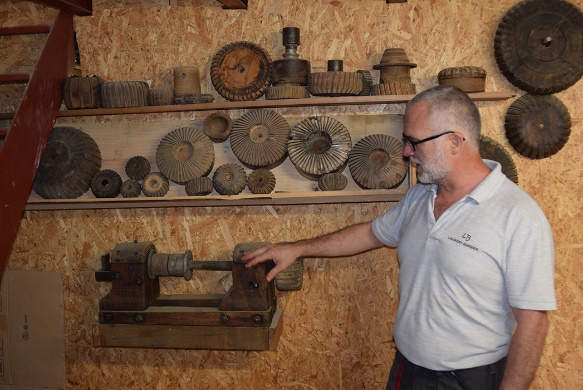 During the tour, Henri took us to a small room behind the factory, and showed us a collection of wooden mechanical factory parts. These parts were over a hundred years old, impeccably preserved, and had been passed down from generation to generation. You could really feel the heart of the factory come to life when looking at these antiques, and as a visitor from a country which idolizes what is new and trendy, it was incredibly moving to be in the presence of something so timeless and historical. The more we saw, the more we understood the rich history behind our products, and the extensive amount of handcraftsmanship that goes towards their production.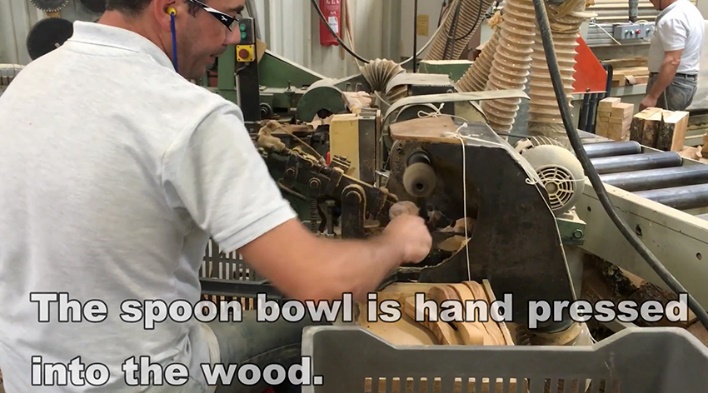 While at the factory, we observed the production of our olive wood spoons from start to finish. First, the raw materials come into the factory and are cut down into individual blocks of wood. The blocks are then loaded into a hand-run wood router to create shaped pieces which are turned to create a handle and the shape of the head of the spoon. From there, the spoons are individually hand finished, which includes creating the spoon bowl by hand in a press-like machine. After that, the finished spoon is hand polished and covered with a signature oil and wax. Voila!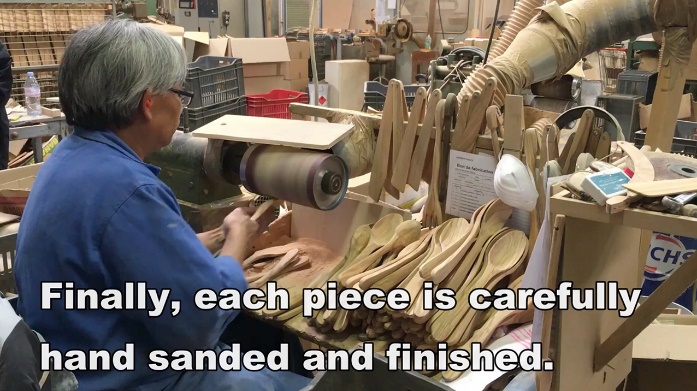 Click here to see a 90 second video on the process I just described!  It's worth seeing.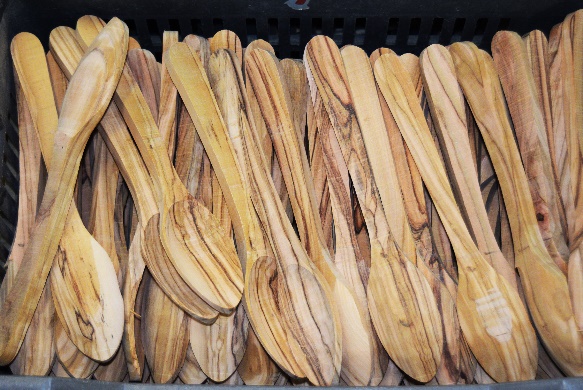 It was a long and exciting day at the factory learning about our French woodenware utensils, so we spent the night in a cozy little country inn where we got a much needed night's rest. We woke up early the next morning and set off for the factory for morning meetings to discuss product development with our business partner and the factory owners.
We were led up a narrow flight of stairs into the meeting room which overlooked the entire factory. We were so excited to see all that the company had to offer, but even more thrilled to develop new ideas with Henri, and see how we could work together to improve our products for our customers. The meeting was very successful, and we shook hands with Henri and parted, feeling optimistic about what was in store for the future of our two companies!  Merci'!
Bruce Mannis & Samantha Mannis
Buying & Video Team
Tags: adventure, artisan, artisan techniques, Beechwood, boutique, Chef, crafted, craftsmanship, croissant, culture, cutting boards, delicacy, espresso, France, French, french cooking, french cuisine, French wood, french wood utensils, generation, gourmet, hand, handcrafted, handmade, housewares, how its made, international, Julia Child, Made in france, Olivewood, organic, Pacific Merchants, paris, restaurant, small business, travel, trip, unique, wanderlust, wood, wood utensils, wooden utensils