It's hard to believe that it's almost Father's day already. That's right, Father's day is coming up right around the corner on June 16, which means that you have until June 10 to get those orders for dad in.  We're told that fathers sometimes get the short end of the stick when it comes to the holiday. They're given a tool as a gift and told to fix something, or given a grill and told to make everybody dinner. Not quite the restful, fun filled day they had in mind. Here at Pacific Merchants (a company owned by a dad, FYI) we're going to make sure that doesn't happen with this great Father's Day Gift Guide.
Now, if you have an unlimited budget, we suggest you bookmark this page and run out and by your dad something really shiny and fancy, like this Tesla. It's good for the environment (we try to keep things green at Pacific Merchants) and your dad will love it.
If you don't have a spare $80,000 lying around, we've got some more wallet-friendly gift ideas that your dad is sure to love just as much as he'd love that fancy, shiny car. So let's get it started.  And remember, when you check out, enter DADROCKS checkout! We'll give you $5 bucks off your order of $30 or more!
Our first suggestion for celebrating dad: Throw him a party. It's beautiful this time of year, so we suggest that you throw him a picnic or barbecue. If you really want to wow him, make sure to include personal touches. Set the table with placemats in his favorite colors. Our Laguna Placemats come in 12 vibrant, bright colors, and we're sure that your dad's favorite is among them. To make that barbecue even more special, we're including our amazing brown sugar bourbon spice rub recipe. It's amazing on ribs and pork loin, great on chicken, delicious on steak, and succulent on salmon. It's also really good on hearty vegetables such as mushrooms, squash, carrots and peppers.  Scroll on down to the bottom of this post for the recipe
If your dad's idea of a great Saturday is spending time at the grill cooking up a storm for family and friends, we've got some wonderful pieces for him. We're highlighting serving dishes and accessories that the grillmaster in your life will go nuts for.  From Condiment serving sets to acaciawood plates (great for burgers) to amazing serving trays, we suggest that you help dad trick out his next barbecue with Acaciaware®barbecue supplies from Pacific Merchants!
Round Condiment           Set of 4 7″ Plates            Wood Oval Tray                  12″ Calabash Salad Serving Set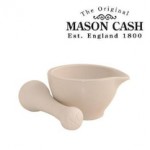 Another great gift for dad is our Mason Cash Mortar and Pestle. These high-quality earthenware Mortar and Pestles are made in a design that is based on the original high quality models produced over 200 years ago. Mason Cash Mortar and Pestles are the best way to crush and grind herbs and spices. Collectable Mason Cash Mortar and Pestles have no wooden parts to absorb flavor or stains. The special matte finish inside the bowl and on the pestle enables improved crushing and grinding.  With a wider than usual pestle is easier to use than a conventional one – just easy circular movements of the wrist are required.  The Mason Cash mortar pestle is highly collectable (when you can find them) and are considered the world's finest!
Brown Sugar Bourbon Spice Rub Recipe
Ingredients
2 cups brown sugar
½ cup white sugar
½ cup kosher salt
2 tbsp black pepper
1 1/2 tsp cayenne pepper (more if your dad likes spicy food)
1 tbsp cinnamon
1 tsp cloves
1 tbsp rubbed sage
2 oz bourbon
½ cup apple juice/apple cider
2 oz apple cider vinegar
Instructions  – the long way for maximum flavor
Combine all ingredients in a bowl to make a thick paste.
Pour into a large ziptop bag or air tight plastic container large enough to fit meat/vegetables of choice.
Add meat/fish vegetable to marinade.
Marinate according to times below.

Ribs – 4 hours to overnight
Pork Loin – 2 to 4 hours
Flank Steak – 1 to 2 hours
Chicken – 1 to 2 hours
Salmon 30 minutes to an hour
Carrots – 1 to 2 hours
Squash – 1 to 2 hours
Mushrooms – 30 minutes to an hour
Peppers – 30 mintutes to an hour
After marinating, allow food to sit on a wire rack for 30 minutes so that the sugar mixture dries.
Grill over low heat to desired done-ness, keeping in mind that the bourbon will cause flare ups.
Brush any remaining marinade over meat in the last 10 minutes of cooking.
Once meat is finished cooking and your marinade has caramelized and formed a nice crust, remove from heat
Allow meat to rest 10 minutes before slicing and serving
Instructions – the quick way for more time with dad!
Combine marinade ingredients to form a paste
Salt and pepper your desired food
Grill over medium grill until almost done
Turn grill to low heat when food is about 10 minutes from done
Brush the marinade onto food for last 10 minutes of cooking. Be aware of flare-ups caused by bourbon.
Once your meat is done and your  marinade has caramelized and formed a nice crust, remove from heat
Allow meat to rest 10 minutes before slicing and serving.
From all of us here at Pacific Merchants Trading Company, we hope that your dad has a really happy father's day, and we hope that whether you buy your dad a mortar & pestleor the Tesla, we were able to help make shopping for dad (or cooking for dad) a little easier.  Just remember to get those orders in by June 10 so that your father's gift gets to him on time. And remember to enter DADROCKS at checkout!
Tags: acacia, acacia ware, acacia wood, Acaciaware, Baking Dish, British, Brown Betty Tea Pot, Father's Day, Father's Day gift guide, Gift Guide, gift registry, gifts for dad, gifts for father, how to throw a party, Mason Cash, Pacific Merchants, Pacific Merchants Blog, Pacific Merchants Recipes, Pacific Merchants Trading Company, Pacific Merchants Trading Company Blog, party tips, placemats, price of a tesla, tableware, Tea Pot, tesla, tesla car, tesla motors, what is acacia