From Pacific Merchants' Bruce:
I just found out that today, May 16th, is National BBQ Day, and that May is National BBQ Month! Now who would have thought of grilling in the middle of Spring showers? I think this is some sort of internet hoax but I am one of those people who thinks about grilling and BBQ all year long.
Here are some fun facts about BBQ courtesy of Foodimentary:
Grilling is no longer considered a male dominated activity. While 51 percent of males cha-cha with the charcoal, 49 percent of women flamenco with the flames.
263,000 moist towelettes will wipe up BBQ sauce covering fingers and faces.
The most common ingredient added to barbecue sauce is garlic, followed by brown sugar.
The original barbecue sauce, dating back hundreds of years, consisted of vinegar and pepper.
In honor of this national food holiday, I thought I would share my "go-to" quick and easy grilled salmon recipe. It's so simple I don't even want to give the secret away but oh well. Spread the love, right?
---
BBQ Grilled Teriyaki Salmon
Ingredients
Salmon (with skin if cooking on grill)
Kikkoman Teriyaki Marinade & Sauce
Lemon
Fresh dill
Mesquite charcoal (if cooking on grill)
---
Directions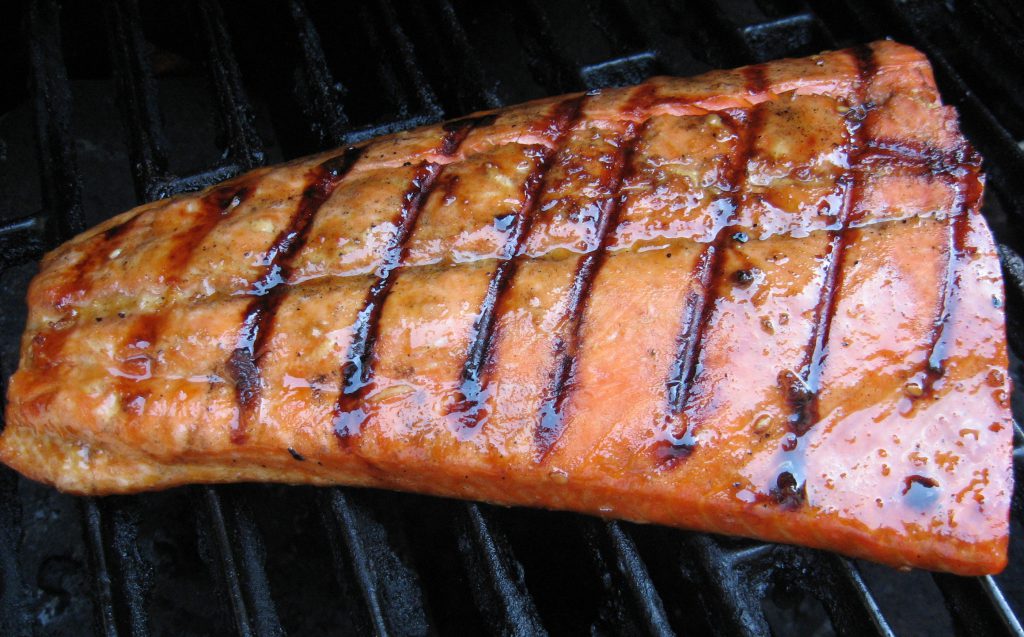 Marinate your salmon (with skin) in Kikkoman teriyaki sauce marinade for 1-4 hours. Don't soak more than that because then the sauce saltiness completely overwhelms the delicate salmon flavors. You must use mesquite charcoal because it burns hot and imparts a lovely smoked flavor that melds with teriyaki flavors.
Grill your salmon skin side down until your desired result (rare, medium, etc.) depending upon the color—darker looking salmon is more rare. I like to flame the salmon at the end to give it a flavorful crust-like finish. Squeeze a fresh lemon and add a sprig of fresh dill and you're ready to go!
This recipe also works in the oven! Line a Pyrex baking dish with tin foil. Lay down your salmon skin side down (you can use skinless in the oven not on the grill). Bake the salmon for 30 minutes at 400°F. Serve on Acaciaware™ plate or tray!
Bonus Step: Enjoy your delicious BBQ teriyaki salmon with a glass of Pinot Noir!
This simple recipe will make you look like a star chef to your friends and family. Isn't easy and tasty what we want during Spring showers? Enjoy!
Tags: Bake, bbq, Grill, National BBQ Day, National BBQ Month, Salmon