Mother's Day already? Yep, Mother's day is on Sunday, May 11 – Just 2 weeks away. If you need help figuring out how to plan a great Mother's day, we're ready to help you out. Our trick: Start the day right!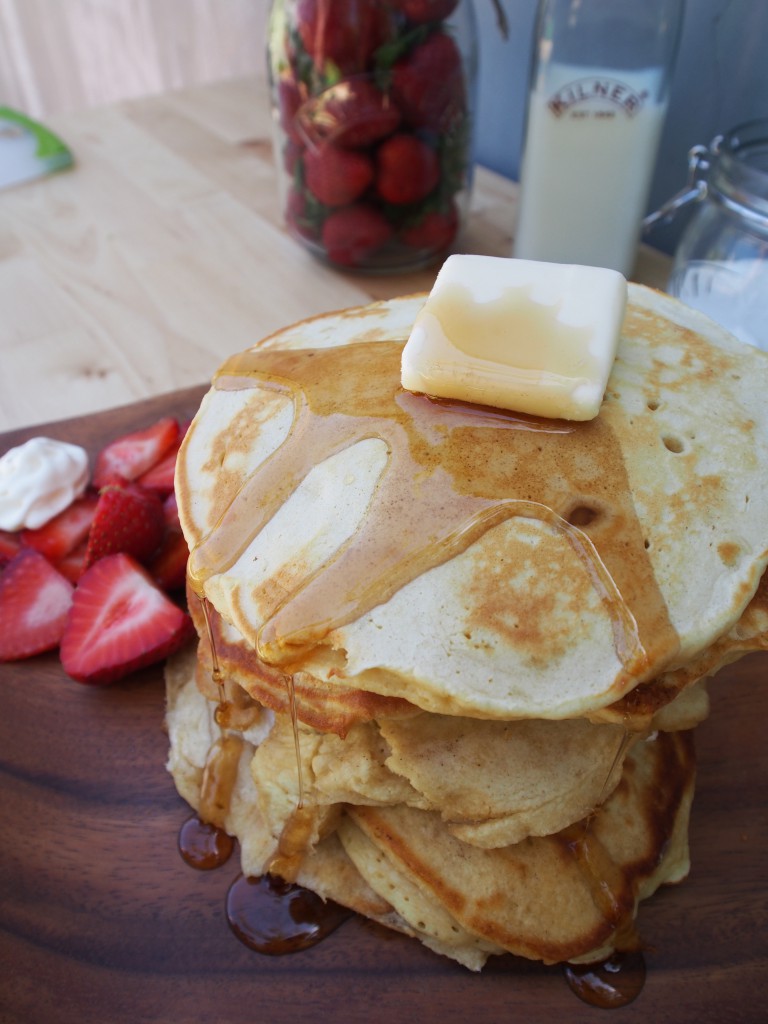 If your mom is anything like mine, she taught you that breakfast is the most important meal of the day. So help your mom start her day off right with a stunning, easy to make breakfast: homemade pancakes, made with love. We've even put together a pancake breakfast kit so you can make mom's breakfast as beautiful as it is tasty. So let's get cooking.
Whether you're an experienced cook or just learning how to make pancakes from scratch, this buttermilk pancakes recipe is as simple as it is delicious. As is, it's the perfect basic pancake recipe, and with a few tweaks (see suggestions at the end of the recipe) it can become a unique, unexpected, highly delicious breakfast experience.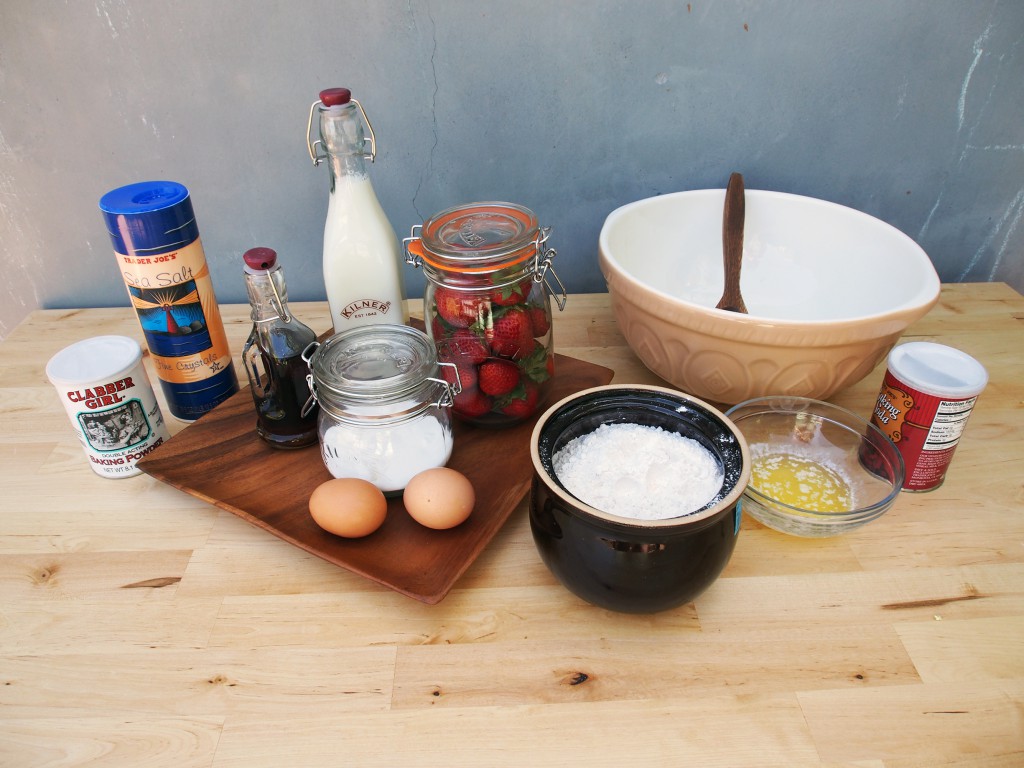 Ingredients:
3 Tablespoons unsalted butter, melted plus extra for griddle
2 cups all purpose flour
3 Tablespoons sugar (either white or brown
1 Tablespoon baking powder
1/2 Teaspoon baking soda
1/2 Teaspoon salt
2 large eggs
1.5 to 2 cups buttermilk
Optional ingredients: vanilla extract, lemon zest, orange zest, cinnamon, nutmeg, almond extract, blueberries, chocolate chips*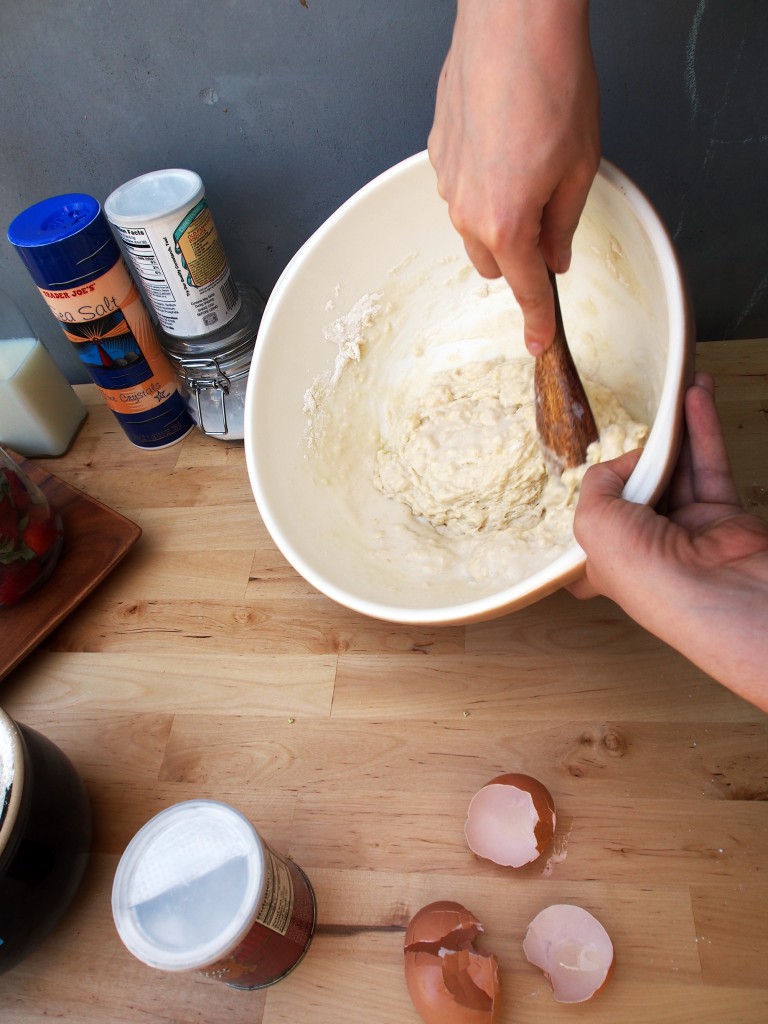 Instructions:
Get ready for an easy pancake recipe. Very few ingredients, very simple process, great results. It may seem like a lot of steps, but trust me. each step is easy!
In a large bowl, like the Counter Grip Bowl from our Pancake Breakfast Set, whisk together the flour, sugar, baking powder, baking soda and salt until thoroughly combined.
Make a well in the center of the dry ingredients and add the buttermilk and eggs. Whisk to combine.
Add the butter and whisk, or stir until just combined. Some lumps are good – DON'T whisk til smooth. If it seems too thick (like mine above) add more buttermilk.
Heat an electric griddle to 375 or a pan to medium high heat.
When skillet or griddle is hot, add butter. Let it melt and bubble.
Add a drop of pancake batter to the pan. If it sizzles, it's hot enough.
Using a ladle, pour pancake batter into the pan. You can make your pancakes as big or small as you want, but I find that 5″ – 6″ diameter pancakes both cook evenly and are easy to flip.
Leave the pancakes alone for 1-2 minutes. Seriously, don't mess with them.
When to flip pancakes: Flip the pancakes when they appear set around the edges and bubbles are rising to the surface throughout.
How to flip pancakes: Grease your spatula. Wiggling it a little, slide it under the pancake all the way. Lift and turn over quickly.
Let cook another 2-3 minutes, then remove from heat.
Serve immediately, drizzled with maple syrup or keep warm in the oven. No one likes cold pancakes. We suggest a stack of 2-3 pancakes per person, served with a side of sliced fruit.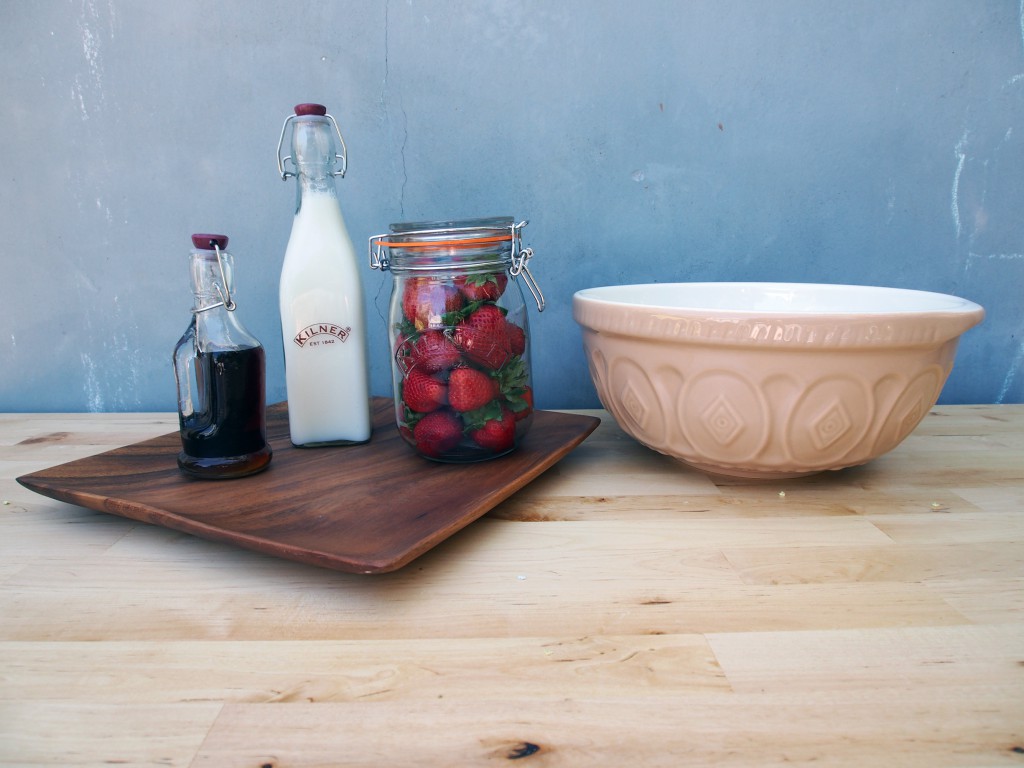 * About the optional ingredients: Consider amping up the flavor of your pancakes to make them extra special for mom. Play with flavor combinations and think about what your mom likes. My mom's favorite pancakes have orange zest and nutmeg in them. Vanilla and lemon zest is also great as is cinnamon and almond extract. With any herbs, spices, extract or zest, add them to the pancake batter with your liquid ingredients. I like letting my citrus zest sit in my melted butter. I think it gives a stronger flavor. For bigger add-ins like blueberries, fresh bananas or chocolate chips, add them in when the first side of the pancakes are almost set – RIGHT before the flip.
There you have it. Delicious pancakes that are perfect way to kick off a beautiful Mother's Day. This recipe is literally the best pancake recipe. It is adaptable if you want to make blueberry pancakes from scratch, great for chocolate chip pancakes, and super-easy. If you plan it right, these pancakes are the perfect breakfast in bed entree: Easy to cut and eat with a fork, comforting, and delicious. Sure, you run the risk of getting syrup on the sheets, but if mom loves breakfast in bed, it's totally worth it.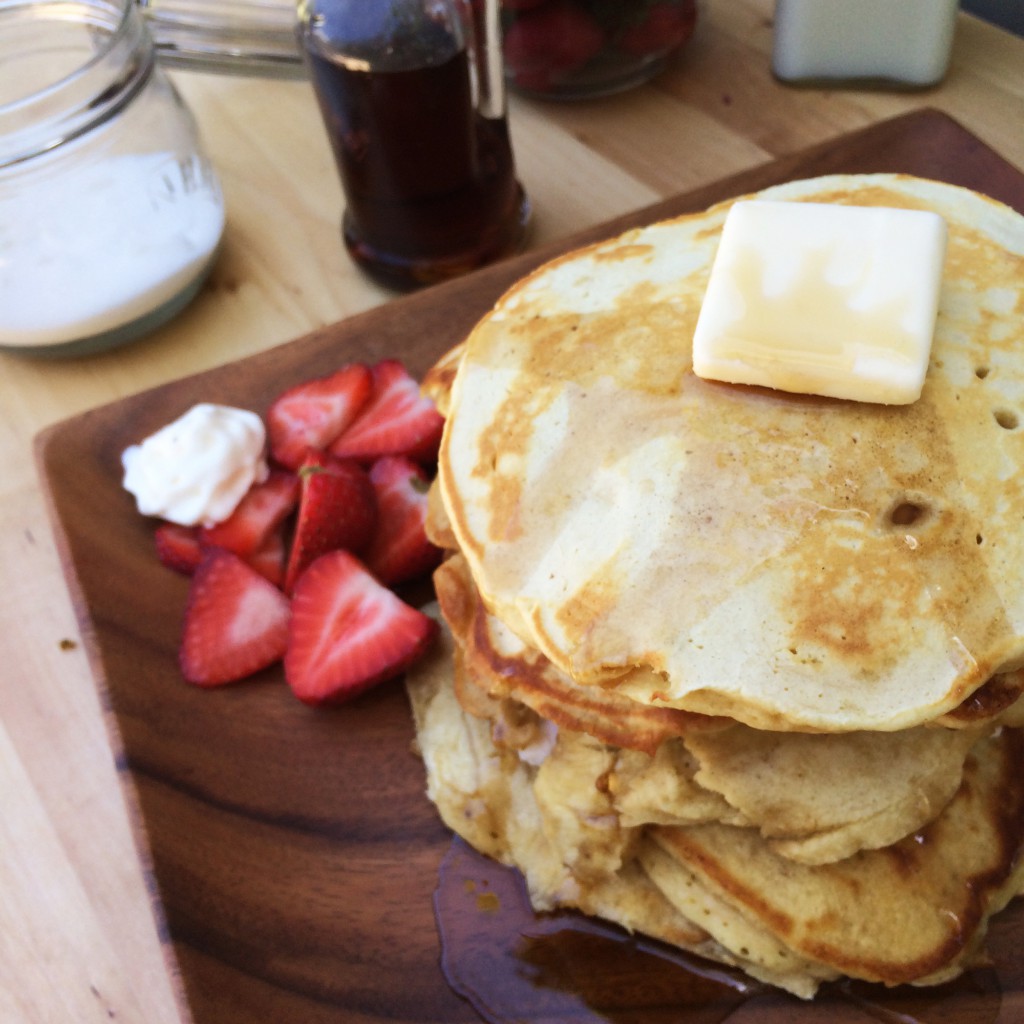 Tags: how to make pancakes, learn how to make pancakes, make pancakes from scratch, mother's day breakfast pancakes, pancake recipe