With so many schools back in session already, and so many more starting in just over a week, we think it's the perfect time to talk about packing lunches. Whether you're packing school lunches for children or brown-bagging it yourself, we've got some great lunch-packing tips that will even make eating at your desk like a special occasion.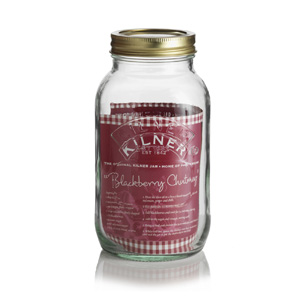 We'll help make lunchtime exciting again with brown bag lunch ideas to wow you!
First, when possible, ditch the plastic.  We get it, life happens, sometimes a Ziploc bag or a plastic food container is the easiest tool for the job, but with a little planning, it's easy to ditch the plastic for more environmentally friendly, green   lunch containers.  Wrap sandwiches in compostable paper and pack everything from soups to salad to cupcakes in jars! Glass Kilner jars are better for the environment. They're re-usable so they don't take up landfill space. They're BPA free so they'll help keep you and your loved ones healthy. And they're airtight, so food stays fresh and doesn't leak.
Some of our favorite meal-in jars are salads and soups.  For the salad, I use 1-liter Kilner preserve jars or 1-liter clip top jars.  I put the dressing in the very bottom of the salad, then the protein, then the heavy vegetables. I fill the rest of the jar with the greens, so they don't get crushed.  When it's lunch time, I either shake up the jar and eat the salad right out of it, or I empty it onto a plate.  One of the nicest things about salads in jars is that I can make up to 5-days' worth at a time, stash them in my fridge, and they stay fresh and crisp. No soggy salads here, and in the morning it's SO easy to grab a healthy, filling lunch.
I love doing soups in preserve jars (I find that the 0.5 liter jars are the perfect serving size.)  When I make big batches of soup I put the leftovers in jars, put what I think I'll eat in the refrigerator and freeze the rest. When it's lunch time, I take the lid off, microwave the soup right in the jar, and eat it that way. It's a great, no-mess way to have a filling, comforting lunch.
Second, always include a treat. It doesn't have to be unhealthy, just think about what will make your lunch (or your kids' lunch) into a special treat.  I often find myself reaching for 0.35 liter Kilner clip top jars and filling them with fruit salad, pudding,  a few cookies, and even a cupcake. The jars keep baked goods from getting crushed, keep fruit salads from leaking, and are perfect for making and storing pudding.  You could also use the 0.25 liter preserve jars for treats. They're a little roomier so they're great for pretzels, chips, and popcorn. I've even seen people bake pies and cakes right in the jars. What a treat!
Third, find the right kind of lunchbox. Jars seal pretty well, but they are made of glass, and even though the Kilner jars are sturdy, we want to make sure your lunch is safe. I love these bags from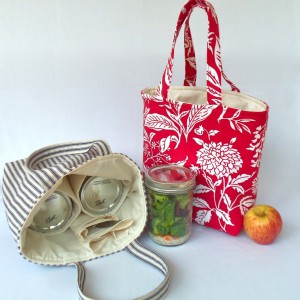 A Tiny Forest – They're perfectly designed to keep jars safe, upright and well cushioned, and they even come with a re-usable cloth napkin! They come in a variety of colors and patterns from sophisticated florals to kid-friendly ninjas, so no matter who you're packing a lunch for, they're sure to find something they love. Plus, the bags have room on top of the jars for extra delicious treats.   Her pint jar bags fit our 0.5 liter jars and her quart jar bags fit our 1.0 liter jars! This great one-woman business will also do custom bags to order.
Fourth, know how the lunch is going to be stored and if it can be re-heated. Will there be a refrigerator available, or will you/your child need an ice pack to keep that lunch fresh?  Can your child microwave their soup at school, or will they be stuck eating it cold?  Both hot and cold foods work really well in jars – Just know your game plan.
Fifth,  don't forget a beverage. As a bonus, your drink can double as an ice pack. I often freeze tea, water or juice right in a jar, wrap it in a napkin, and throw it into my lunch bag. It's melted by lunchtime, but it keeps everything else cold!
Last, but not least, remember a fork and spoon, but if you're packing for a child, pre-cut everything and skip the knife.  Since schools have become more security-focused, bringing even a butter knife to school has become a no-no. So make sure that everything is bite sized, fork sized, or able to be eaten with a spoon.
We hope that these tips help you get an A in lunch 101. Have a wonderful start to the 2013-2014 school year, everyone!
Tags: a tiny forest, back to school, bag lunch, food in jars, lunch box, packed lunch, packing lunch, salad in jars, school lunch, school lunches