Last week we mentioned that we were looking for awesome Father's Day ideas and decided  that one of the best ways to honor the amazing dads in our life is to cook an amazing meal.  Steak for Father's Day is pretty standard, so we figured we'd spice things up a little and make a really killer Korean barbecue recipe. The brilliance of this marinade is that it works on anything – you can marinate chicken, beef, short ribs, pork, and even extra-firm tofu in this mixture, grill it, and you end up with culinary magic!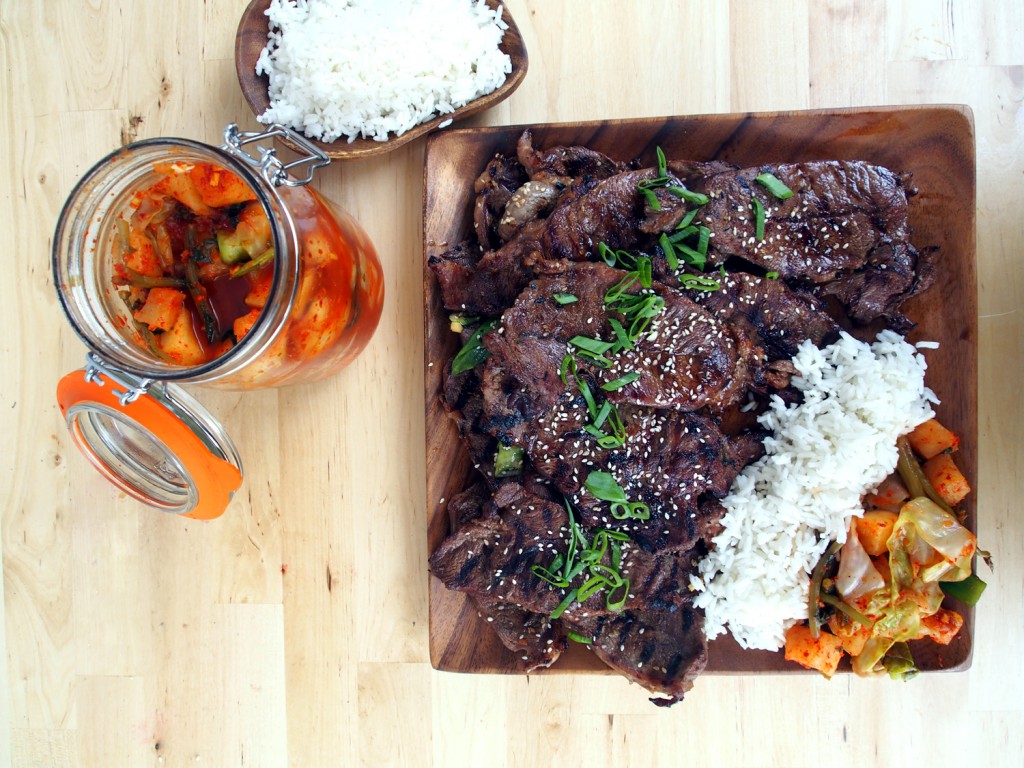 Keep reading. Not only are we talking how to make the best Korean Barbecue Marinade, we'll also talk about some other dishes to complement this killer steak, so you can cook your dad (or whoever) an awesome meal! From cocktails and appetizers to dessert, we've got you taken care of.  Added bonus: With a little planning ahead (marinate your protein overnight) this is a really quick, easy dish to cook. You can make it as a quick weeknight dinner recipe or as a special occasion meal.  Let's get cooking!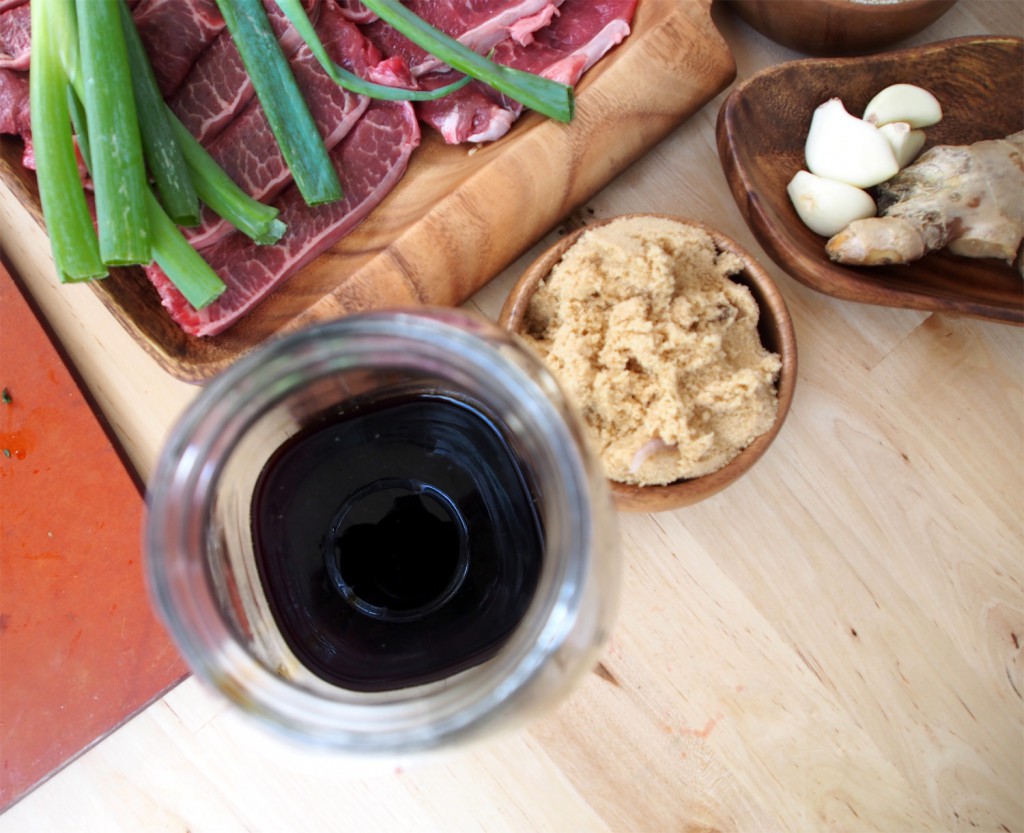 Ingredients
1/4 cup soy sauce
2/3 cup fresh guava or pineapple juice
2 tablespoons toasted sesame oil
4 cloves garlic, crushed
3 scallions, chopped
1 1/2 inch piece of ginger root, grated
1 1/2 tablespoon brown sugar
1 teaspoon toasted sesame seeds
2-3 lbs protein of your choice, sliced 1/2 inch thick (steak, extra-firm tofu, shrimp, pork loin, short ribs, chicken breast)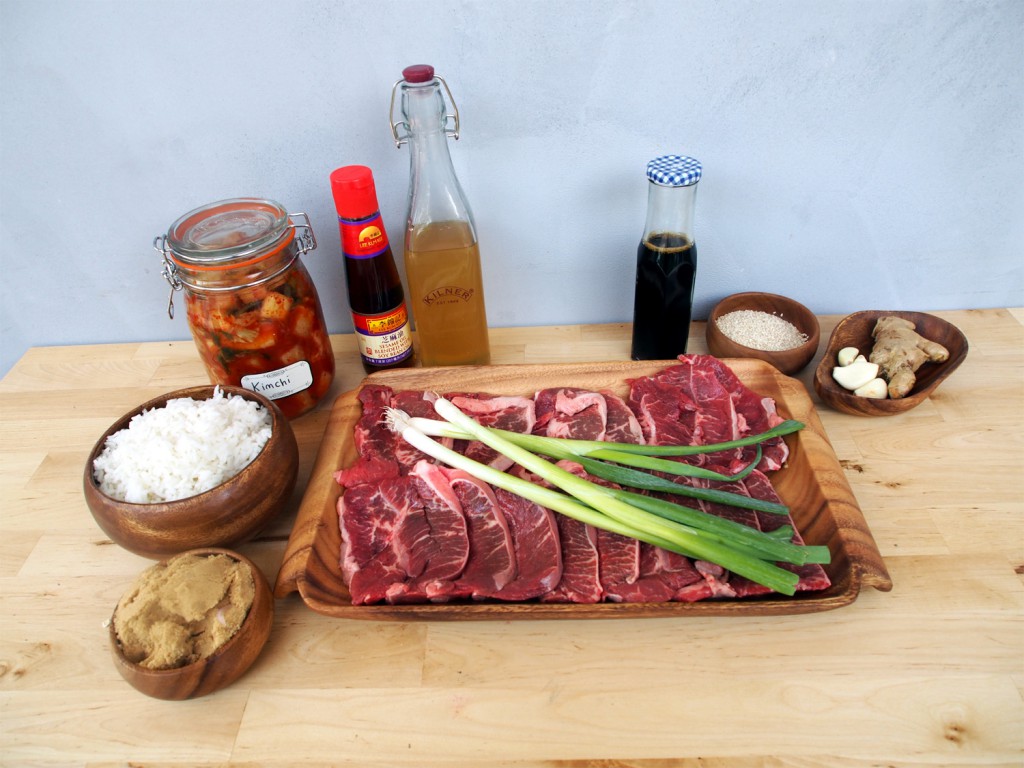 Instructions
Combine all ingredients except for protein in a jar or a bowl and shake/mix well to combine. I used a Kilner jar and it worked like a charm.
Pour marinade over the protein of your choice. I spread mine out on a serving tray for pictures, but a bowl works too.
Massage with your hands to combine.
Cover and set aside for at least 4 hours or as long as overnight.
When ready to cook, preheat a grill to medium high heat. A pre-heated grill is your best friend if you want a nice char and rich flavor.
Grill ingredients for 3 minutes per side.
Remove from grill and serve.
It's honestly that simple. Nothing to it.  The only hard part is figuring out what else to serve, because meat alone doesn't make up a meal.  I'm sure your dad told you to eat your veggies.  Here's our suggested menu, if you want a fancy, multi-course meal. If you want it simple, you could always go the way we did and just serve kimchi, rice and meat, along with a nice green salad, or you can take it that extra step and make a highly fabulous Korean-inspired feast!
Cocktail: We Love this plum-basil cocktail from Saveur.  The ingredients aren't traditionally Korean by any stretch, but the fruity, herbaceous flavors of the drink really work beautifully with our menu.
Soup: Traditional at New Years, this Korean Rice Cake Soup recipe from The Kitchn is a delicious, warming vegetarian soup filled with rice cakes, herbs, and a hint of seaweed. SO comforting. If rice cake isn't your thing, consider their Korean noodle soup recipe. Also vegetarian, also delightful!
If it's a little warm for soup, consider this awesome salad in its place: Spicy Bean Sprout Salad from Beyond Kimchee, an amazing blog with a focus on Korean food. Bookmark it. Read it. Love it.
It's pretty traditional to serve Kimchi with Korean Barbecue and (humblebrag alert) our Kimchi recipe is excellent. Give it a shot. You may like it. Also, check out our Kimchi Kit.
Let's move on to Dessert. Coffee and donuts are a pretty perfect pairing. We figured that tea and donuts would be equally good, and this pairing of a warm cinnamon tea (recipe from Aeri's Kitchen) with sweet potato rice donuts (also from Beyond Kimchee) is the best way to end a meal. Soothing, comforting, and damn delicious!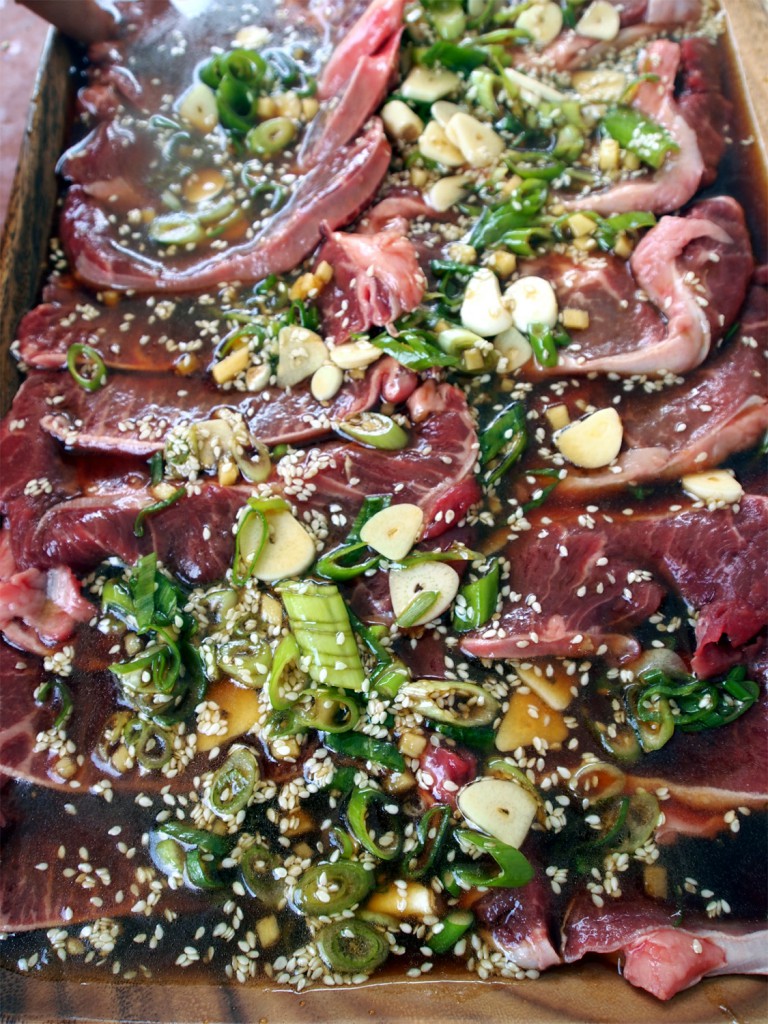 Whether you're thinking about making a steak for Father's day, looking for an epic menu, or just trying to figure out what to make for dinner tomorrow night, we hope this menu helped. I know we're excited to have it again this Sunday, June 15 for Father's Day!
One last thing – To all the dads out there, HAPPY FATHER'S DAY (yes, we're yelling it!)   You rock. Thank you.
Tags: bbq recipe, How to make Korean Barbecue, Korean Barbecue, korean Bbq, Korean BBQ Recipe