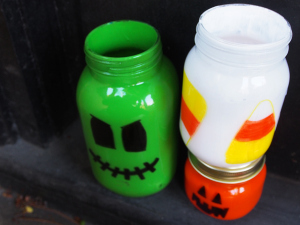 In my humble opinion, October is one of the best months of the year, second only to November (I love Thanksgiving…really I just love to eat). The leaves are changing. I always feel all warm and fuzzy inside. Sweaters, boots, Pumpkin Spice Lattes. What's not to like?
*Evil Laugh*
Another October/Halloween staple: Jack-O'-Lanterns. The Jack-O'-Lantern tradition originated in Scotland and Ireland, but infiltrated American Halloween culture a lonnnnnggggggg time ago. I love pumpkins and I have a slight obsession with Kilner Jars so I decided to combine the two into one of the most awesome Halloween crafts ever . For my twist on a classic Halloween tradition, check out this Kilner Jar-O'-Lantern tutorial. It's a great craft to do with even the littlest kids. As long as they can hold a paintbrush, they'll have a blast!
What you'll need:
-Kilner Preserve Jars
-Acrylic paint
-Paint Brushes
-Palette (Something to mix paint on – can be as cheap as a to-go container lid)
-Masking Tape
-Scissors
-Black Permanent Marker, any other colors you might want to use
-Utility Knife
-Paper/pencil, pen
-Hairdryer (if available. Helps speed up the paint drying process.)
1. For every craft project I start, I love to sketch out my ideas.This is a great way to get your creativity flowing and try out an idea without the commitment. OLYMPUS DIGITAL CAMERA This step is especially useful if you're crafting with kids; it can really help focus and harness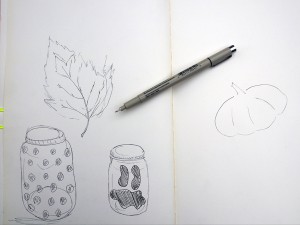 the wild and undirected energy kids sometimes approach projects with, and you can always send them back to work on it if they're freaking out about what's next. Sound familiar? Some questions to help the kiddos brainstorm:
-Do I want my Jack-O'-Lantern to be friendly? Scary? Silly?
-What simple shapes can I use to make the face?
-Do I want to make a design, pattern, or silhouette instead of a face?
-What colors do I want to use?
-Does my Jack-O'-Lantern have a story? Write down or draw that story.
2. Coat the inside of the Kilner jar with one layer of acrylic paint.
If you want the final product to be a little more opaque, slap on another coat or two after the first one dries.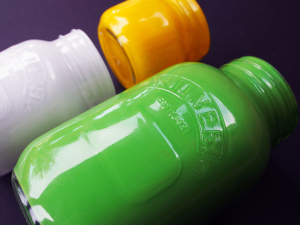 I recommend using a hairdryer on the COOL setting in between coats. It can be tricky to paint the inside of the jar, but it gives you that clean, glossy finish without having to paint or spray on a clear coat at the end. Patience and a longer paintbrush will get you there, I promise!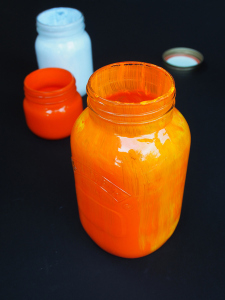 It's also possible to decoupage the outside of the jar with tissue paper and modge podge if you like that texture and process, but it's a little more involved and messy. Trying to minimize cleanup, here! For adults: spray paint the exterior. It will look smoother, but it's not as kid friendly.
3. Let the paint dry. In the mean time, if you sketched out a plan when you started, revisit it. Think about how you want to approach "carving" your jar.
4. Time to carve! When I've done this project in the past with kids, I draw on the glass with a Sharpie or other permanent marker in the places I want to black out. If you mess up, it's super easy to take off the marker with an alcohol swab, so that's really convenient.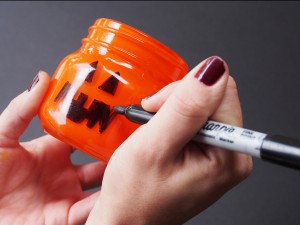 5. Outline the face or design you want blacked out. When you're done, fill in with the permanent marker. You can also create stencils out of masking tape using a utility knife, but have an adult do this! Another reason painting the inside of the jar is more convenient.
6. Let the jar dry. When completely dry, we recommend sticking in a flameless tea light; this allows you to close the jar (either preserve jars or clip top jars), and minimizes fire risk. They're just as pretty, more kid friendly, less likely to melt your paint, and you won't have to replace them throughout the night. Win, win! Thanks to the bright colors, the jars are also eye catching during the day without candles.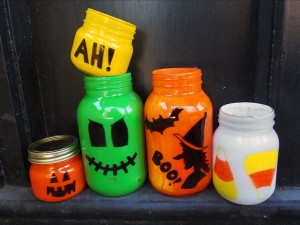 7. Enjoy, and bask in the glory of your finished product. These Jar-O'-Lanterns make great hostess gifts, school party projects, and party decorations. Also, add some mummies to the mix with our Kilner Mummy Lanterns.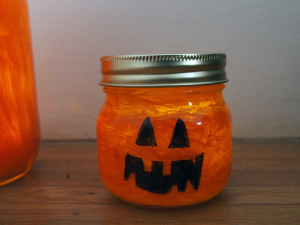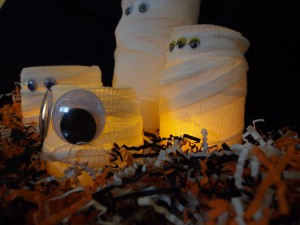 Tune in Friday for another Halloween jar project. . . a craft so delicious that you'll think you went trick-or-treating 2 weeks early!
Tags: crafts for halloween, crafts with Kilner jars, crafts with mason jars, easy halloween crafts, halloween, halloween crafts, halloween decor, halloween kids, mason jar crafts