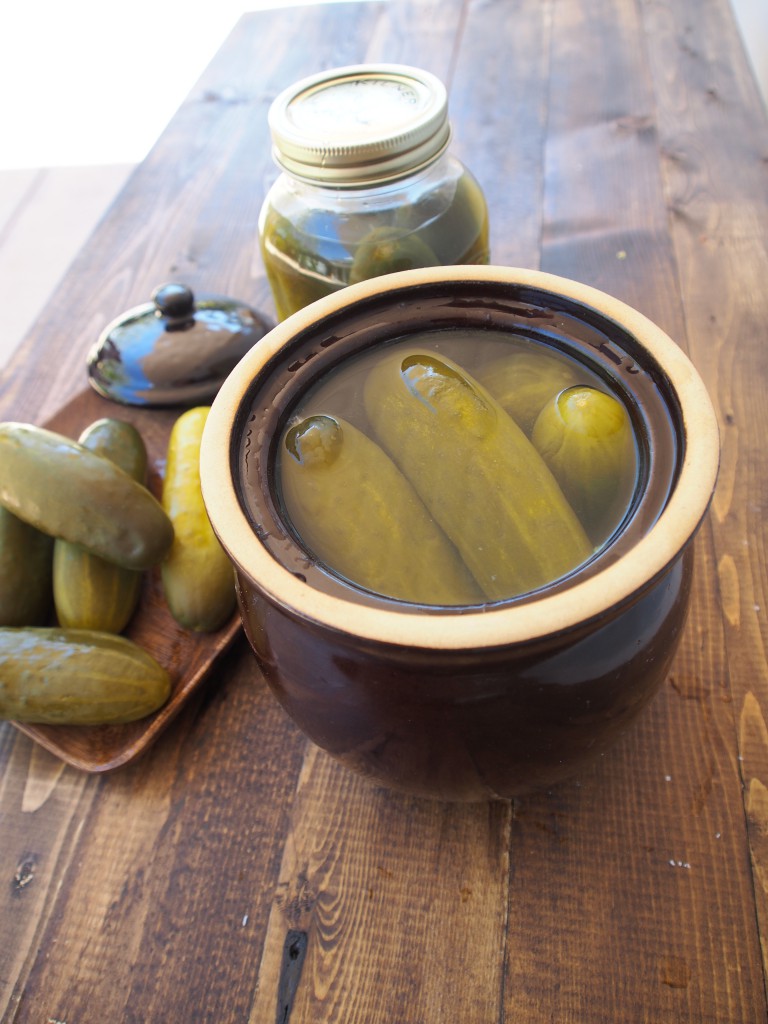 Cucumbers are growing like weeds around here, and our local markets are selling them cheap.  We stocked up on cucumbers just so we could teach you how to pickle them and how to make homemade pickles! We're nice like that.  This recipe for pickles is an old-fashioned fermented pickle recipe. These delicious pickles take about 10 days to 3 weeks to ferment.  If you start now you'll be enjoying tangy, crunchy pickles before May! Since they're the perfect side for burgers at summer barbecues, we suggest making a bunch and canning them so you and your guests can enjoy homemade pickles all summer long. We've even put together an awesome DIY Pickle Starter Kit if you want to have everything you need in one place!
Ready? Let's ferment! It's more appetizing than it sounds and is the simplest way to learn how to make pickles.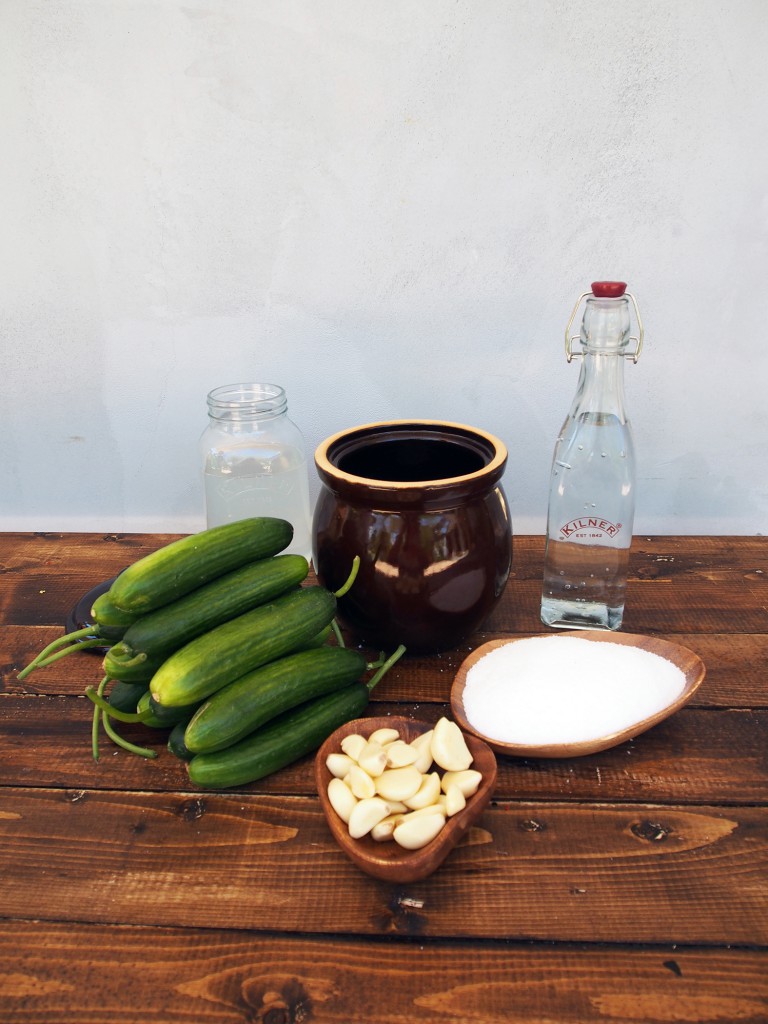 Ingredients. – As you'll see above, it doesn't take many ingredients to make great pickles. I keep mine pretty simple.  This recipe doubles, triples, or even quadruples nicely.
1 lb of pickling cucumbers, washed
1 head of garlic, peeled
1/4 cup sea salt
1/4 cups white vinegar
2 cups water
1 tsp pickling spice (optional)
1 head dill (optional)
Equipment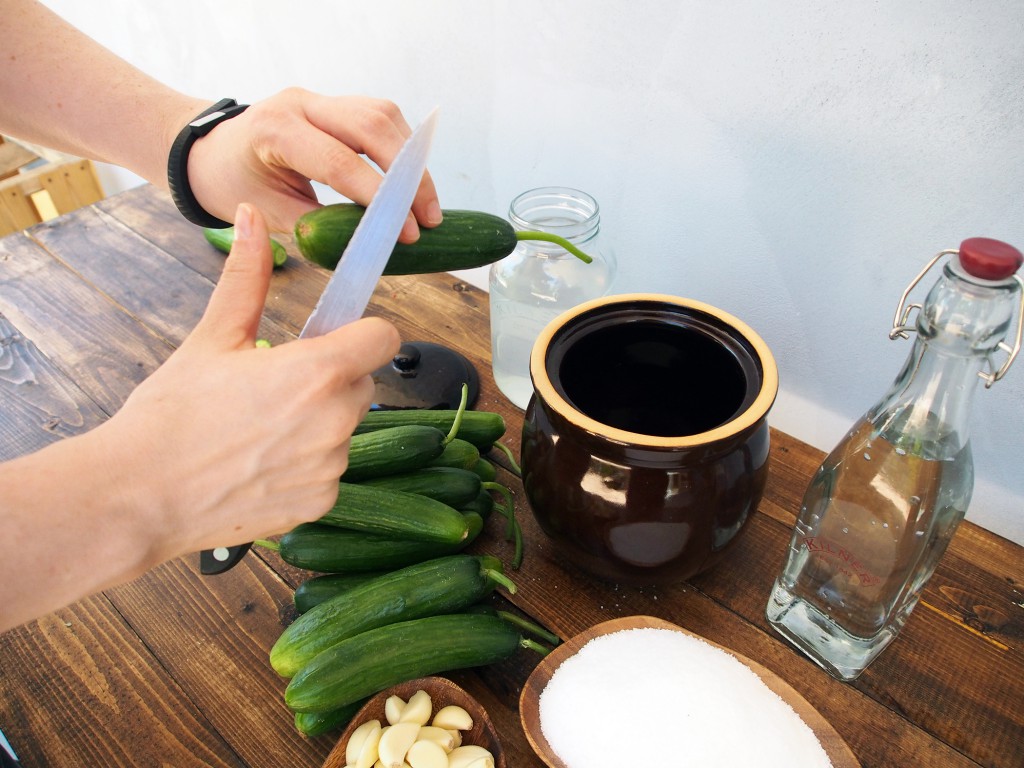 Once you've gathered your equipment, begin by prepping the cucumbers. To do this, make sure they're still crisp with no soft spots. Scrub them well, then slice off the blossom end of each cucumber, like you see me doing above. If you're not sure, it's the end opposite the stem. You can leave the stem, just snip off a tiny bit of that blossom end. It helps the pickles stay crisp.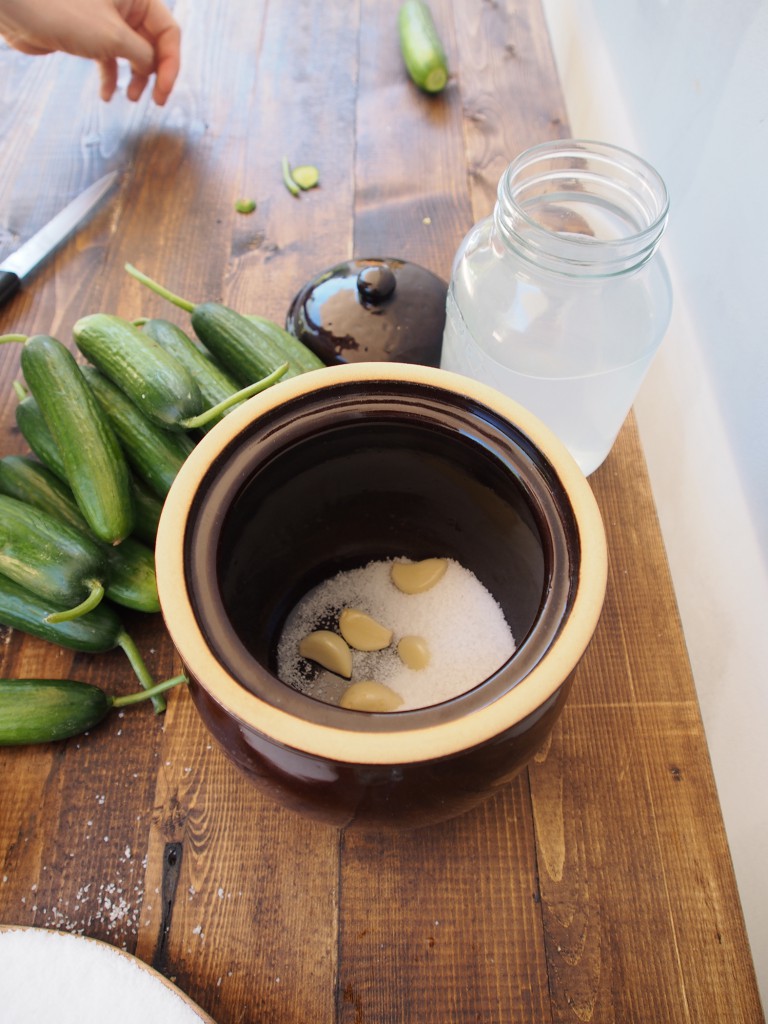 Next, throw some of your salt, any spices you're using, and about half of the garlic in a clean pickle pot or fermenting crock. You'll notice I'm using one of our storage crocks in this picture – I wanted to see if it was as good for pickling as it is for storage. And, if you're wondering, it totally worked!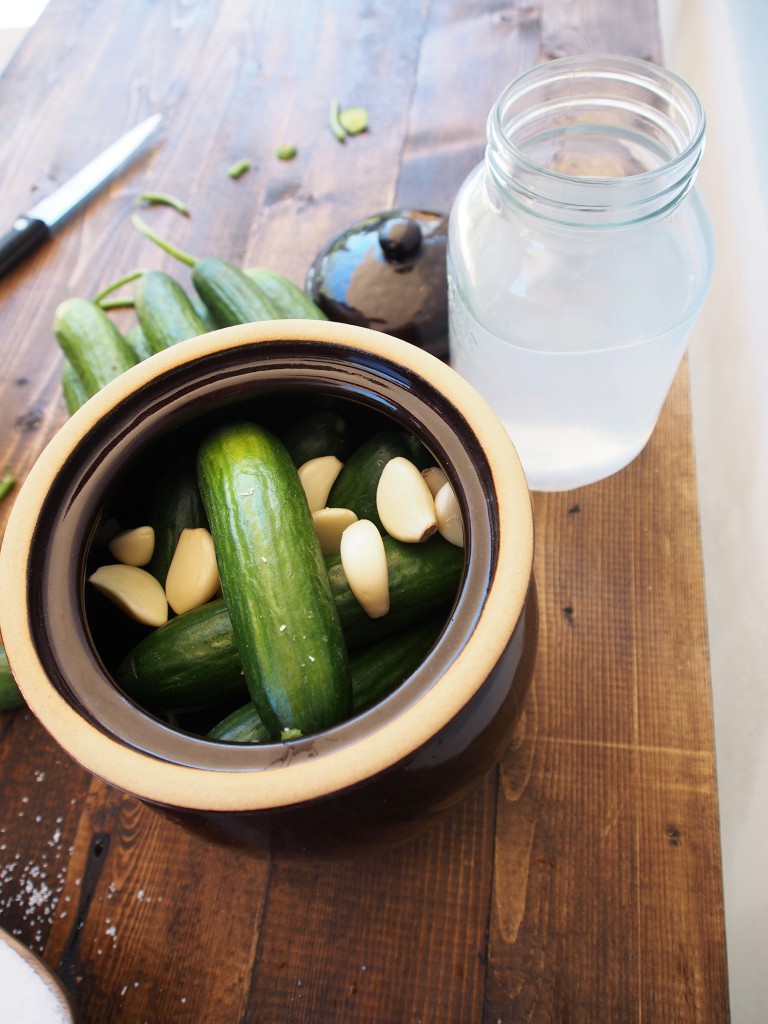 Once that's taken care of, add in your cucumbers. Literally, cram as many as you can fit  right on in there. You'll still have room for the brine and stuff. While you're at it, add the rest of the garlic as well. Also, if you're adding dill (that's how to make dill pickles, folks,) add it now. Once you've got all of that in there, it's time to add the components of the brine: White vinegar and water (or, if you've got it, leftover pickle brine and water.) Either works.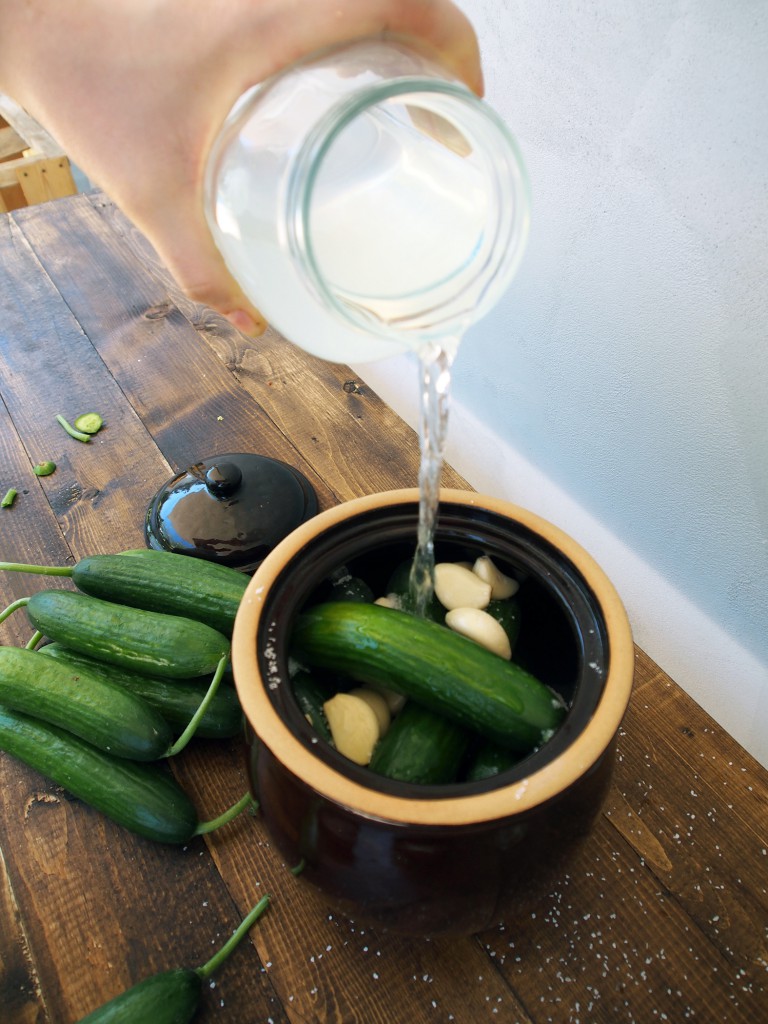 Once you've added all that brine (I told you there was room,) make sure the cucumbers are covered completely (add more water if they aren't) and pop a lid on the crock. If you're using one of our open crocks, cover with a piece of cheesecloth or a muslin square, then top off with a plate to keep it airtight. You're done for now. Seriously, that easy. Put the whole thing in a place where the temperature is between 70 and 75 degrees and leave it alone.  Every day or two, give it a peek. Skim any mold off the top of the brine (it'll happen and it's no big deal) and check that the pickles don't feel mushy or slimy.  After about 10 days, start checking them for done-ness (they should look translucent all the way through. Cut one open. Taste it. Your homemade pickles are done when you're happy with them.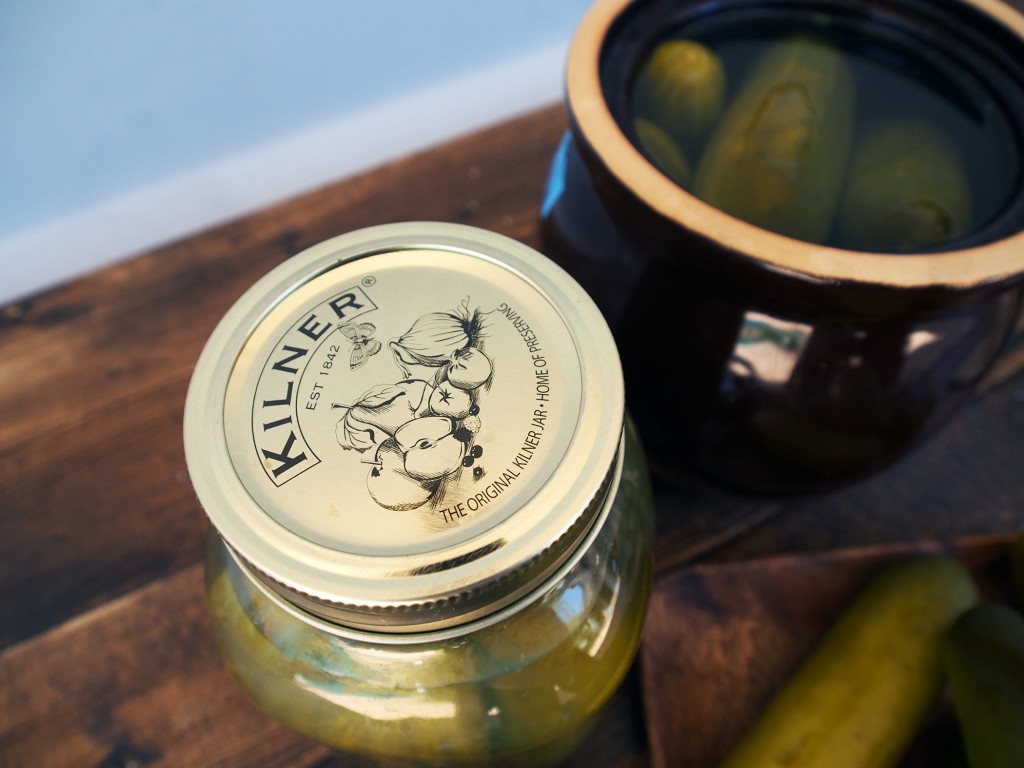 Once your pickles taste to your liking,  keep whatever you want to eat right away in your fridge. If you made a big batch, or if you want to save them for later in the season/give them as gifts, it's the perfect time to can them.  Just pack the pickles into Kilner jars (our 1 liter jars fit pickles beautifully.)  Top them off with the brine. Pop the seals on the jars, then tighten down the rings until almost tight. Bring a big pot of water to a boil and process the jars in boiling water for 20 minutes. Let 'em cool, check the seals, and BOOM, you've got perfectly canned pickles that'll keep at room temperature for 6 months. Not that they'll last that long.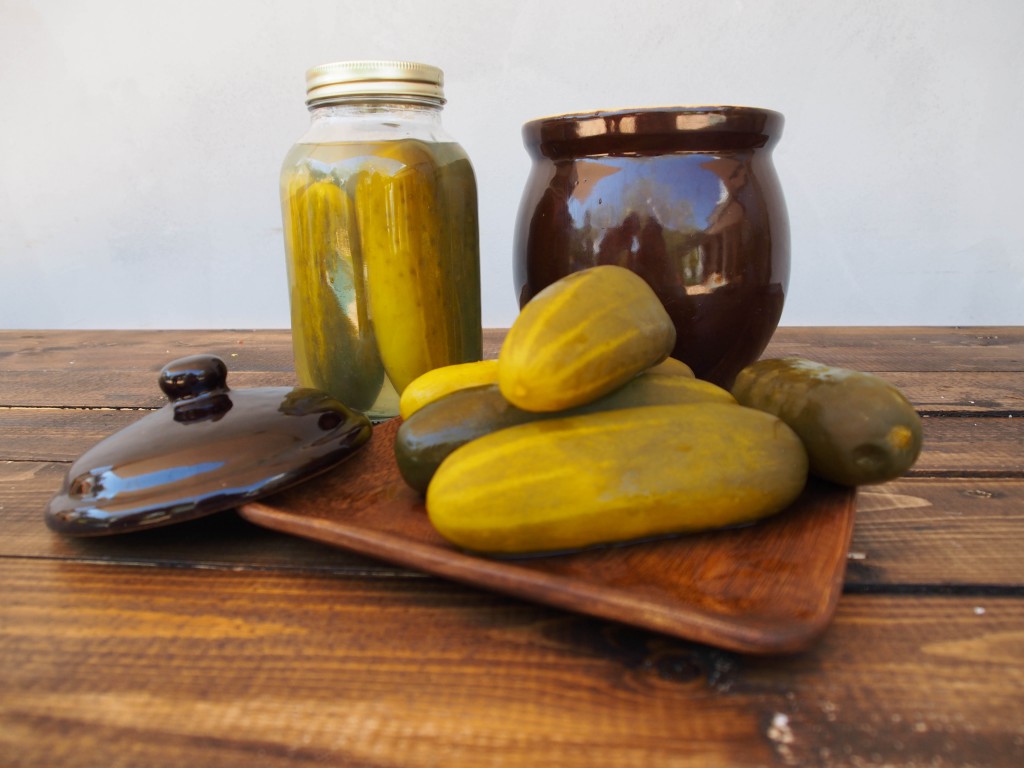 Boom! Now you know how to make pickles.
Tags: how are pickles made, how do you make pickles, how to can dill pickles, how to make dill pickles, how to make homemade pickles, how to pickle, How to pickle cucumbers, how to pickle vegetables, what are pickles, where do pickles come from