Dear readers,
I hope you are all having a fabulous Sunday! This weekend has been a busy one for Pacific Merchants Trading Company as we have a photo shoot tomorrow and a few huge trade shows coming up.  Today I stained wood for tomorrow's photo shoot, and I also made a DIY pincushion from a #kilnerjar – it doubles as a sewing storage kit.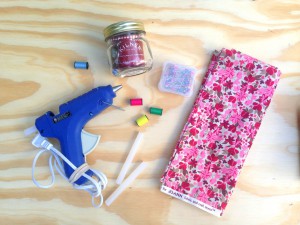 This simple project requires all that you see here plus scissors.  So easy, fun, inexpensive and practical!  Makes for a great gift or personal item.  We suggest using our .25L Kilner Preserve Jars, but the .5L Kilner Preserve Jars also work, especially if you want more storage room. For a full tutorial, visit Take Courage Blog.
I had so much fun with this project today.  Did you do anything fun this Sunday?  Talk to us in the comments, and find more photos at the Pacific Merchants Instagram (@PacificMerchant) and Pinterest.
Tags: diy pin cushion, diy sewing kit, kilner jar, pin cushion, sewing kit, sewing storage jar