So a few weeks ago we were experimenting with recipes for Father's Day. Because really, nothing says "I love you" like a home-cooked meal. Except maybe cake. Cake's pretty good at saying I love you.  Anyway, we were deep into some recipe development and came across a Korean Barbecue marinade that we quickly became obsessed with (check back next week and we'll share!)  What goes with Korean Barbecue? Kimchi. What is Kimchi? An awesome fermented cabbage/radish condiment.  What do we sell? Fermenting crocks. BOOM! An idea was born, and suddenly we're testing out kimchi recipes and a DIY kimchi set to go with it!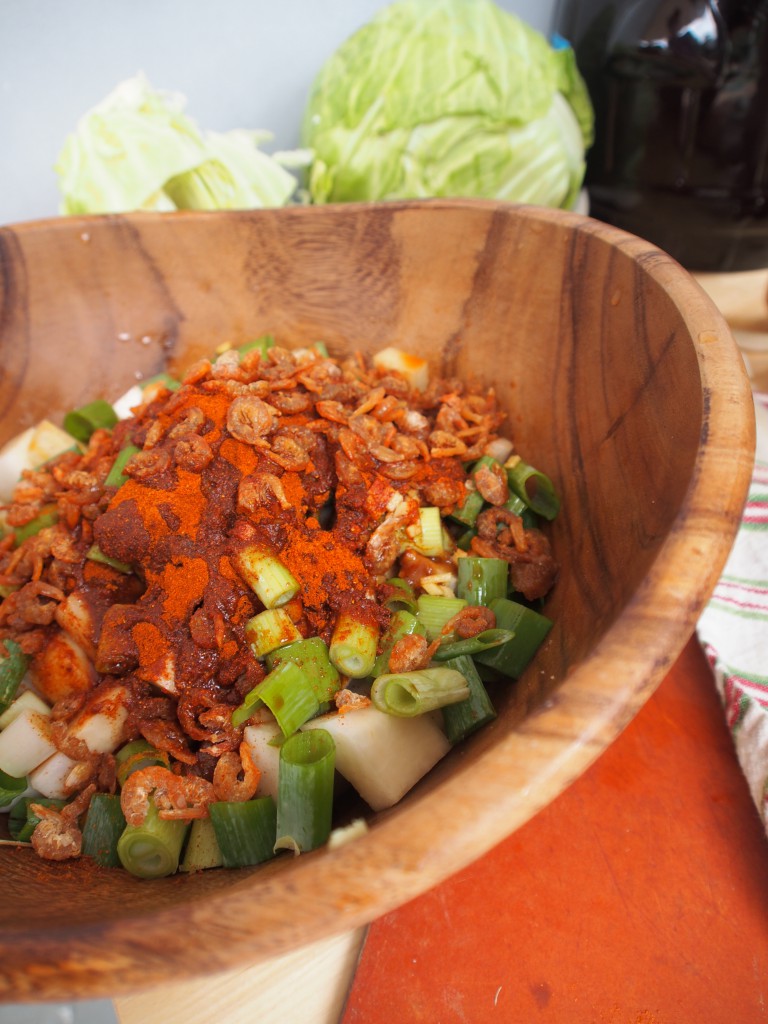 Our Fermenting crocks are full at the moment (sauerkraut and kombucha) so we pulled out a pickle pot and got to work.  And you know what? For this recipe, a pickle pot is pretty much perfect. The lid is heavy enough that not much of the kimchi's uniquely funky odor can escape, and the pickle pot is just the right size for this batch.  So get ready – you won't need a lot of supplies, aside from the ingredients to make truly great kimchi. I promise. If you want to make it super easy, check out our DIY kimchi kit. It has all everything you need – except the ingredients!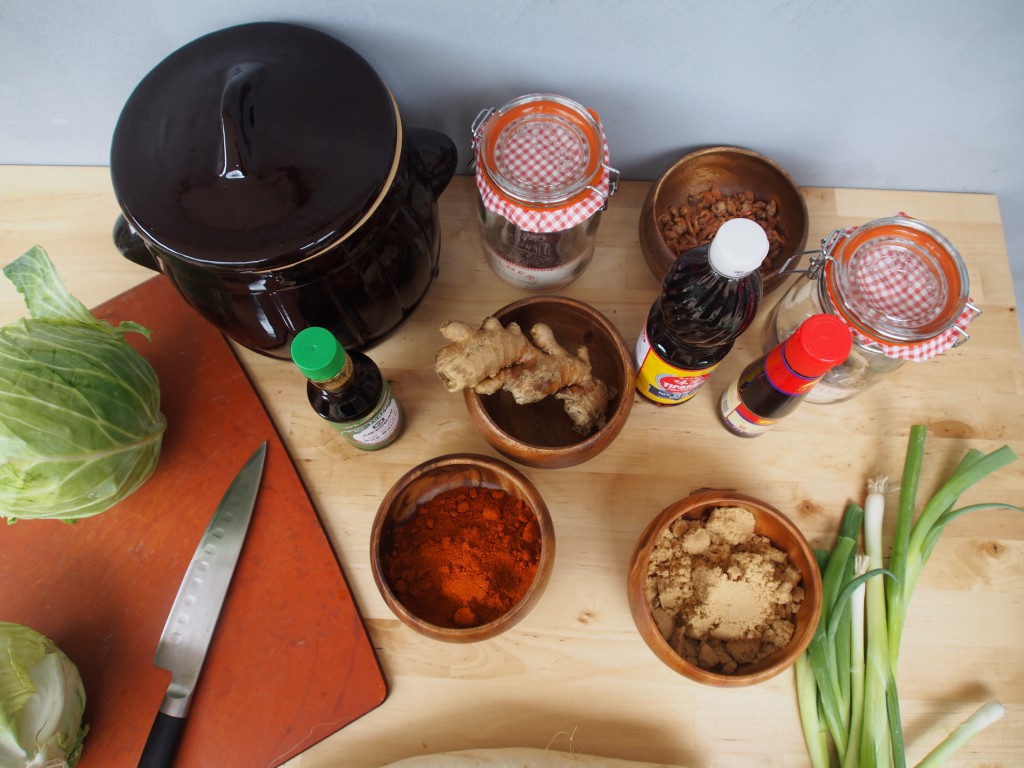 Special Equipment
Pickle Pot (5 liter)
Cutting board and sharp knife
See? Just four things.  Of course, the ingredient list is a hair more involved.  You can find all these ingredients in an Asian market, or most of them in a well-stocked grocery store. If you can't find that Korean red pepper, consider grinding some moderately hot dried red peppers yourself, or use a little less cayenne pepper. The other weird ingredient on the list is the optional dried shrimp. We find them in the Latin section of our regular grocery store, as well as in our local Asian market.  When you open that dried shrimp, keep in mind. It's kinda pungent.  We weren't the hugest fan, but Marlow the cat LOVED it. In fact, we caught her trying to go through our bags for more!
Ingredients
1 (2-pound) napa cabbage
1/2 cup kosher salt
About 12 cups cold water, plus more as needed
8 ounces daikon radish, peeled and cut into chunks
4 medium scallions, ends trimmed, cut into 1-inch pieces, use whole thing
1/3 cup Korean red pepper powder
1/4 cup fish sauce
1/4 cup peeled and minced fresh ginger
8 cloves garlic, minced
2 teaspoons dried salted shrimp, minced (optional)
1 1/2 teaspoons light brown sugar
As you see, there are quite a few ingredients in Kimchi.  You can actually quadruple the amount of daikon, eliminate the cabbage and make a really awesome all radish kimchi, which has an awesomely crisp texture to pair with the spicy-pungent flavor.  So let's get into the instructions – they're shockingly easy, so don't be intimidated.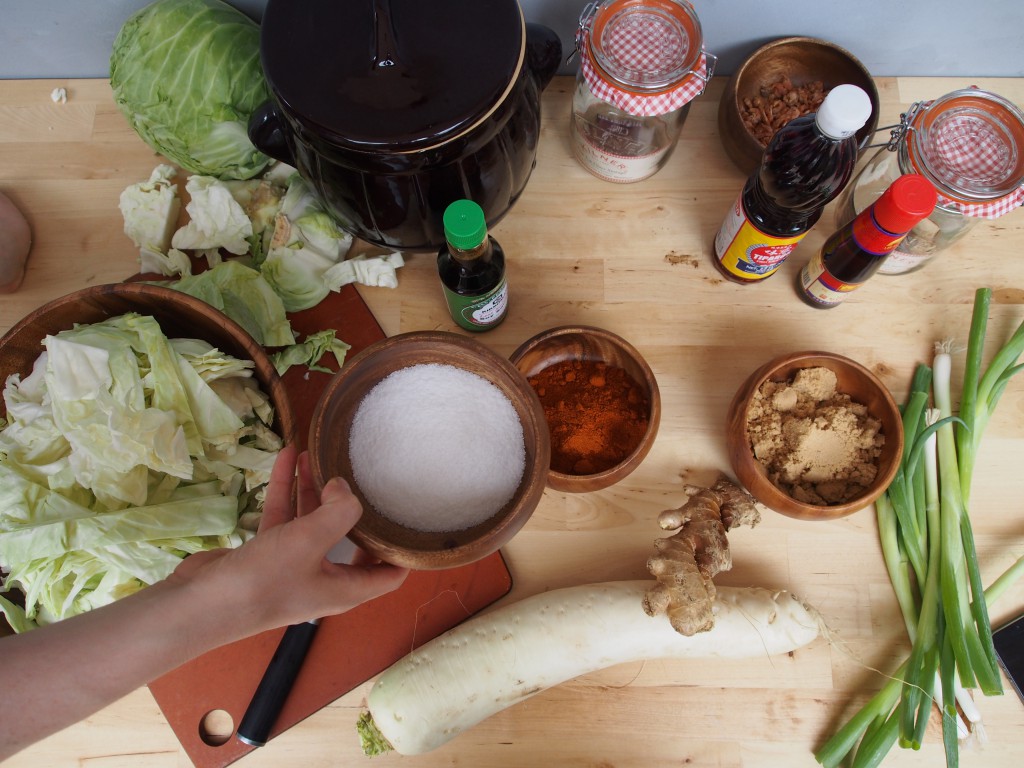 Instructions:
Cut the cabbage in half lengthwise, then crosswise into 2-inch pieces, discarding the root end.
Place in a large bowl, sprinkle with the salt, and toss with your hands until the cabbage is coated.
Add enough cold water to just cover making sure the cabbage is submerged.
Cover with plastic wrap or a baking sheet and let sit at room temperature at least 12 hours and up to 24 hours.
Place a colander in the sink, drain the cabbage, and rinse with cold water. Gently squeeze out the excess liquid and transfer to a medium bowl; set aside.
Combine all remaining ingredients in large bowl.
 Add Cabbage and toss with your hands until everything is combined.
Transfer mixture into pickle pot or fermenting crock with lid, packing tightly.
Let sit in cool dark place, for at least 48 hours, opening occasionally to release gases.
Let ferment for at least 5 days before using.
Refrigerate and eat within a month or pack tightly into Kilner jars and process in boiling water for 25 minutes. Use within 6 months.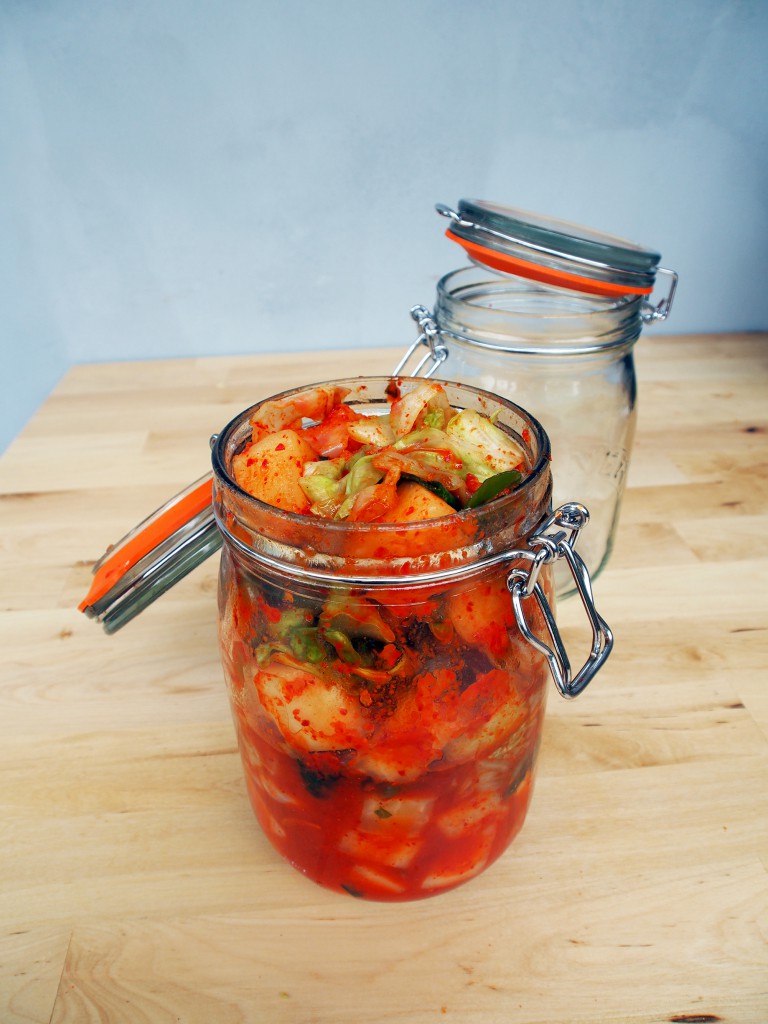 I didn't end up canning my Kimchi this time around. I know I can eat it all in less than a month, so I figured, why waste time. But if you're looking for a fun, super-flavorful condiment to punch up your pantry, considering making and canning your kimchi. Your tastebuds won't forget it.
Kimchi Serving Suggestions:
Traditionally, Kimchi is served as part of a collection of banchan or tiny plates served alongside a Korean meal, especially at a Korean Restaurant.  Of course eating your Kimchi with some rice and Korean Barbecue (or other Korean food)  is SO not your only option. Check out some other ideas below. For even MORE ideas, check out this Chowhound discussion!
Kimchi Fried rice. Great way to use up leftovers, flavor rice, and make yourself one really rib sticking meal. To gild the lily, put an egg on it!
Kimchi Omelet.  Kimchi is awesome with scrambled eggs. A kimchi omelet or kimchi scramble make for a really good breakfast when you're feeling. . . um. . . like you were out too late last night.
Add Kimchi to salad for a flavorful punch.  I particularly like it mixed into a salad with cabbage, green onions, steamed peas, and cucumbers.
Toss into a basic chicken broth or even ramen.  It's an easy way to pimp your cup of noodles.
It's Fermented cabbage – treat it like sauerkraut and put it on a hot dog.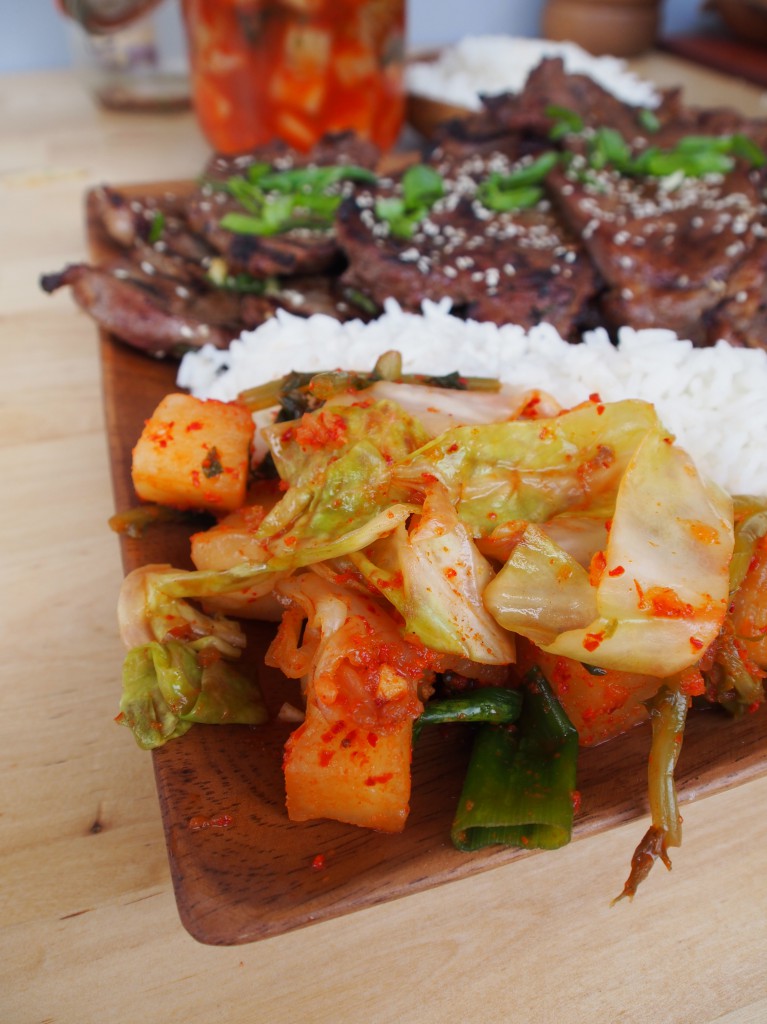 Tags: cabbage kimchi recipe, diy kimchi, easy kimchi, how to make kimchi, kimchi, kimchi from scratch, kimchi recipe, radish kimchi recipe