Pita Chips and Hummus are snacks I can actually eat every day, all year round, and never get bored. However, I find myself making hummus the most in the summer – I just whip up a big batch on Sunday and bring it to work for snack (in jars with carrot sticks), use instead of mayo on sandwiches, and serve it plated elegantly when guests come over. Making hummus from scratch is super-easy, and I love having a healthy, protein-rich treat I can grab and go whenever I'm hungry.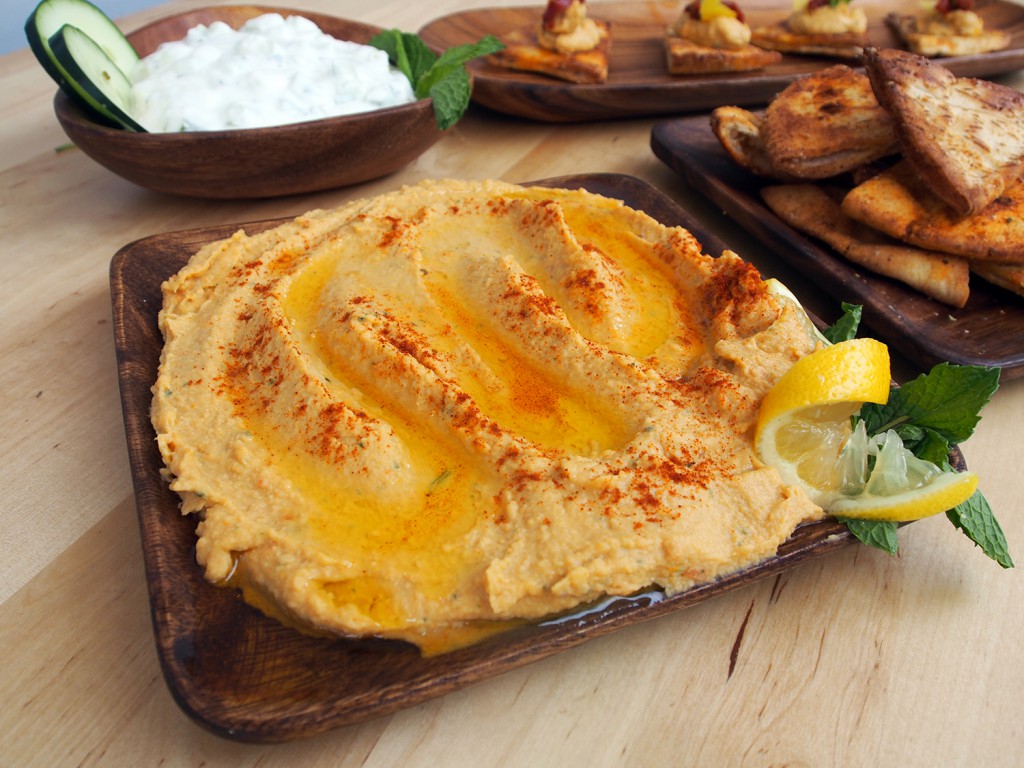 What is hummus? Simply put, a delicious spread with chickpeas, garlic and tahini. I'm going to avoid getting into the history of hummus but I will say this: There are a BUNCH of countries in the middle east that all claim hummus as their own, so in an effort to stay neutral (just call me Switzerland) I'm not picking a side. I'm just going to say that wherever it's from, it's delicious! Personally, my favorite way to eat hummus is with pita chips.  At times, I buy chips in the store,  but it's so easy to make my own, and it's the perfect use for any slightly stale pita you may have lying around.  Without further ado, I give you our best hummus recipe as well as a bonus recipe for super simple, extremely flavorful baked pita chips.  If you plate these beautifully on a chip and dip tray or a couple of platters, you've got an instant appetizer. It's a gluten free, vegan appetizer that even die-hard carnivores will go nuts for!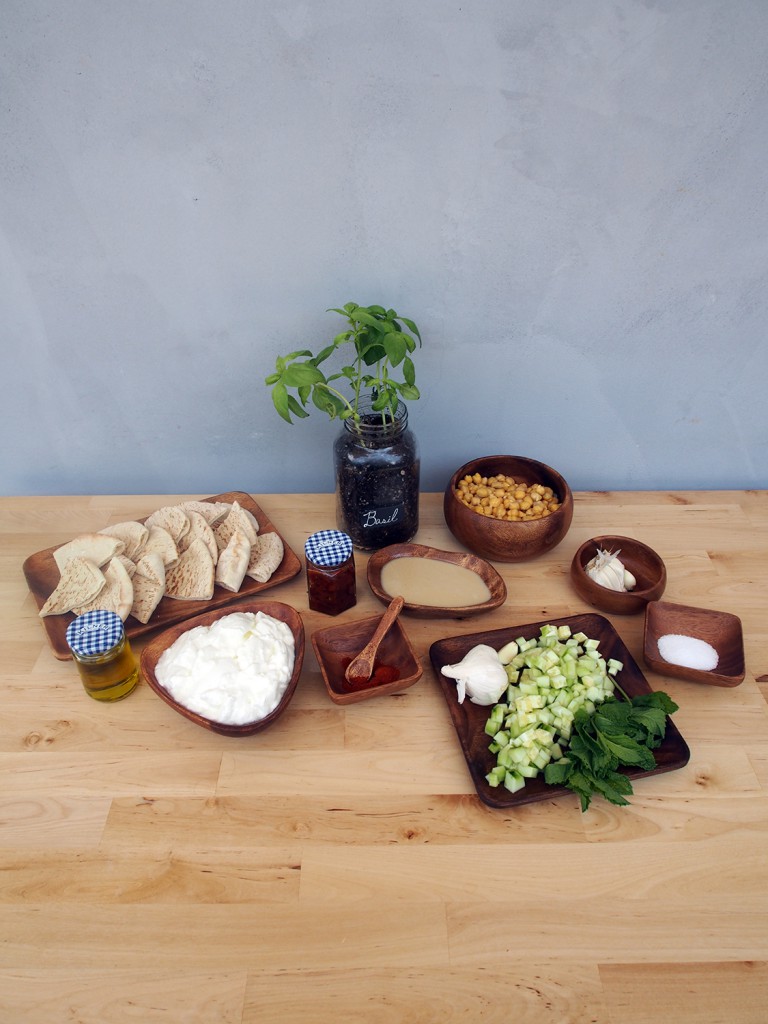 Pacific Merchants' Best Hummus Recipe
30 oz cooked chickpeas*
4 tablespoons fresh squeezed lemon juice
1/2 cup tahini**
4 tablespoons extra virgin olive oil
4 cloves garlic
3 tablespoons ice cold water
4 oz sundried tomatoes, drained (optional)
salt (to taste)
Olive oil, paprika and cumin, for garnish
*You can either use 2 15-oz cans of chickpeas/garbanzo beans that you drain and rinse, or you can cook dried chickpeas until tender. Both work. If you use canned chickpeas, you'll probably need to add less salt than if you use fresh.
**Tahini is ground sesame paste. You should be able to find it in the international section of your local grocery store. If presented with the option, go for a light roast tahini. If you can't find any and/or want to make your own, here's a recipe. And here are a few more things to do with tahini, since it comes in a big jar.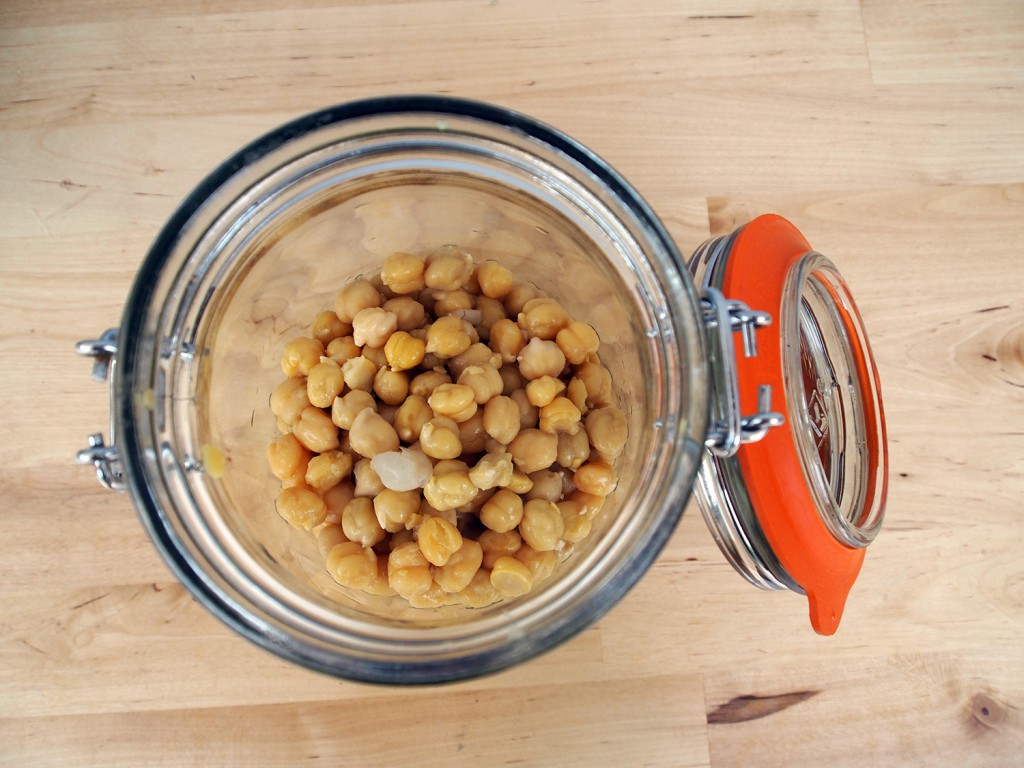 Instructions: If you want to get really technical, you should pinch the skins off each chickpea. It's tedious work, but it leads to the smoothest, creamiest hummus ever. If you're fine with a more rustic texture, you can skip this step.
Put everything except for the salt and the garnish in the bowl of a food processor (or a powerful blender.)  Pulse it until mostly combined, then blend until smooth. Taste and add salt as needed.  The beautiful thing about this recipe for hummus is that it's totally customizable. Add more garlic and you've got garlic hummus. Add roasted peppers and you've got a red pepper hummus. Throw in a jalapeno for a spicy hummus.  We added the sun dried tomatoes listed above along with some beautiful basil for a tomato-basil hummus.   If you'd like your hummus a little creamier, add a bit more water or blend in some plain yogurt.  I occasionally mix mine almost 50/50 with yogurt to create a really good, creamy dip.
Once your hummus is flavored to your liking, Scoop into the dip portion of a chip and dip plate or mound onto a platter. Garnish hummus by drizzling it with good-quality olive oil and sprinkling with paprika and cumin.  Serve with pita chips (recipe below) or veggie sticks and you've got a really easy, crowd pleasing appetizer or snack.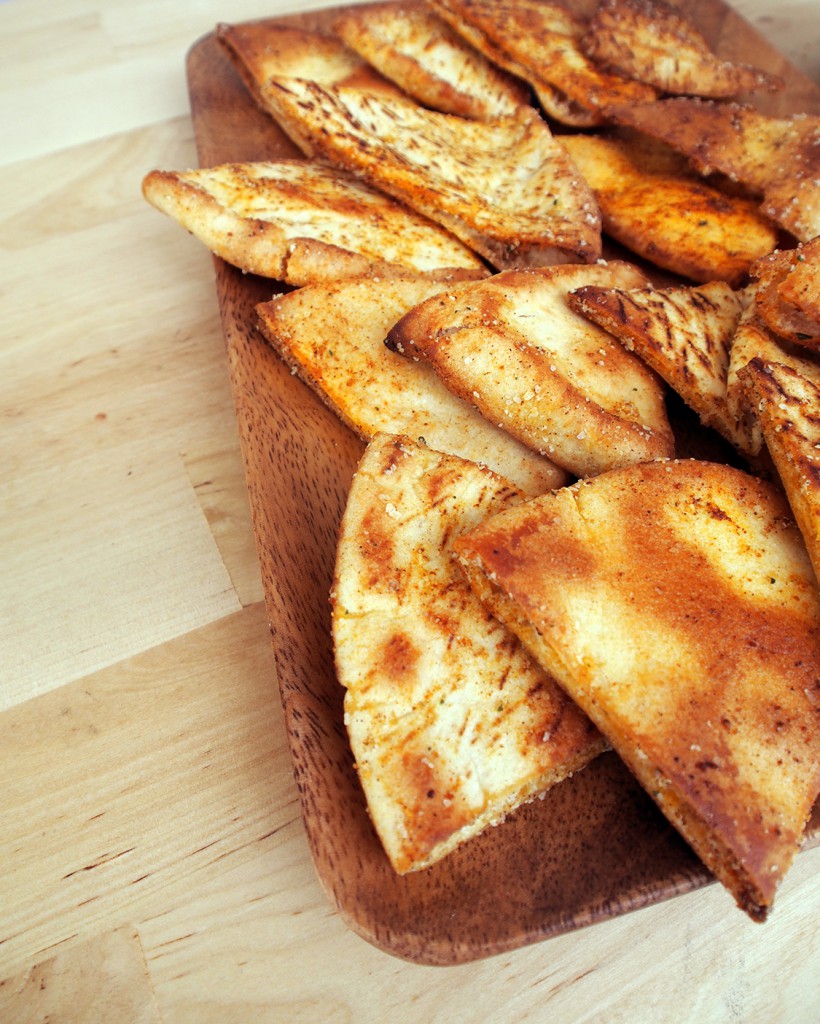 How To Make Pita Chips From Scratch
My favorite pita chips at the grocery store aren't cheap, but the pita at my local middle eastern market is, so I took a day and figured out how to make really nice, richly flavorful pita chips. Of course, you can always serve your hummus with soft pita or with veggies, but everybody loves chips, so when I'm cooking for a gathering, I make these every time.
4 rounds pita, cut into wedges
1/3 cup olive oil
1 tsp paprika
1 tsp black pepper
1 tsp salt
1 tsp za'atar (optional)*
*Za'atar is a Middle Eastern spice blend. It generally consists of sesame, sumac, and  thyme, with other herbs, and sometimes salt. I got hooked on it as a kid in Israel, where we'd get grilled flatbread sprinkled with za'atar and olive oil from street vendors for snacks. SO delicious, but these chips are delicious without, if you can't find it.
Instructions: Preheat the oven to 375.  In a large bowl, combine the oil and seasonings.  I sometimes need a little more oil than this recipe calls for, but most of the time, this is plenty. Toss the bread in the oil/seasoning mixture until thoroughly coated.  Spread in a single layer on a baking sheet and bake until tops are crisp and golden brown (5-10 minutes.)  Flip over and bake other sides (another 5 minutes) until chips are crisp.  Remove from heat and serve.
Now, if you want to get really fancy,  you can do what we did and create cute little plated appetizers. Simply pipe some hummus onto a chip and garnish and arrange them on a nice plate. We did a little preserved lemon peel, some herbs, and sun-dried tomatoes. It was awesome! You can also serve up the hummus and dip along side some totally cooling tzatziki. Check back next week and we'll teach you how to make this classic Greek yogurt based sauce!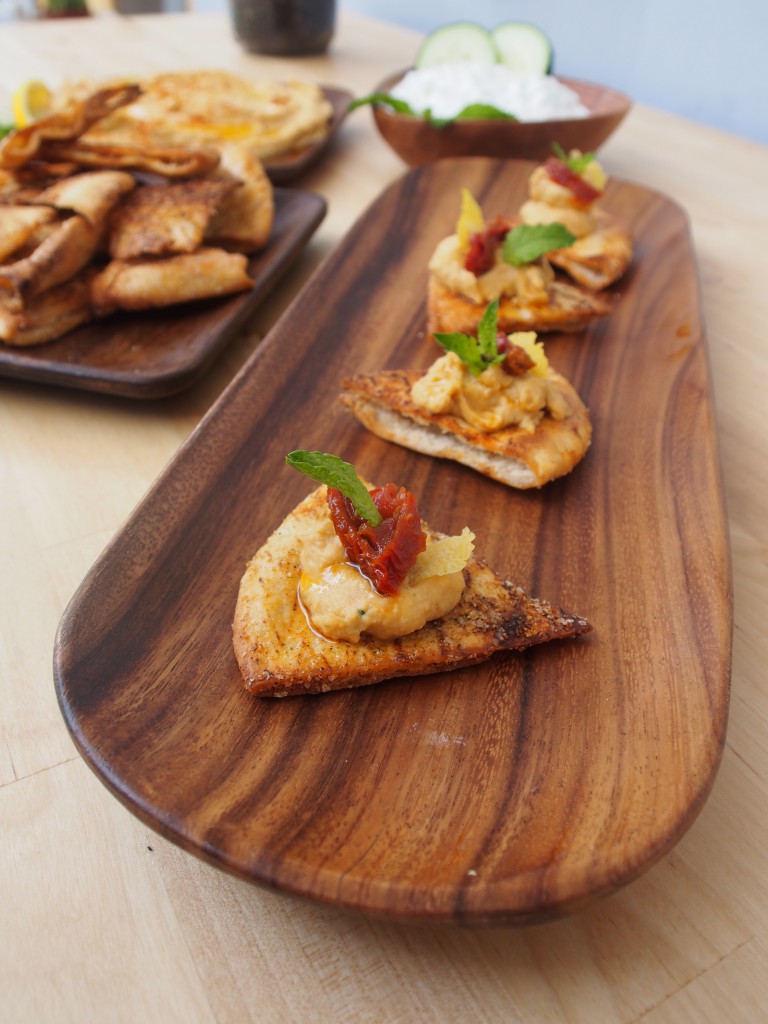 Tags: diy hummus, easy hummus recipe, how to make hummus, hummus, hummus recipe, make hummus, middle eastern recipe, what is hummus