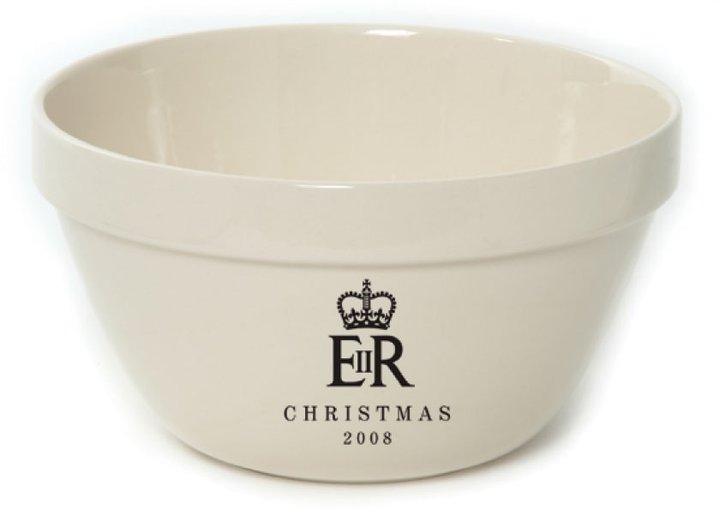 The British Royal Christmas Pudding
Christmas Pudding is a big deal in Great Britain, even for the British Royal Household. For the past several years, Queen Elizabeth II has gifted hundreds of her loyal subjects, family and friends with Christmas Puddings prepared and presented in none other than Mason Cash pudding basins! We are proud to offer a brief and fascinating history of Christmas Pudding in the English tradition, and a tremendously long and deliciously overwrought recipe for same.
Happy Holidays!
Family recipes for Christmas Pudding are often closely guarded secrets, handed down from generation to generation. Many are based on the Royal family's Sandringham recipe – rich with dried fruit and spices, some include nuts, grated apple or carrot – harking back to years when sugar was scarce.
The first Sunday in December is 'Stir-up' Sunday, the day when the best puddings are begun. It's already time to roll up your sleeves and think about making the Christmas pudding. Some cooks go so far as to prepare it six months to a year in advance. In the old days, it was traditional for everyone in the house to come into the kitchen and give the batter a stir while making a wish. The puddings are cooked, cooled and tucked away in a dry place to wait for their final steaming on Christmas Day when they will be turned out onto a handsome dish, decorated with a sprig of holly and wreathed in blue flames from a generous dousing of warmed spirit.
It seems as if all of Fortnum and Mason's stock goes into the recipe: currants, raisins, sultanas, almonds, candied fruit, ginger…. There may also be cherries and citron, or one of the two, or neither, depending on the recipe. Some chefs add to the mixture a diced russet apple and a grated carrot.
Tradition dictates that six objects be found in the pudding: two rings to bring love, a sixpence as a sign of prosperity, a trouser button for the bachelor, a thimble for the spinster, and a little pig who will determine the glutton at the table. The tradition of hiding silver coins in the pudding is a link to earlier days in English and Scottish courts when the leader of the Christmas revels was chosen on Twelfth Night by finding a bean hidden in the pudding
At the end of Christmas Day, after having listened to the Queen's Christmas Message, the plum pudding is brought out to be enjoyed for tea on the stroke of five, as one raises a drop of port to toast the Queen!
The presentation is a festive affair. Dickens describes the arrival of the Christmas pudding in "A Christmas Carol":
"Mrs. Cratchit entered, her face crimson, but smiling proudly, with the pudding resembling a cannon ball, all speckled, very firm, sprinkled with brandy in flames, and decorated with a sprig of holly stuck in the centre. Oh! The marvelous pudding!"
All guests receive a slice with a little dancing flame so that they can make a wish before it goes out.
Countrywide, brandy butter is served with the pudding alongside cream or custard, it's a tradition that originated in Cumbria – where the best brandy butter is still made today, a delicious blend of butter, sugar and spirit with a hint of spice.
Ingredients
– 250 g (9 oz.) sultanas
– 250 g (9 oz.) seedless raisins
– 250 g (9 oz.) currants
– 10 g (2 tsp.) candied lemon zest
– 10 g (2 tsp.) candied grapefruit zest
– 20 g (4 tsp.) candied orange zest
– 20 g (4 tsp.) candied citron
– 125 g (4 oz.) candied cherries
– 60 g (2 oz.) blanched almonds
– 60 g (2 oz.) chopped almonds
– 500 g (18 oz.) chopped suet
– 250 g (8 oz.) rye bread crumbs
– 125 g (4 oz.) brown sugar
– 1/2 tsp. powdered cinnamon
– 1/2 tsp. grated nutmeg
– 1/2 tsp. ginger
– A pinch of salt
– 4 tbsp. brandy
– 250 ml (1 cup) milk
– 30 g (2 tbsp.) butter
– 6 large eggs, lightly beaten
– 125 g (4 oz.) flour
– 2 tbsp. baking powder
Brandy butter
– 250 g (9 oz.) unsalted butter
– 250 g (9 oz.) icing sugar
– 50 ml (2 oz.) brandy
– Grated zest of 1 orange (optional)
Method
Quick method (only 7 hours!)
1. Chop the raisins, currants, cherries, candied fruit and peel;
2. Place all the dry ingredients into a large non-reactive bowl and combine; add the other ingredients and mix until thoroughly blended;
3. Line a Mason Cash pudding basin with a large piece of cloth that has been buttered and floured on each side; pour the mixture into the basin and enclose by folding in the four corners of the cloth; top with a piece of buttered parchment; cover;
4. Place the pudding in the oven in a pan half-filled with water or in a steamer on the stove top; cook for 6 hours at a bare simmer, checking the water level from time to time;
5. Remove the pudding from the pan and let cool;
6. Cover with a fresh cloth and parchment; replace the cover or wrap in aluminum foil and let ripen in a cool spot (not refrigerated) for at least one month. It will be even better if it ages longer!
7. On Christmas Day, return the pudding to the oven or steamer (as described in step 4) for 3 to 4 hours; unmould;
8. Flambé with brandy or cognac and serve hot with brandy butter.
Longer method… 216 hours! (7 days macerating time)
1. Chop the raisins, currants, cherries, candied fruit and peel; pour 1 litre (4 c.) of rum over top and let sit for 48 hours; drain, reserving the rum;
2. Combine all the ingredients except the eggs; add 200 ml (generous 3/4 cup) of the reserved macerating rum and the juice of an orange and a lemon; cover the bowl with a cloth moistened with rum and let sit 7 days. Stir the batter once a day, adding a little rum if necessary to keep the batter soft;
3. If the batter becomes too stiff, thin it with a small glass of old ale; if the batter is too thin, add a little flour and mix gently; continue with the recipe (above). As adapted from worldwidegourmet.com
Share with your friends: https://www.pacificmerchants.com/blog/?p=676
Tags: British, Christmas, Christmas Pudding, christmas pudding rec, Mason Cash, Mason Cash Bowl, Mason Cash Pudding Basin, Mason Cash Recipe, Mixing Bowl, Pacific Merchants, Pacific Merchants Blog, Pacific Merchants Trading Company Blog, Pudding Basin, Queen Elizabeth, Queen Elizabeth II, Royal Christmas Pudding Recipe, Royal Family, Royal Pudding Recipe, Royal Recipes