Tomatoes are no longer just a salad bar garnish. With such a huge variety of heirloom tomatoes available, especially in August and September, tomatoes are quickly on their way to becoming the star of the dinner table.  Magazines from Food and Wine to Martha Stewart Living have featured tomatoes on their August covers, and we're taking inspiration both from them and from the colorful heirloom tomatoes at our local farmer's market. For the next two weeks, we'll be showing off beautiful, versatile tomatoes.
Here are some quick tips to buying and storing tomatoes.  It's the height of the season, so making sure to pick the right ones and keep them fresh and flavorful is key.
Look for tomatoes that are heavy for their size, have smooth skin, slight give when touched, and are noticeably fragrant. If you can't smell them, they're not ripe.
If you see a tomato that looks unusually puffy or bloated, don't get it. That's probably a waterlogged tomato.
Remember that tomatoes, especially heirloom tomatoes, come in a rainbow of colors. Green heirloom tomatoes can be perfectly ripe, as long as they're heavy for their size and smell fragrant.
If you're not sure, ask the farmer's market vendor or your store's produce person to help you chose. They want to keep your business so they'll make sure you get the best fruit possible.
Never store tomatoes in the refrigerator. I get it, they last longer, but refrigerating tomatoes makes them mealy. The cold also shuts down the compounds in the fruit that make tomatoes so flavorful.
Keep tomatoes out of direct sunlight. Tomatoes will ripen off the vine, especially in sunlight, and leaving them in the sun can overheat them and cause them to ripen unevenly.
Don't pile tomatoes on top of each other when storing them. This could cause them to bruise. Instead, spread them out on a tray or a countertop. We've noticed that our baguette trays are the perfect size and shape for lining up tomatoes!
We're starting off with a beautiful raw presentation in one of our Acaciaware salad bowls. This rustic Panzanella Heirloom Tomato salad is hearty enough to be a meal all on its own. It also makes a wonderful accompaniment to grilled chicken and steak.  The keys to making this salad perfect are picking great tomatoes, leaving the bread out until the very end, and using a big enough bowl that all the tomatoes, bread, and cucumbers end up doused in that rich, garlicky dressing. We suggest our 12" Calabash bowl. The rich tones of the acacia wood set off the colorful tomatoes nicely, and the bowl doesn't absorb odors from the rich, garlic-infused dressing.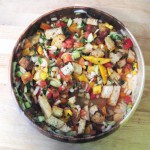 Ingredients: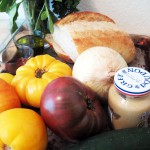 4 cups cubed French bread.
1 cucumber, peeled, cubed and seeded
1 onion, finely sliced
3-4 large cubed heirloom tomatoes, any color
1 large red bell pepper, diced
10 basil leaves, diced
¼ cup diced parsley
¼ cup extra virgin olive oil
5 cloves garlic, minced or run through garlic press
3 tablespoons red wine vinegar
1 tsp Dijon mustard
1 teaspoon lemon juice
salt, pepper, chili flakes to taste
4 tablespoons butter, melted
Instructions
Preheat oven to 375
Toss cubed bread in melted butter, salt and pepper. Spread in a single row on baking sheet and bake 10-15 minutes until golden brown. Remove and set aside.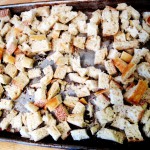 In the bottom of your salad bowl, whisk the Dijon, salt, pepper, chili flakes and garlic together.
Add the vinegar and whisk until well combined.
Slowly drizzle the olive oil into the mixture, whisking well to combine.
Prepare vegetables. Add tomatoes to dressing first, toss well to combine.
Let tomato and dressing mixture sit for 5 minutes in order to draw the juice from the tomatoes.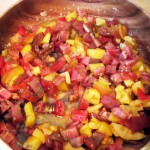 Add other vegetables and herbs, toss to combine.
At this point, the salad can be kept in the refrigerator for up to 2 days.
5 minutes before serving, toss the bread cubes into the salad and serve.
We hope that this beautiful panzanella salad inspires you to get out there and experiment with the best that the season has to offer.  Make sure to check back next week when we put our Kilner jars to work and teach you how to make and preserve the perfect tomato sauce you'll be sure to enjoy all year long!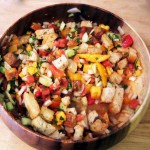 Tags: baguette tray, bread salad, bruschetta, easy healthy recipe, easy recipe, easy salad, easy summer recipe, garlic recipe, Healthy Recipes, heirloom tomatoes, magazine, martha stewart, pacific merchant, Pacific Merchants, panzanella, panzanella salad, picking best tomatoes, picking best tomatos, Recipe, salad recipe, salad with bread, signature recipe, stale bread, stale bread recipe, Summer, summer recipe, tips for tomatoes, tomato, tomato recipe, vegetarian recipe