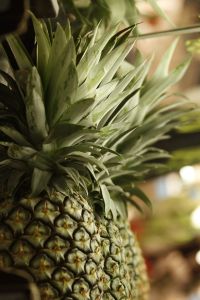 Happy Spring! Since March 20th is the first day of Spring for 2011, we felt it was the perfect time to share a fresh and fruity baking recipe. Pineapple is in season this month, making Pineapple Upside Down Cake the perfect choice for those looking to make an old favorite, or, for those who've been a little less curious in the past, explore a new one altogether.
Ingredients:
1/2 ripe, medium pineapple (Peeled, cored, eyes removed and sliced into 1/2-inch rounds- approx. 4-5 slices)
3/4 cup unsalted butter
3/4 cup brown sugar
14 pecan halves
1 cup cake flour (not self rising)
1 cup all-purpose flour
1 tsp. baking powder
1 tsp. baking soda
1/4 tsp. salt
1 cup granulated sugar
2 eggs
1 cup buttermilk
1 1/2 tsp. vanilla extract
1 tbsp. dark rum
4 fresh cherries (halved with pits removed)
Directions:
Melt four tablespoons of the butter in a 10-inch skillet (preferably cast-iron), over medium heat. Add brown sugar, stirring to combine. Increase heat to medium-high until the mixture begins to bubble, approximately two minutes. Arrange the pineapple slices in a pattern in the skillet and cook for two more minutes, or until the mixture turns an amber-type color. Turn the pineapple slices over and remove pan from heat. Arrange the pecan halves in between the rings, and set pan aside to cool slightly.
Preheat oven to 375 degrees Fahrenheit.
In a Medium Mixing Bowl (we recommend our Mason Cash Size 12) combine the flours, baking powder, baking soda, and salt.
Inside the bowl of an electric mixer, cream the remaining 1/2 cup butter and granulated sugar until the mixture is light and fluffy. Add the eggs, one at a time, mixing only until incorporated. Add the flour mixture and the buttermilk alternately in three steps, mixing at a low speed until each portion is just combined. Stir in the vanilla and rum.
Spoon the mixture over the pineapple slices within the skillet, bake in the center of the oven until golden brown and a tester comes clean, approximately 35-40 minutes.
Cool the cake on a wire rack for four minutes, run a knife around the edge of the cake, and while wearing oven mitts, quickly transfer the cake to a cake plate by inverting the skillet over the cake plate. Carefully replace any fruit from the skillet, if necessary, and arrange the fresh cut cherry halves in center of the rings.
Recipe courtesy of Emeril Legasse
Tags: Baking Recipe, Ceramic Mixing Bowl, Ceramic Mixing Bowl Recipe, Fresh Fruit Recipes, Fresh Pineapple Recipe, Mason Cash Bowl, Mason Cash Recipe, Medium Mixing Bowl, Medium Mixing Bowl Recipe, Mixing Bowl, Pacific Merchants Recipes, Pineapple Recipe, Pineapple Upside Down Cake, Spring Recipe