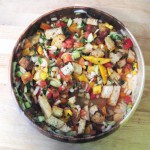 Last week we showed off beautiful raw tomatoes with our heirloom tomato panzanella salad. This week, we're switching it up and teaching you how to make and preserve a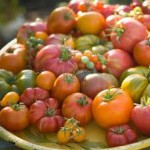 great tomato sauce. That way, you'll get to enjoy the flavor of sun-ripened tomatoes all year!  As a bonus, this recipe works best with extremely ripe and even slightly overripe tomatoes, and they don't have to be pretty. If you have any bruised, slightly squishy, cracked tomatoes, this is the perfect way to use them up!
This recipe makes 4 pints of tomato sauce and is pretty easy to multiply if you have a huge surplus of tomatoes. Just make sure you're using a big enough pot, like one of our Kilner Jam Pans, and you'll have perfectly thick, flavorful tomato sauce. You'll never want to go back to store bought stuff again!
As with any canning project, make sure you have all your ingredients and all your equipment ready before you start!
Equipment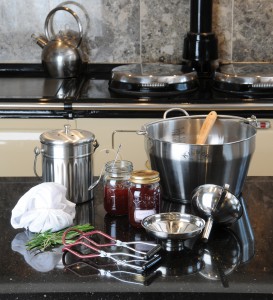 Kilner jam pan or large stock pot
Large pot for sanitizing jars
Jam Jar Tongs – find our favorites HERE
Food Mill –OR- Fine Sieve – OR a paring knife
Blender (if using the fine sieve only)
Large pot (if using paring knife only)
2 clean dish towels
Magnetic lid lifter or a magnet on a string
Chopstick or skewer
Ingredients
8 lbs ripe or overripe tomatoes
¼ cup bottled lemon juice *
1 tbsp salt
1 tbsp brown sugar
* It is important to use bottled lemon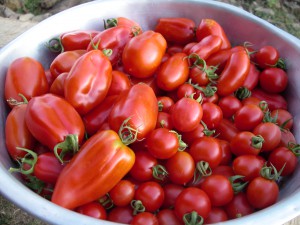 juice instead of fresh since bottled lemon juice has a consistent level of acidity and will ensure the shelf life of your tomato sauce.
You'll notice that this is a pretty simple sauce. If you want to spice it up, feel free to add sautéed garlic, fresh basil, chili flakes, sautéed mushrooms, or anything you like in your tomato sauce. We keep ours simple because we don't know what we'll be pairing it with 6 months from now!
Let's get down to business and make some sauce!
First, Prepare the jars and lids: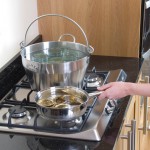 Wash all jars and lids thoroughly with soap and water and rinse well. Fill your large pot with enough water to cover the jars by at least 1 inch. Place one of the towels at the bottom of the pot and bring to a simmer. Using a pair of canning tongs, lower the jars in gently, tilting them to fill with the hot water.  Add the screw-bands to the pot as well, but keep the flat metal seals out of the water for now, but have them handy.
Meanwhile, rinse the tomatoes and pat them dry.
Option 1: Cut a small "x" in the bottom of each tomato and blanch them for about 30 seconds in boiling water, remove to an ice bath, slip off their skins, cut in half and squeeze out the seeds.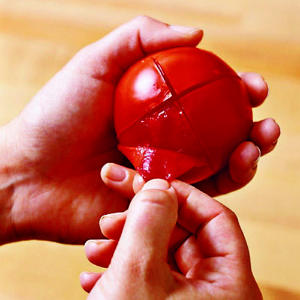 Option 2: Roughly chop the tomatoes and run them through a food mill.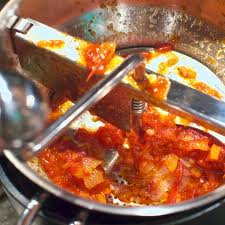 Option 3: Whirl the tomatoes quickly in a blender and push the puree through a fine sieve.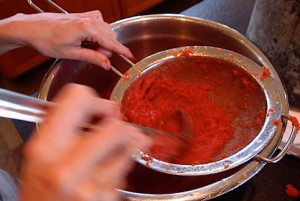 Personally, I find option 2 to be the easiest, but not everyone has a food mill. If you're going to become serious about canning, it's a tool you should have. But any of the 3 options will do the trick!
Once you've got your tomatoes peeled, coarsely chop them (if they're not already broken up) and add them to your Kilner jam pan. Place the pan over medium-high heat and stir/crush your tomatoes to break them up further and keep them from burning.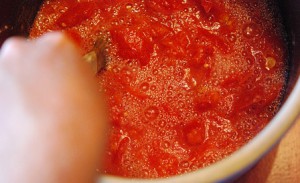 Bring the tomatoes to a boil, then reduce heat and keep at a low boil. Reduce to the desired thickness, by a third for a thin sauce, or by half for a thick sauce.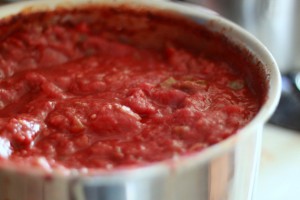 With your tongs, carefully remove the jars from the pot, tipping water out and setting jars upright on a clean dry surface.  Add the seals to the pot, continue to simmer.
Using your funnel, carefully fill your jars, leaving a half inch of headspace at the top of each jar.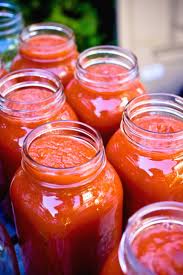 Run a chopstick around the sides of each jar to help release any trapped air, then wipe each jar's rims clean with a dish towel.
Using a magnet or a pair of kitchen tongs, remove the jar seals from the water and place them on the mouths of the jars. Place the screw bands on the jars and screw on the rings, then loosen each ring a quarter turn to allow steam to escape from the jars.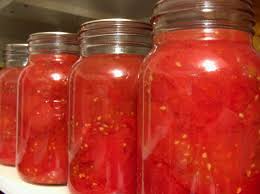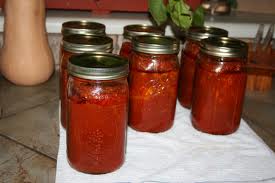 Empty the stock pot you used to sanitize your jars and fill it with water again, keeping the dish towel in the bottom of the pot.  With jam jar tongs, place each jar carefully into the water and check that jars are submerged by at least an inch.
Bring water to a boil and let boil for at least 20 minutes, checking periodically to see that the jars are covered with water.
After 20 minutes has passed (longer if at high altitude.) remove jars from water, and set on a cooling rack. Leave undisturbed for 12 hours, then test seals. If any of the jars have not sealed, reprocess using method above or refrigerate and use immediately!
We hope that this simple tomato sauce recipe helps you enjoy the rest of the year. If you need more help figuring out how to choose great tomatoes, click back to last week's blog post for advice! From all of us at Kilner and Pacific Merchants, happy canning!