Can you believe we're halfway through October? Just two weeks until Halloween. What are you dressing up as? Scroll to the VERY bottom of this post to check out the owner of our company in his costume. ANYWAY, one of my favorite things about this time of year is all the special treats, especially things made with apples. They're SO good right now being as they're in season. I can't get enough apple cider, apple fritters, apple pie, apple cider doughnuts, and especially, caramel apples. They've been a favorite since I was a kid and I used to buy them all the time. Now that I know how to make caramel apples at home, they're a favorite party treat, especially in the mini size shown here; what a perfect serving size! If you're looking for a Halloween party food, a dessert buffet idea or just a fun lunchbox treat, consider making caramel apples!  Read on for the caramel apple recipe and some tricks and tips, such as how to make the caramel stay on your apple!
Ingredients:
8 large apples or 16 small lady apples (shown)
1 cup heavy cream
1/2 cup corn syrup
1 1/4 cup granulated sugar
1/2 cup (1 stick) unsalted butter
1 tsp vanilla
1 large pinch sea salt.
Optional Ingredients for toppings:
Sea salt
Chopped peanuts or almonds, toasted
Minced candied ginger
Sprinkles
Finely chopped chocolate
Special Equipment:
Craft Sticks, strong wooden skewers or other sticks for handles
Heavy Bottomed non-reactive saucepan
Candy Thermometer
Wooden Spoon
Bowls large and deep enough to submerge the apples in (to roll toppings)
Instructions:
It's honestly incredibly easy to make candy apples with the right ingredients, a little patience, and a little know-how. Really, it's all in the prep. One of the most common pitfalls is making your beautiful caramel and having it slide off the apples. Why does caramel fall off your apples? Simple – most commercially available apples are lightly coated in wax.  To remove the wax, either scuff the surface of the apple with sandpaper or submerge apples in boiling water for about 30 seconds. Like magic, your caramel will stick.
Dry each apple completely and put a stick into the stem end, making sure the stick is solid and secure. Hot caramel burns and you don't want to be fishing your apples out with your fingers. Craft sticks work better on larger apples, but on our lady apples, wood skewers cut in half did the trick!
Arrange your toppings in bowls. Fill them half to 3/4 of the way full with the toppings of your choice. Chopped peanuts are a classic candy apple topping but my favorite is diced candied ginger. SO spicy and nice for the fall. Also, prepare a tray lined with a piece of parchment paper or greased wax paper. This is where your finished apples will hang out to dry.
Time to make the caramel! Add  your corn syrup, half your heavy cream, your sugar and your butter to a saucepan, making sure the pan is half full at most. Cook over high heat until it is a rich golden color and measures 250 degrees on your candy thermometer.
Remove from the heat and add the rest of the heavy cream, vanilla and sea salt, stirring to combine. The mixture will spatter and foam up. That's normal, and that's the reason you gave yourself extra room in the pot. Once all the cream and vanilla is incorporated, it's time to dip.
Dip and turn your wax-less apples in the caramel to coat completely. You may need to tilt the pan to get all the way up on the sides. Hold the apples over the pan and twirl them on their sticks, letting the excess caramel drip off, and back into the pan.
While the caramel is still warm, roll in the topping of your choice and set on the parchment to cool completely. Keep going until you've run out of apples or caramel. If you end up with extra caramel, just spoon it into a Kilner jar and pop it in the fridge. Rewarmed, it'll be amazing over ice cream or your morning yogurt.
See? Not too hard. And those pictures are making your mouth water, right? This time of the year, there are so many types of apples available, and they all make pretty good caramel apples. But, in my (totally awesome) opinion, the best kind of apple for caramel apples is either granny smith (that sour apple/sweet caramel contrast is amazing), golden delicious, or little tiny lady apples like the ones pictured above.  If you're serving bigger apples at a party (especially to kids with loose teeth) consider slicing them up for ease. The little ones are easy to bite into so you can skip slicing. And remember, these make a fantastic party favor. Put them in a cellophane bag and tie a ribbon around the stick for instant cuteness.
Oh yeah, I promised a picture of Bruce, President of Pacific Merchants, dressed up for Halloween. Because I ALWAYS keep my promises, here you go!  He takes Halloween very seriously. Can you blame him? It's the best.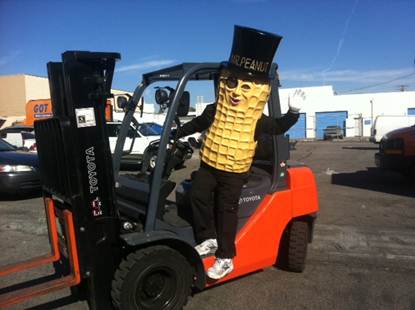 Tags: candy apple, candy apple recipe, candy apples, caramel apple, caramel apple recipe, caramel apples, caramel apples from scratch, easy caramel apples, fall food, fall recipe, halloween food, halloween recipe, how to make caramel apples