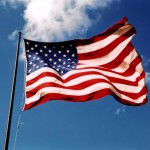 Can you believe that Independence Day is just around the corner?  That's right, July 4th is almost here! Naturally, we're getting ready for a big family barbecue with all the trimmings, from Red and Blue placemats to all-American apple pies to an incredible spread of food laid out on our eco-friendly Acaciaware serving dishes.  They come in a huge range of shapes and sizes ,  from baguette traysto bread boards to chip and dip
trays and they're  perfect for serving a crowd. They're durable and don't shatter when dropped.
If you want to get in on the Acaciaware action this summer, enter code FIREWORKS at checkout! You'll receive a FREE salad serving set with every 10" or larger salad bowl. After all, no one wants to serve a fruit salad with their hands.
We've actually already published a couple of recipes on this blog that would be absolutely great for your Fourth of July gathering.  Check out our National Burger Month post for a perfect, foolproof burger recipe. If you're a ribs lover (and how could you not love ribs?) check out our Father's Day dry rub recipe. Of course, one cannot live on meat alone – unless you're a shark or lion – so today we're going to feature a great vegetarian recipe to help you balance out your barbecue.
Before we get to that recipe, we've got our top five entertaining tips to share with you. We want to make sure that you can throw America a great birthday bash and still enjoy time with friends and family, instead of manning the grill all night.
Tip 1: Make as much of possible ahead of time. This seems like absolutely common sense, but it's easy to forget. If I'm making burgers, I slice my tomatoes and onions the night before the party and put them in a sectioned serving tray like the Acaciaware tray featured below.   I also make all my salads and sides ahead of time and put them in the refrigerator in their serving bowls, so on the day of the party I can just pull them out, stick some serving spoons in them, and be done.  To keep salads fresh, I don't add the dressing until the last minute – I make it separately and store it in jars, but beyond that, ¾ of my party foods are made ahead so I'm not running around like a chicken with its head cut off as guests start to arrive.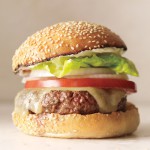 Tip 2: Keep it simple.  I've thrown parties where I've overdone it on the food and forgotten to enjoy the guests. You're throwing a Fourth of July bash. Burgers, a simple salad and a dessert , like our strawberry shortcake should be plenty. By making no more than one entrée, 2 sides, and a dessert, you'll spend less time fussing and more time having fun.
Tip 3: Get help. There's no rule that says that you have to make everything just because you're hosting. Buy something (or a few things) pre-made at the store.  Most grocery stores have great vegetable trays, cookies, chips and dips, and so much more. If you want a consistent look, put them on your own dishes. Your guests won't know the difference! We've got Acaciware serving solutions that are perfect for veggies and dips, chips and dips, and even big platters for appetizers and desserts.
Tip 4: Don't try too many new recipes at once.  Maybe make a new entrée, or a new side dish, but don't overwhelm yourself with new recipes unless you're 100% sure they'll work out.  You'll be stressed by the time the food is served.  Adventurous eating is awesome, but it's always good to have at least one dish you can make in your sleep, whether it's burgers,  pulled pork, or guacamole.  You'll know it's good without trying it, your guests will love it, and it's one thing you won't need to worry about.
Tip 5: Fire extinguisher. It's the Fourth of July, which means that there's a grill going, fireworks, and children running around with sparklers. We're not saying there's going to be a fire, but it's better for your peace of mind to have an extinguisher handy. Like my mother always says, "better safe than sorry."
And now, on to the recipe:  Mom's Black Bean and Mango Salad. With the protein from the beans and the sweet tang of mangoes, this salad is hearty enough that it can be a meal on its own. It's also a great side that everyone seems to love, and it's amazing on tacos. It can be made up to 4 days ahead, which is great: July 4 is on a Thursday this year, but you can get the prep out of the way on the weekend. Just add the avocado at the last minute or it'll get brown and mushy.
This colorful salad looks particularly beautiful in an Acaciaware salad bowl. The natural wood tones really make colors pop! I l especially love the way it looks in a flared bowl.
Ingredients
4 cups cooked black beans (Canned and drained or cooked and drained)
3 cups corn (canned and drained, frozen and thawed, fresh and lightly steamed)
2 red peppers, diced
1 green pepper, diced
1 jalapeno, minced
3 ripe mangoes, diced
3 avocados, diced right before serving
1/2 cup minced cilantro
¼ cup minced mint
1/3 cup fresh lime juice (more to taste)
¼ cup olive oil
Salt and pepper to taste
Instructions
Combine all ingredients except avocados in a large serving bowl.
Toss to combine.
Taste and season with salt and pepper
Add avocado right before serving.
Serve on own, as a topping for tacos, or as a side salad.
We hope that this simple recipe and our helpful hints keep your Fourth of July barbecue as fun and stress free as possible. And remember, no one wants to serve that delicious salad with their hands, so enter FIREWORKS at checkout to get a set of free salad servers with any bowl 10 inches or larger.
Happy 4th, everybody!
Tags: acacia hard wood, acacia hardwood, acacia tree wood, acacia ware, acacia wood, Acaciaware, acaciawood, barbecue, bbq, bbq side, cheese spreaders, fourth of july, holiday, holiday recipe, independence day, indipendence day, july 4, july fourth, Mason Cash Bowl, Pacific Merchants, Pacific Merchants Blog, Pacific Merchants Recipes, Pacific Merchants Trading Company, Pacific Merchants Trading Company Blog, pasta bowl, popcorn bowls, recipe for cooking, recipe for food, recipe for holiday, recipe for side dish, salad as meal, salad recipe, serving bowls, side dish, side dish recipe, vegan recipe, vegetarian recipe, what is acacia, wood from acacia