Did you know that May is National Burger Month? That's right; you've got a whole month to celebrate delicious, juicy burgers. And why not? It's America's favorite food after all. Here at Pacific Merchants, we're celebrating burger month by throwing a burger party.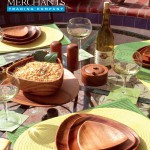 Now, the first step to any great burger party location. We suggest sprucing up your patio and grilling and partying outside.  In need of a spring style fix? Just set your table with designer placemats from Pacific Merchants. They're weatherproof, water proof, and they come in bright cheerful colors. Plus, they complement our Acaciaware ® trays, bowls, and serving pieces. Pick a bright cheerful color like orange, yellow, or green to really make your table pop like spring has sprung. Bonus: Colors like orange and yellow actually make people hungry (it's why they use them in restaurants a lot.) So you'll really whet their appetites just by setting the table. Who knew it could be so easy?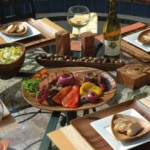 Along with setting the table, you need to decide on what else you're serving. Now, burgers are definitely the main attraction here, but consider a nice green salad, some fruit, and maybe even a whole grain side dish. That way, even if you've got people who can't eat burgers, you've got something for everyone. Also consider putting out a spread of veggies and dip. We suggest serving up sides in some of our Acaciaware ® chip and dip trays. I mean, look how great food looks in them! We've got plates, serving bowls and even sectioned pineapple trays, so no matter what sides you're serving, we've got you covered.
Now for the meat of the meal: that burger we're celebrating all month! Think about your audience. Do they eat meat? Do they avoid red meat? Are they vegetarian? We've got a killer hamburger recipe below, but if  you need a great turkey burger recipe, we suggest this one from our friends at Real Simple. It's the juiciest turkey burger ever. If you're desperate for a delicious veggie burger, head on over to The Kitchn.  But if you're like us and you want an all American beef
Juicy Beef Burgers ( Makes 4)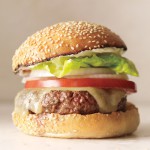 Ingredients
1 ½ lbs ground chuck (80% lean, 20% fat)
1 tbsp salt
1 tbsp pepper
Canola oil
Instructions
Preheat grill to Medium High
Brush grates with oil
Gently form beef into 4 patties, about 4 inches in diameter. Be careful to only pack your beef loosely
Generously season each side with salt and pepper, forming a crust.
With your thumb, make a dent in the middle of each burger patty. This will keep the burger from shrinking too much while cooking
Grill for 3 minutes
Flip (top with cheese if you want) and grill for another 4 minutes to medium rare. Cook longer if you want a more well done burger
Serve with your favorite toppings.
So what do you do about toppings? Do a survey among your guests ahead of time or just pick your favorite 8. Include the basics like lettuce, tomatoes and onions, but also include some more unusual ones like grilled pineapple, fried eggs, caramelized onions, and guacamole. And don't forget the condiments. Consider ketchup, mustard, ranch, and barbecue sauce are the basics, but what about bacon, blue cheese, or roasted garlic sauce?  Set them out buffet style and let your guests assemble their own dream burgers. It's fun, it'll get people talking, and having all those toppings spread out buffet style is like having really delicious table décor. Here are some of our favorite serving trays for toppings and condiments
From Left to right we have our acacia plate, great for burgers, our baguette tray and bowls, great for guacamole, salsa, and caramelized onions , and our condiment set is great for sauces like ketchup and mustard. Our pineapple tray is great for stuff like grilled pineapple, tomato slices, lettuce, and onions!
Oh, one other thing! Don't forget hamburger buns. I speak from experience.
We hope that everyone out there has a great time celebrating National Burger Month this May. Let us know what you did to celebrate America's favorite food! We're sure you'll inspire us to throw another burger party later this month. But don't worry, the whole month of May isn't going to be unhealthy for us. It's also National Salad Month!
Are you as psyched about burger month as we are? If so, send your favorite bbq sauce recipe to [email protected]! The winner will receive a $25 gift certificate to our website. Since Burger Month is the whole month of May, you have until May 31 to enter.
Tags: acacia wood, Acaciaware, barbecue, barbecue recipe, barbeque, bbq, bbq recipe, best burger, best cheeseburger, best hamburger, bugers, burger party, burger recipe, cheeseburger, entertaining, gift registry, grill recipe, grilling, hamburgers, how to burger, Mason Cash, Mason Cash Recipe, Mixing Bowl, outdoor entertaining, Outdoor Place Mats, Pacific Merchants, Pacific Merchants Blog, salad bowl, Summer, summer recipe