There are 5 "go to" things every girl needs…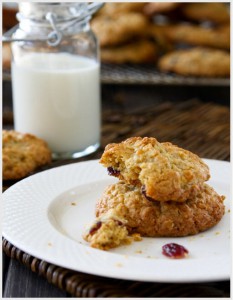 1. A great pair of jeans that make your … well you know what I mean.
2. A pair of high heels that don't hurt your feet, and that are SO FABULOUS that you want to be buried in them.
3. A red lipstick, not just any red lipstick, but one that is the perfect color for you. When you put it on… VA VA VOOM – movie star!
4. A best friend, someone who will compliment you on your jeans, gasp over your shoes, and tell you when the lipstick is all wrong!
5. A famous cookie recipe – a signature cookie that turns you into a celebrity. A cookie that makes your fans cheer when they see you coming in the door with a plate full of them.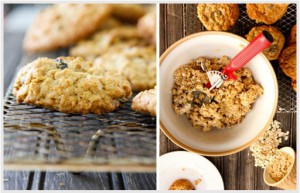 I have a lot of jeans hanging in my closet, but I always choose "that pair", they just feel right. I have at least 30 wooden spoons next to my stove, but without thinking, I always choose the same one. My favorite wooden spoon is burnt and chipped – I don't care, it's my "go to" spoon. I also have way too many knives, they all sit nicely in a container on my counter. I don't know who I'm trying to impress with all these knives – I reach for the same one every time I cook. I pull the same bowls out everyday, my Mason Cash mixing bowls. There is something regal about them. Maybe it's knowing that the Queen of England gives them away as gifts or that Martha Stewart loves Mason Cash. Whatever it is, I feel a little "royal" using them when I bake my "go to" dessert – cookies. Yes, cookies. What? Were you thinking that because I'm a chef I should be baking up something extravagant? Listen, cookies make people happy! Creme brule might woo some, others may insist on some delicate French pastry , but I've never met a soul who passes on a good cookie, it's simply unAmerican. Friends, family, and clients know… I don't share my chocolate chip cookie recipe – I can't, let's just leave it at that. I will, however, share with you my oatmeal cookie recipe.
Okay, maybe you haven't had pair of jeans be nice to you since you outgrew your Calvins, or you feel like red lipstick is for clowns and supermodels, and high heels aren't your thing… BUT you can be that girl with the COOKIES…
For more tips on cookie baking …
Toasty oats, cinnamon, nutmeg, and adding the zest of an orange add layers of comforting Fall flavors into this tiny little messenger of happiness. ~ Enjoy
Toasty Oats and Cranberry Cookies
1 ½ cups all-purpose flour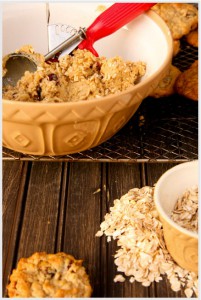 ½ teaspoon baking powder
1 scant teaspoon of kosher salt
½ teaspoon baking powder
¼ teaspoon ground nutmeg
¼ teaspoon of ground cinnamon
Zest of 1 orange
½ pound (2 sticks) unsalted butter – room temperature
1 cup light brown (golden) sugar – packed
1 cup white granulated sugar
2 large eggs – room temperature
2 teaspoons pure vanilla extract
3 cups of Quaker Old Fashioned Rolled Oats (NOT instant or 1 minute)
1 cup orange flavored cranberries
½ cup toasted walnut pieces – roughly chopped
Preheat your oven to 350 degrees (I like convection for cookies- crispy outside)
Adjust your racks to the center and lower third of your oven.
Place oats onto a lined cookie sheet and bake for 10 minutes – when done remove from the oven and allow the oats to cool completely.
In a medium bowl combine your flour, baking powder, kosher salt, nutmeg, and cinnamon- with a fork lightly mix together to combine all of the ingredients.
Attach the paddle to your standing mixer and in the bowl combine orange zest, room temperature butter and sugars.
Cream the sugars and butter on medium for approximately 2-3 minutes – scraping down the sides half way through.
Turn the mixer speed down to low and slowly add in the eggs and vanilla.
Continue to mix for about 2 minutes or until eggs are completely combined.
On low ,add in your flour all at once and continue to mix on low until almost completely combined – about 30 seconds.
Add in your oats, nuts, and cranberries – mix for about 30 seconds until just combined. DO NOT OVER MIX.
Place the bowl into the refrigerator for approximately 20 minutes to allow the cookie dough to set slightly.
Line a cookie sheet with parchment paper and scoop out dough with a 1.5 oz cookie scoop. (important to use a cookie scoop)
Bake for 12-14 minutes or until cookies are golden around the edges.
Cool cookies on a wire cookie rack and store in an airtight container.