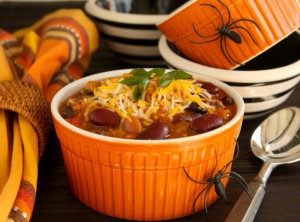 It's so hard to believe that it's almost Halloween! You know what this means don't you? It's time to…well…put away your scale. I've already begun to have conversations with myself about NOT dipping into the trick or treat candy. The conversations go something like this: "You don't need that, you've had it before, it tastes the same" – and then I eat it anyway – AUGH!
Halloween marks the beginning of the end for me…the end of the year that is. I will be cooking and overeating nonstop from now until New Year's Day. I actually bought my first can of cranberry sauce for a salad dressing, and began to dream about ginger bread cookies. Sorry, I can't help but jump ahead. The best part of it is that I'm already looking forward to New Year's Day. We have a family tradition of going to the Rose Bowl Parade in Pasadena. The parade is nice, but you want to know what I'm really looking forward to? Eating a bacon wrapped hot dog from a street vendor at 7 a.m. Sounds crazy I know, but you can't mess with tradition. You just have to do it.
What are your Halloween traditions that mark the beginning of the holiday season?
My Halloween Traditions
Fight with my son about his costume not being too scary.
Pull out my multitude of fake pumpkins and hope the Santa Ana winds don't blow them away.
Medicate my dog's food in her Mason Cash pet bowl so she won't have a heart attack.
Pull out the holiday decoration and eat Snickers bars.
Make a huge pot of low fat, high fiber, healthy turkey chili, and then pile on cheese and sour cream.
Attempt to convince myself I am still a "healthy" eater by making a fresh tangerine and avocado salad using my Pacific Merchants acacia wood salad bowl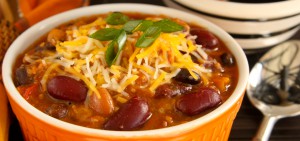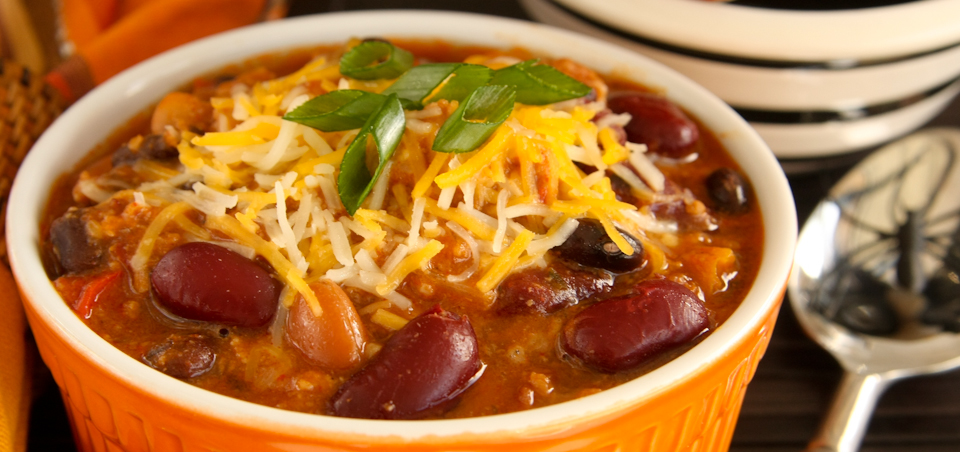 Homemade Bean Turkey Chili is one of my favorite fall treats. I can't think of a meal more perfect for Halloween evening to energize the little ones before a long night of trick or treating. It's warm, hearty, and quick and easy to prepare amidst the hustle and bustle of the day's holiday activities. The smell of it simmering on the stovetop, how it looks in my favorite Mason Cash Pudding Basin and, of course, the mouthwatering taste can't be beat. The perfect presentation is almost as important as the taste – almost! My eyes feast first, then my taste buds, and it couldn't be a more divine moment.
As a chef I use a wide array of kitchenware when I cook and serve meals, but I have to say the Mason Cash and Acacia wooden products from Pacific Merchants are some of my absolute favorite go-to pieces, and are the perfect "assistant" in the kitchen. I especially love using my hand carved Calabash Acacia Dipping Bowls to prep my ingredients when I'm cooking chili on a breezy fall afternoon. And my Mason Cash Mixing Bowls and Pudding Basins are both beautiful and versatile. The Pudding Basin's sleek design lends itself well to be used as a mixing bowl, serving bowl, pasta bowl, ice cream and cereal bowls! The perfect kitchenware is like the perfect pair of shoes. Makes you feel like million bucks whether you're lounging around the house or showing them off to family and friends.
4 Bean Turkey Chili
Makes 24 8oz servings
2 Tablespoons olive oil
1/2 large white or yellow onion – diced
1 large yellow bell pepper – diced
1 large red bell pepper – diced
Pinch of salt and pepper
2 pounds of lean ground turkey (not extra lean; you need some fat for flavor.)
4 teaspoons kosher salt
1 teaspoon ground black pepper
2 teaspoons ground cumin
4 teaspoons dried thyme
1 Tablespoon garlic powder
3 Tablespoons chili powder
40 oz can pinto beans – drained
30 oz can dark red kidney beans – drained
30 oz can black beans – drained
30 oz can white beans – drained
28 oz can diced tomatoes
15 oz can tomato sauce
6 cups low salt chicken broth
3 Tablespoons corn starch
2 Tablespoons apple cider vinegar
1/4 cup ketchup
1 Tablespoon chili powder
1/2 teaspoon ground black pepper
1 large bay leaf
In an extra large soup/stock pot warm olive oil over medium heat and sweat the onions and peppers with a pinch of salt and pepper until they appear translucent – about 4-5 minutes.
Increase the heat to high, add in turkey meat and begin to brown.
Season the turkey with salt, pepper, cumin, thyme, garlic powder, and chili powder.
Once the meat is browned, add in the beans, tomatoes, and tomato sauce.
In a small Mason Cash Mixing Bowl, dissolve the cornstarch in the cold chicken broth and add to the chili – stir to combine.
Add in remaining ingredients – apple cider vinegar, ketchup, seasoning, and bay leaf – and simmer over low heat for 40 minutes.
Serve warm in a Size 42 Mason Cash Pudding Basins.
Tangerine & Avocado Salad
One head of butter lettuce
One 6 oz can of your favorite tangerine slices (refridgerated)
One large avocado
One pinch Garlic Salt
One pinch Seasoned Pepper
Cut lettuce into bit sized pieces. Pour in tangerine slices and slice avocado into a large Pacific Merchants salad bowl. Use a bottled mango dressing or you can use a home made dressing using white wine vinegar, olive oil, aged balsamic vinegar and garlic salt.
Share with your friends: https://www.pacificmerchants.com/blog/?p=638
Tags: acacia wood, acacia wood bowl, Mason Cash Baking Dishes, Mason Cash Mixing Bowl, Mason Cash Pudding Basin