During the stay safe at home period, I have had a time to think. I am OK with washing my hands, wearing a mask and social distancing. The one thing I will not do however is social distance from my Weber BBQ.
Thinking can be a good or bad thing and I am not sure if pitting BBQ chicken against tri-tip is the best way to vent energy. But think about it. Chicken is moist and tender with a smokey flavor imparted by the hot mesquite coals. It comes in many forms: breast, thighs, drumettes, all delicious if properly grilled.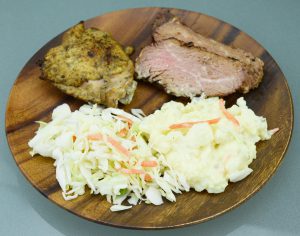 Then there's tri-tip, a red meat that has marbling, making it perfect for my Weber grill. It is one of my favorite meats to barbecue and I like the fact you can have well, medium and rare all in one roast!
Thinking about the pros and cons of barbecued meats is one way to spend time when locked down. I can't help myself. But hey! I received a tri-tip and chicken in my grocery delivery today so I guess I'm grilling both tonight, without a mask.