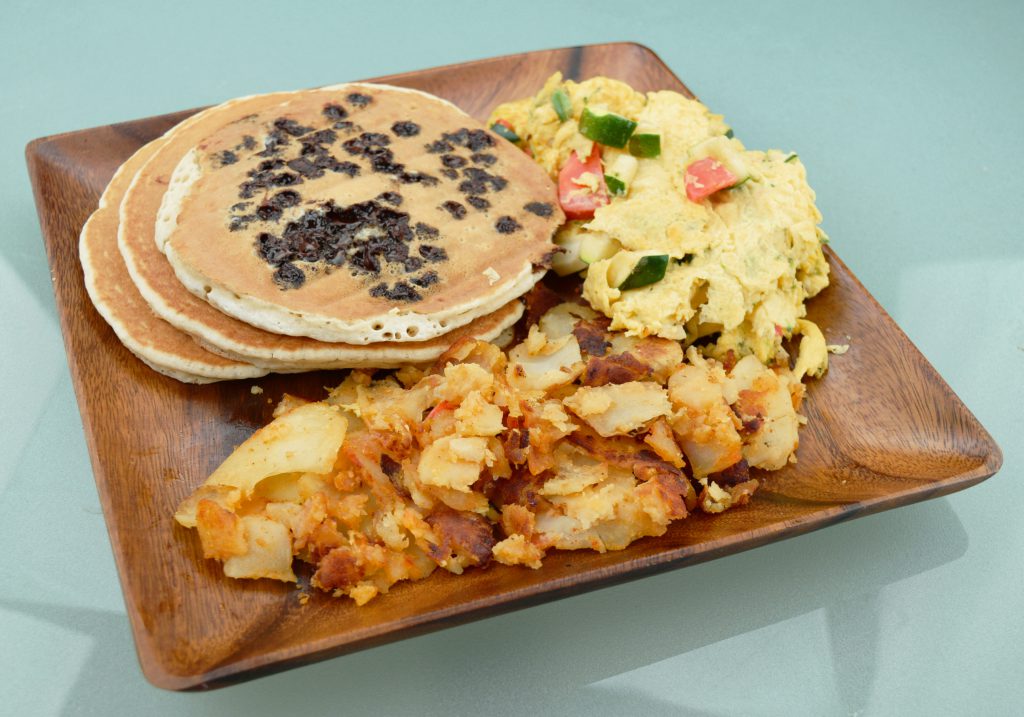 National Pancake Day was this last week and I can't believe I missed it! No worries because I just made "breakfast for dinner" including a batch of plain with maraschino cherries and chocolate chip pancakes (see photos of pancakes served on our Acaciaware plates). There's something about pancakes that is basic, visceral and sugar high euphoria. However there is an ongoing debate about which version is better: plain pancakes with syrup or chocolate chip pancakes? I choose both syrup and chocolate chips (heavy on the chips) to satisfy both urges. Others don't want to upset the natural balance of pancakes and maple syrup so they don't like chocolate chips. Forget the fruit flavored syrups – only maple for me!
Another reason I wrote about pancakes is because I am pissed off with my local deli that..yes…sells pancakes. This otherwise good deli refuses to make pancakes with chocolate chips. Can you believe that!?? I finally asked the owner why and he said it made the grill too dirty. OMG WHAT A WEAK EXCUSE! What about blueberries on the menu – those aren't dirty on the grill? I was so disappointed.
However I digress – for those of you who like banana pancakes, good for you. There is something unsatisfying to me using banana. However blueberry pancakes rank right up there with chocolate chip in my book. Some people use strawberries and I get that. I tend to be a sugar fanatic so I will use strawberry preserves, served along side apricot preserves. I admit syrup is not needed here because it gets in the way of the fruit flavored sugar high.
I don't care if I am diabetic. There is nothing that is going to get in between me and my chocolate chip pancakes, period.