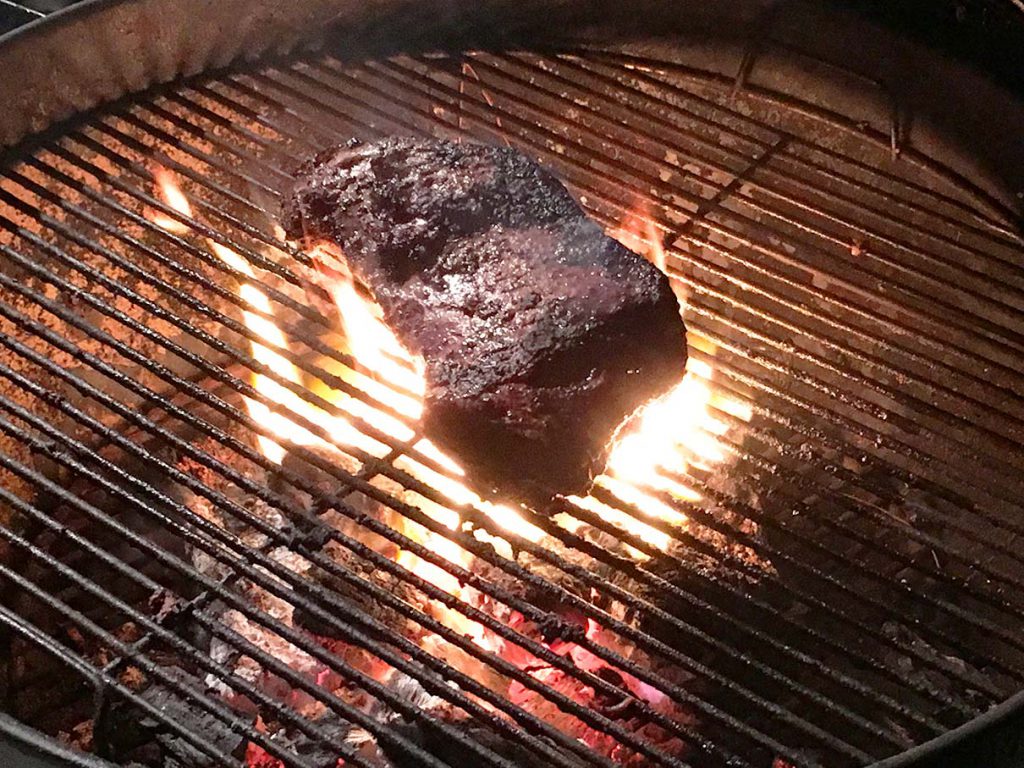 One of my favorite red meats for grilling is the tri-tip. It has enough fat to be really tasty but it's not too fatty and reasonably healthy. The best way to grill a tri-tip is first, to use mesquite coals (coals, not chips). Mesquite is usually available at your local store who carries BBQ briquettes. There's something artificial tasting about those briquette coals, don't you think? Mesquite is 100% natural wood and is not such a strong, overwhelming flavor as other woods for grilling (like maple or alder). Mesquite imparts subtle smoke overtones but does not hit you over the head screaming "I'M SMOKED". All meats and seafood do well with hot burning mesquite, as the high burning temperature seals in juices and flavors.
I have an easy way to marinade a tri-tip prior to grilling that is easy and will knock your socks off (I tend to walk barefoot). For those of you who read this blog, you know easy and tasty are my cooking metrics.
OK then. Take a bottle of Girards champagne dressing (yes a bottled dressing) and pour over the tri-tip placed inside a pyrex baker. Then, take a head of garlic and crush the living daylights out of the cloves onto the meat. I crush as many as 10-12 cloves but I am a garlic freak. Spread the crushed garlic all over the surface of the tri-tip. Then flip over and do the same thing. Take a turkey baster and baste the meat on both sides with the dressing and garlic. Let sit for at least one hour. You don't have to let it sit (you can grill right away) but the longer you let it marinade, the better the garlic flavor.
That's it. I told you it was easy. For those of you who say bottled dressing is not the way, I say ney, ney! Just like my pitch for Lawry's seasoned pepper and garlic salt in my perpetual dressing article, try the Girards champagne dressing with freshly crushed garlic. The hint of smoke from the mesquite melds with the garlic marinade and you won't believe the wonderful flavor!