Winter sets the perfect mood for hitting snooze and staying in bed on the weekends because, well, we can. The comforting cold keeps the best of us bundled up at home to relax, unwind, and make the best out of our time off.
Ileana at A Little Saffron created the perfect breakfast in bed meal for these idle mornings, and we're so excited to share it with you. The combination of flawlessly flaky pastry crust and the classic bacon and eggs is the ideal starter to the day.
---
Mini Breakfast Galette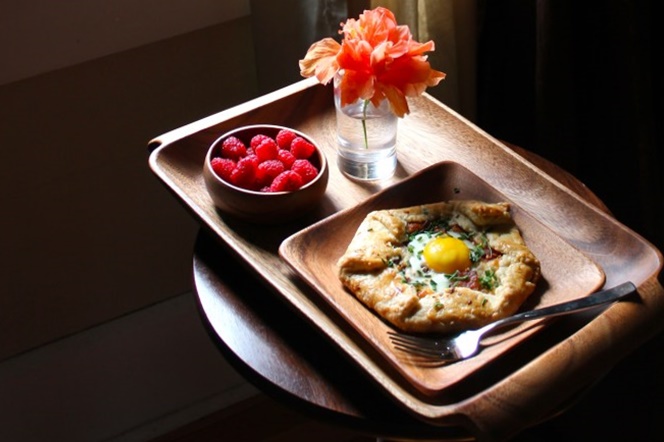 Photo credit: @ileanamvalentine
Ingredients
Pâte brisée

2 1/2 cups (320 grams) all-purpose flour
1 teaspoon salt
1 teaspoon sugar
1 cup (2 sticks or 8 ounces) cold butter, cut into small cubes
1/4 to 1/2 cup ice water

2/3 cup shredded cheese (a blend of mozzarella, fontina, parmesan is great)
1 minced shallot
2 strips thick-cut bacon, cooked and chopped
3 eggs (1 is for egg wash)
salt
pepper
chives, chopped
---
Directions
Making the pâte brisée:
Combine flour, salt, and sugar in a stand mixer or food processor.
Add the butter and combine at slow speed or pulse until the mixture resembles coarse meal with different sized piece of butter, including some larger pieces.
Drizzle 1/4 cup ice water over the mixture. Mix or pulse until the mixture just starts to hold together.
Add up to another 1/4 cup ice water, a tablespoon at a time, if the mixture is too dry.
Divide the dough in half and place each on a sheet of plastic wrap. Wrap loosely with the plastic and press into a disk using a rolling pin.
Refrigerate until firm, wrapped well, for 1 hour or up to 1 day.
Making the breakfast galette:
Heat oven to 400°F.
Divide disk of pâte brisée into two equal pieces. Take one and use a rolling pin to spread dough out into a circular shape about 1/4-inch thick. It helps to use a floured surface and to sprinkle some flour on your rolling pin as well. Transfer to a large baking sheet lined with parchment paper.
Sprinkle 1/3 cup cheese on the dough, leaving a 1 1/2-inch border around the edges. Sprinkle half of the minced shallots and half of the cooked bacon over the cheese. Use your fingers to create a slight well in the center. Fold the edges of the dough over. Repeat these steps with remaining dough, cheese, shallots, and bacon to make a second mini galette. Place it on the large baking sheet next to the first one.
Make an egg wash by cracking 1 egg into a small bowl and adding a splash of water. Use a fork to break up the egg and combine. Brush egg wash lightly on folded edges of each galette. Season each galette with a pinch each of salt and pepper.
Bake for 15 to 17 minutes, or until edges are starting to turn golden. Remove baking sheet from oven and quickly add 1 egg yolk (I tossed most of the egg white so it wouldn't take over the galette, but it's nice to hang on to some along with the yolk for both looks and taste) in each center. Bake for another 8 to 10 minutes, until egg yolk is set and the crust is golden brown. Garnish with chopped chives and serve.