As 2013 winds down, we're taking a quick look at some of our favorite products from the last 12 months.  It's been an exciting year, and we're psyched to share some of that excitement with you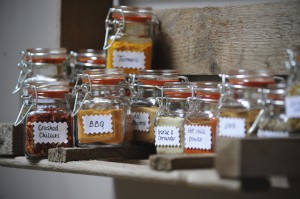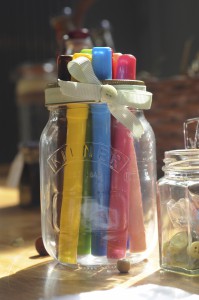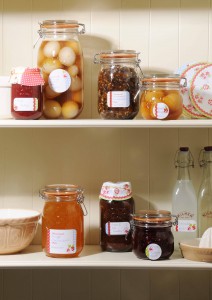 We were thrilled to bring in a new line this year, and we couldn't have asked for something more exciting than Kilner! We've had a lot of fun canning, preserving, and pickling this year, but we've had just as much fun trying to figure out other fun uses for all the beautiful Kilner jars, bottles and accessories.  We've crafted with Kilner, baked in the jars, and even used them in place of tupperware for lunches.  But we quickly found out that one of our absolute favorite uses for Kilner jars is for storage.  The larger clip top jars are perfect for pantry organization.  All our jars proved to be awesome for organizing small items, from hardware in sheds to markers and craft supplies to sprinkles and spices!
It wasn't just a good year for canning and preserving – it was an amazing year for baking.  Mason Cash not only brought back the incomparable counter bowl, which tilts as you mix, but a set of four stunning Forest bowls. Whether your style reflects the whimsy of the forest bowls (stunning stoneware embossed with sweet woodland creatures) or you're more about a bowl that'll become a workhorse in your kitchen, Mason Cash has you covered.
2013 was also an awesome year for all things terracotta.  Not only did we use our clay cooker and tagines constantly, but we introduced some really cool new terracotta pieces that were designed with the baker in mind.  Our Bread Baking Set features a mixing bowl with a lid that doubles as a baking stone! This year, I've used mine for everything from brioche to pizza and each loaf has come out with a perfectly crisp crust and absolutely tender crumb. We also released some Mason Cash Terracotta Tear-and-Share bread forms that really went a long way to adding some charm to my holiday meals this year.  Plus, the unglazed terracotta bread forms really make sure that each roll has a terrific crust and is perfectly, evenly baked.
Acaciaware® really got the chance to shine in 2013. Not only were our beautiful acaciaware® bowls and salad serving sets featured on some top notch blogs and food websites, from The Domestic man to Apartment Therapy (see images above) but we got the chance to expand our line and bring in some new items (see below.) Whether you're looking for a classic round serving bowl or organically shaped dishes, our acaciaware® line has what you need.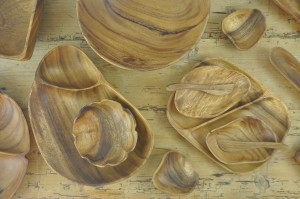 This was also the year we really got to see just how versatile our new line of Laguna placemats can be. We've set dozens of tables with brightly colored Laguna mats and no matter what the occasion, the brightly colored, neatly bordered placemats really tied the whole table together. Check out both a Christmas shot and a Cinco De Mayo themed shot below to see just how nicely our placemats bring things together, whether set traditionally, scattered haphazardly for a pop of color or laid out neatly as a table runner!
As you can see, we've had quite the year here at Pacific Merchants, and we're going to spend tonight celebrating 2013 and getting excited for all the awesome things that 2014 has in store for us!  Cheers to a happy, healthy, exciting new year! Have a Happy New year, Everyone!