If you've been looking for Mason Cash mixing bowls, baking dishes and pudding basins, be sure and stop by The Foundary, sign up to be a member, and get shopping!
Buy Mason Cash- A Rich British Tradition
Over the next three days (Wednesday March 2-Saturday March 5), Membership site The Foundary will be featuring our entire Mason Cash line. Not a registered member? Not to worry, simply sign up and start shopping- it's that easy. Sales run three days, giving you plenty of time to decide which items you like, but sales are short enough that you shouldn't lallygag about.
The Foundary Meets Mason Cash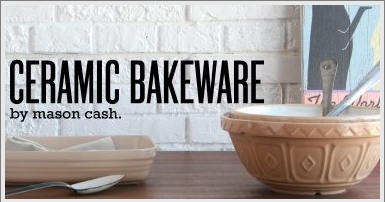 The Foundary specializes in offering unique items that "tell a story" on their website- the last thing you'll find there is the ordinary. We seem to think that's why they were so keen on sharing Mason Cash with the world, as it's a 200 year old brand rich with history. The Foundary's buyers strive to provide affordable luxury to their shoppers, a vision that is entirely in line with that of Pacific Merchants; we both seek to offer some of the world's most unique and beautiful housewares at affordable prices.
The Mason Cash Collection
The Foundary is currently offering a very thorough assortment of our Mason Cash items. If you've been eyeing one of our ceramic mixing bowls, a stoneware mortar & pestle, or even one of their ceramic baking dishes, now's the time to shop! Opportunities like these don't happen every day, and when they do, they don't last long (in this case, only three days).